It won't make headlines that the House of Representatives is expected to vote this week on a bill that fights global hunger. But it's truly an event that can change the world, if we have the will.
The pending legislation is called the Global Food Security Act (H.R. 5656). What is that? Well, think of these children in Tanzania standing next to a school garden.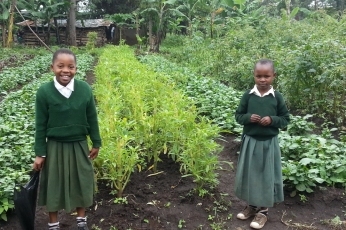 These are nutritious, home-grown vegetables that will be used for their school feeding program. If you can have food grown inside a country by small farmers, you can help end world hunger. The more nutritious these foods are the better. You can save a generation from stunting and lack of physical growth.
That is what this legislation supports, a U.S. government initiative called Feed the Future. It's about nutrition for all countries. This can happen if small farmers have the tools and knowledge needed to grow nutritious food. They need some help to get started. But once they do, it can save lives.
Think about all the countries in the world that struggle with high rates of malnutrition. Afghanistan, Yemen, Kenya, Malawi, Haiti and so many others. They obviously cannot develop as a nation if their children are dying or stunted from malnutrition.
If the children are lucky to get one meal a day, how can they learn? If children in a country have vitamin deficiencies, that is something we cannot see. But it shows up in their lack of development over time. The worst of all is how small children lose their lives because the food supply is poor in a country. Or the children are not able to access the nutritious food, even when it's not far away.
"Passing the Feed the Future bill is essential to realizing the U.S. goal to end preventable child and maternal deaths within a generation, nearly half of which are caused by malnutrition."
Feed the Future is about supporting the small farmer because they are the ones who can grow this nutritious food, right inside their own country. A nation that can grow its own food is on the road to peace.
These issues of food and nutrition are so vital, but often overlooked. As Dwight Eisenhower once said,
"The world cups its ear to hear the rattling of rockets. It listens less closely to the sounds of peace and well-being which emanate from the slow but steady improvement in world health and nutrition. "
Food must be the highest priority for American foreign policy. So both the House and the Senate need to focus on this bill and others that feed the hungry.
We know that malnourished children in Syria, Iraq, or any part of the world cannot be the foundations for building a lasting peace. Countries need to be able to produce their own food and have children well-nourished. Without these things they cannot overcome poverty or rebuild from war or disasters, or develop a sound economy.
There are 805 million people worldwide who suffer from hunger. We need to provide emergency aid through our Food for Peace program. But we also have to build a world where countries can stand on their own two feet. That is what Feed the Future is about.
So the House needs to pass the Global Food Security Act this week. This bill is sponsored by representatives Chris Smith (NJ) and Betty McCollum (MN). Debate on the bill is expected for Wednesday, according to McCollum aide Jenn Holcomb. The vote would follow sometime during the rest of the week if all goes according to plan.
The Senate then needs to pass its version of the bill. Bread for the World is urging people to contact their House members and then once it passes, contact their senators.
Popular in the Community