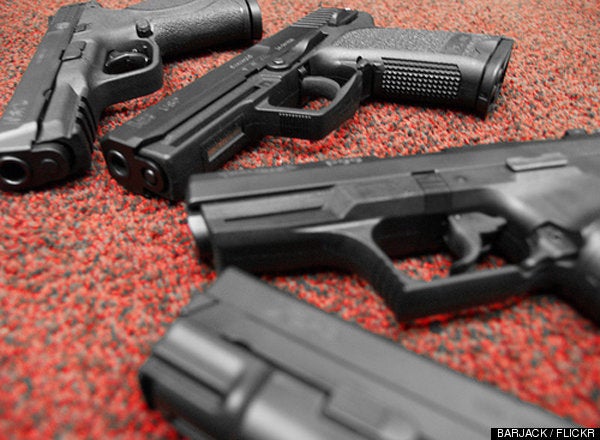 What does a family facing bankruptcy need more than anything?
Tomorrow the U.S. House is expected to take up Representative Boccieri's "The Protecting Gun Owners in Bankruptcy Act of 2010," a bill that would guarantee that the guns of individuals facing bankruptcy would be exempt from the claims of creditors. Not surprisingly, the bill is supported by the National Rifle Association.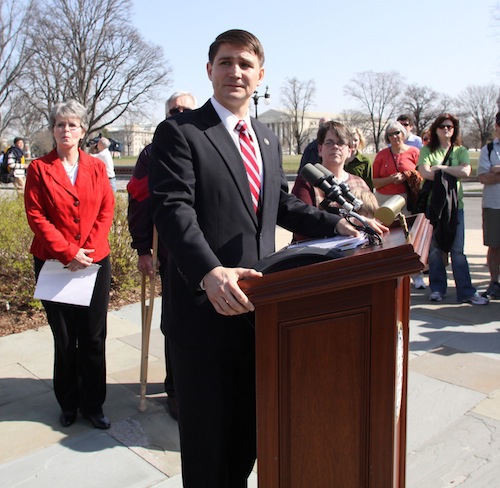 As Boccieri explained in a letter to his congressional colleagues seeking co-sponsors:
In these difficult times, it is vital that Congress maintain individuals' constitutional property rights. Some property rights are secure; clothing, pets, or crops can be deemed exempt from repossession. Other property rights, however, are ignored, most notably 2nd Amendment rights.

The Protecting Gun Owners in Bankruptcy Act of 2010 will allow consumer bankruptcy debtors to exempt firearms from the claims of creditors. Specifically, the measure would permit firearms held primarily for the personal, family or household use of the debtor to be exempt from the claims of creditors under federal exemption law. In those states that allow a debtor to use federal exemption law, this provision would prevent a trustee from selling a debtor's firearms to satisfy the claims of creditors.

While Congress works to pull our nation out of this economic recession, many people across the nation continue to struggle with depleted savings and increasing financial restraint. Residents of areas hit particularly hard by the recent economic downturn must make hard choices to sustain their families, and are often forced to file bankruptcy. Many times this results in individuals seeing their assets reclaimed and sold to pay off their debt, with creditors paying little regard to their well-being.
Contrary to Representative Boccieri's NRA-endorsed image of armed heads of households being able to "sustain their families" through financial calamity with the comforting reassurance of a firearm, the presence of guns in households experiencing bankruptcy or other financial distress actually enhances the risk of suicide or murder-suicide. According to the National Violent Death Reporting System (NVDRS) -- the only federal data that details such information -- more than 12 percent of firearm-related murder-suicides and suicides were precipitated by financial problems. Media accounts of murder-suicides also often include descriptions of the financial struggles, including bankruptcy, that precede such desperate acts:
In June 2010, a California couple died in a murder-suicide and their three-year-old son was shot multiple times. The couple's five-year-old son told authorities that his father tried to shoot him, and then shot his mother and brother. The family started missing house payments in early 2009 and had filed for bankruptcy in February 2010.
In February 2010, a Florida couple died of gunshot wounds in a murder-suicide in what the St. Petersburg Times described as "the end of a long history of money troubles." They had filed for bankruptcy in December 2004, listing $251,140 in debts. The couple's two young daughters hid in the bathroom during the shooting.

In June 2009, a Florida family of four, including a 12-year-old and a 10-year-old, were shot to death in a murder-suicide. The parents were deeply in debt and struggled for five years to get out, according to records filed in federal bankruptcy court. The couple had filed for Chapter 13 bankruptcy in 2004 and a trustee constructed a plan for them to repay their debts, but they failed to make the payments. The case was converted to Chapter 7 which would force the couple to liquidate their assets. A status hearing on the case was scheduled to occur two months after the murder-suicide.

Representative Boccieri says his bill is needed because "gun owners in America facing bankruptcy have no choice but to relinquish the protection secured for them by the U.S. Constitution." Yet, far from offering protection, firearms are by far the weapons most commonly used in murder-suicide. Studies confirm that firearms are used in approximately 90 percent of murder-suicides. At the same time, guns are rarely used to justifiably kill criminals. According to the Federal Bureau of Investigation's Uniform Crime Reports, in 2008 firearms were used only 204 times by private citizens to justifiably kill a criminal during the commission of a felony in the United States.
While Representative Boccieri's bill promises to protect the firearms of bankrupt gun owners, the question remains: Who will protect their families?

Popular in the Community