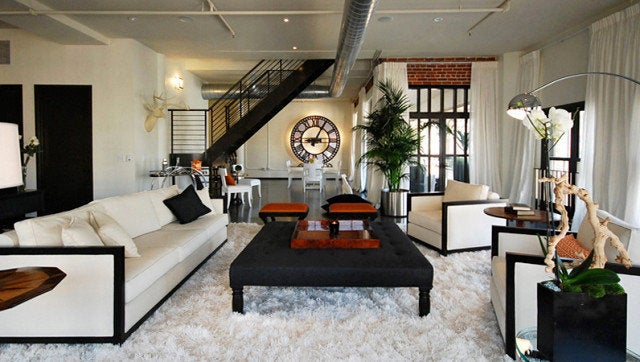 It's clear that designers Julie Berchtold and Samantha Harris of the design and construction concierge team Berchtold Harris had this home's owner in mind when they envisioned this sophisticated and elegant space. Their muse? None other than Charlize Theron, whom they had the pleasure of working with on several projects. Lucky for us, they were happy to share this house tour of one of their most exciting designs yet.
Before they worked their magic, this 2,000 square foot penthouse loft in Los Angeles was a raw and industrial blank canvas. The designers successfully kept the modern style of the building intact, and infused it with 1920s flair and opulence with a black and white palette and pops of vibrant hues. Dramatic floor length drapes cascade onto the dark wood floors, and shag rugs and exposed brick provide texture and interest.
Many of the furniture pieces were designed specifically for the space so they were proportionately to scale for the oversized loft. Our favorite piece? A custom dining table that resembles a horse bit, which the designers say was inspired by Theron's equestrian-styled magazine cover shoot. In the bedroom, the designers carved out a walk-in closet by installing an upholstered floating wall as a grand headboard. A mounted mirror reflects the amazing views of the city.
The focal point of the home is definitely the stunning milk glass clock, which is six feet in diameter. Although the actress had her heart set on a vintage film photograph for this large wall, the designers went out on a limb when they came across this antique which was once from Union Station in Boston, and luckily Theron loved it. It's a good thing she did, because it took ten men to move the heavy piece into the apartment! The designers backlit the thick glass and it glows beautifully at night.
Click through the slideshow below for a peek inside this amazing home.