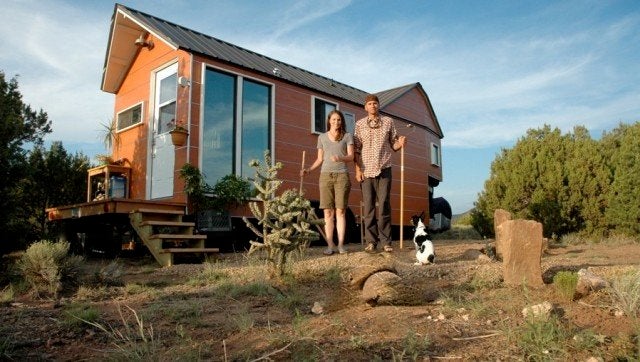 After being married for about a year, Carrie and Shane Caverly gave themselves the ultimate couple's test. With her background in sustainable design and his in building green homes, the couple worked together to plan and build their own 200-square-foot tiny home on a flatbed trailer. And although it was challenging at times, the collaborative process was truly a bonding experience.
The couple started building in Prescott, AZ in February of 2012 and were able to move into their small house by the middle of May. In Mid-August, their desire to be closer to the Rocky Mountains brought them to a town 10 miles outside of Santa Fe, NM, where they now rent a portion of a larger property.
But before the big move, Carrie was teaching at a sustainable design school and Shane was building green homes (he still does), and lived in an average house that wasn't sustainable and green. "So we decided we should start walking the talk," Caverly says. And ultimately, the financial benefits were what finally pushed them to do it. "We just wanted to change our lifestyle so that we were living within our means," Caverly says.
At first, she wasn't a huge fan of the idea, Caverly admits. "We had just gotten married, and I thought it was a crazy idea for two people to live that close," she says. "I was worried i wouldn't have enough personal space and we would be way too on top of each other." But all of her worrying ended up being for naught. Right now, he goes to work every day and she works from home, so they have a healthy amount of time away from each other.
And although Caverly admits that she sometimes misses living in a larger home, the tiny house has more pros than cons, especially in the winter. They spent about $300 per month trying to heat their larger, two-bedroom home because it was so drafty and inefficient. "But this is super comfortable," she says. To prepare for the colder weather, they hooked up their propane heater, applied heat tape on their water hose and added an insulated skirt around the whole base of the house.
The one thing they're still trying to figure out is how to accommodate the snow without making a mess of their home. "You can't come in with snow all over you and just walk right into the living room," Caverly notes. They're toying with the idea of building an outdoor closet on the deck to store bulky and wet winter clothes.
But for now the couple is working and saving money so that they can pursue their ultimate goal of purchasing their own land, building their own debt-free house and living off the grid. "This is kind of the means to the end," Caverly explains. "And our ideals of what a house should be is definitely changing after living in this," she adds. Once they build their sustainable off-grid house (not on a trailer), they plan to use their current home as a studio.
In addition to building their own home, the duo also offers their services to anyone interested in building their own tiny home. Right now, they're designing a tiny mobile organic food store for a client.
Flip through the slideshow below to take a peek at the Caverly's home. And visit their blog, Clothesline Tiny Homes, to follow their journey and learn more about the design and building work they offer.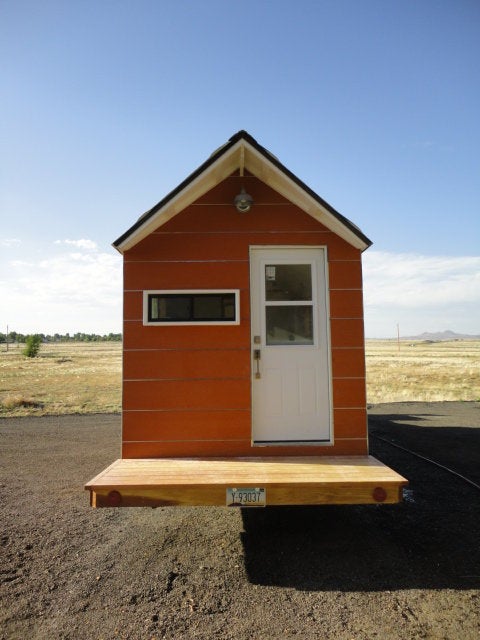 The Caverly's Tiny Home
Do you have a home story idea or tip? Email us at homesubmissions@huffingtonpost.com. (PR pitches sent to this address will be ignored.)