It's only natural for gallerist Francist Mill to incorporate plenty of art in his California home. Upon moving into his 1937 building, Mill replaced the media center in the living room with a floor-to-ceiling bookshelf and immediately put up his large collection of 20th-century artworks in its place. Our friends over at California Home + Design got a sneak peek inside.
The structure was originally used as a warehouse by a pharmaceutical company. You can still see traces of the old space inside the home -- for instance, the unpolished concrete walls. "I loved the rough-hewn nature of spots where concrete walls had been removed by blasting them with dynamite," explains Mill. "Instead of trying to smooth it, I had it chiseled out to make it even rougher and more cavelike."
However, the effect is far from "cavelike" thanks to Mill's collection of art, which is displayed on the walls throughout the home. Comprised of paintings, prints and photos by 20th-century artists, Mill's collection is constantly changing, and he's even devoted one wall in the kitchen to smaller framed works that are rotated out every so often.
Check out the slideshow below for a peek inside Mill's artfully curated home. All photos by Philip Harvey, courtesy of California Home + Design. How would you display an art collection in a space like this? Let us know in comments below.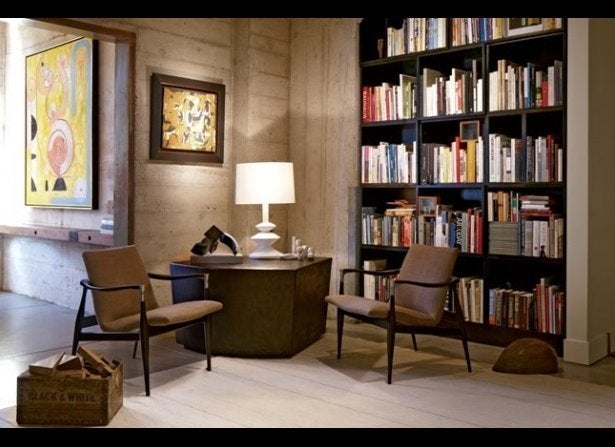 Living With Art
CORRECTION: A previous version of this article erroneously located Mill's apartment in Berkeley, California.
Related