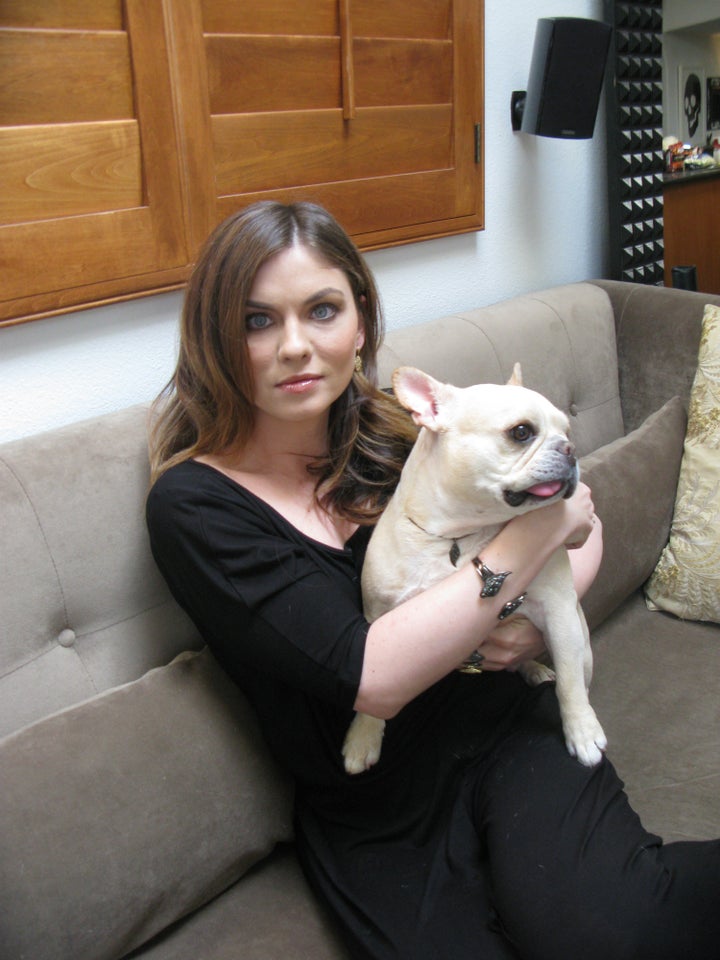 When I first entered Jodi O'Keefe's home, I couldn't help but notice the contrast of old and new. Antique furniture and vintage posters were contrasted by art from the likes of Damien Hirst. Then there's the kitchen: it's hard to miss -- large, and in the center of her home, Jodi admits she spends a lot of time there. "My kitchen is the heart of the house. I love to cook for friends on a Sunday and I try new recipes all the time. I make a mean soup and cauliflower puree!"
Her two dogs, Ophelia and George, followed Jodi as she gave me a tour. Clad in a roomy but form-fitting Rachel Pally jumpsuit, the actress explained that on an average day, she's dressed for comfort -- likely jeans and a T-shirt. However, she also loves the juxtaposition of mixing masculine and feminine pieces, sporting a suit or blazer usually does the trick.
Barefoot, she leads me through her spacious living room. Framed photos of family and friends decorate her shelves along with seashells and candles. We reach the backyard -- enclosed, intimate, and perfect for small bar-b-ques and late-night soirees. There, we chat about the jewelry she's wearing. The line, Q Jewelry, is composed of charm necklaces and statement rings, littered with wings and the occasional bow. She tells me that her mother was the inspiration behind the bird wings: "she told me when I was growing up that she wanted to be able to give her girls roots and wings. It stayed with me." Jodi is also inspired by her travels -- she just visited Alaska and is on the hunt to find a stone that is as blue as the glacier ice she saw there.
Since launching the line, Jodi has collected quite the following -- actresses like Joan Cusack and Kaley Cuoco have become fans of the stunning designs, adding such pieces as the Black Rhodium Wing Ring and Bow Ring to their collections. Additionally, Hirst saw Jodi's Black Rhodium Wing Ring and asked her to create one for him in exchange for a piece of his art. Celebrity stylists such as Trish Summerville and Samantha McMillen are sending the jewelry to their A-List clients, and even Deborah Waknin (who works with Sofia Vergara, Sandra Bullock, Diane Keaton and Halle Berry) said, "I love the jewelry. It's super edgy and cool."
We went back inside and paid a visit to her bedroom. With her original paintings hanging above her bed, the space is more of a sanctuary -- she is instantly at peace sitting on her bed with Ophelia and is quick to point out the perfume bottle collection in her bathroom. "[that] happened accidentally. I would run out of the perfume I was using and I didn't want to throw away the bottle. Now I find myself looking for beautiful bottles."
The house, however, was not always so lovely. When Jodi first moved in, there was a bit of restoration to be done. "I redid the bathrooms and the floors in my house -- little tweaks here and there in the kitchen. I repainted everything and changed the front and back yard. Everything is enclosed now and I'm surrounded by white flowers -- roses, gardenias -- they're my favorite."
Before I leave, I ask her what she loves about designing jewelry, from home. "The thing I love most about designing jewelry is the freedom. I can be totally myself and creative and I don't have to ask anyone's permission. It's exhilarating and terrifying at the same time. I am used to playing a part in someone else's creative vision. Designing, the sketching, that's just for me."
Take a peek at Jodi's California home and her jewelry designing debut in the slideshow below: