We're always intrigued to get a peek at how real people (read: those who aren't the subject of highly-produced photo shoots) live, so when we stumbled upon photos of blogger Mr. Money Mustache's modern but lively home he shares with his wife and son in Longmont, Colorado we were impressed -- especially when we learned that they live on only $25K a year.
Pete, who chooses to omit his last name for privacy, is known for blogging about what he calls "early retirement through badassity" and how he and his wife both quit the workforce permanently...at age 30. Although from the outside, Mustache confirms they are undistinguishable from a "normal" family, they've made many changes to afford their lifestyle, especially when it comes to their 2,600 square-foot house, which he says is worth about $400,000.
How do they do it? Well for one, they rent out the property when they won't be there. "When we take long trips, I rent out this house to some friends who live overseas most of the year but happen to visit Colorado right when we're away. So the house effectively pays its own property taxes." Also, Mustache and his family purposefully live in the center of town, and were adamant about finding a house that was no more than a 3 mile bike ride away from everywhere they need to go. He told us, "we can sometimes go a whole month without even having to start the car. Even in Colorado's rare rain and snow events, we're still out there on the bikes -- feels great and saves thousands per year."
Although the home has a more traditional aesthetic normally seen in older spaces, the structure is relatively new -- it was built in 1998. Mustache chose the home specifically because its "youth" meant solid bones, good insulation and overall efficiency. "Houses like this are a rare thing in this area, so we jumped on it when it happened to go up for sale while we were shopping," he said.
The family's dedication to efficiency and simplicity is also reflected in the home's interiors. It's a comfortable space that allows for both family living and entertaining. When they purchased the house it was bland and boring with builder's grade finishes, but Mustache gave the open floor plan lots of personality with pops of bright color, clean-lined furnishings and modern amenities. And despite being decorated on a budget, it's not too shabby -- the home incudes a basement theater, a studio, home gym in the basement and offices for the couple to work on their hobbies (such as blogging, of course). Mustache told us, "It's not the deprived, potato-sack-for-clothing lifestyle that people assume we must have when I tell them we only spend $25K per year for all the family's expenses, but it works for us!"
Click through the slideshow below to see inside Mr. Money Mustache's home, and for more details about how they make it work for less, visit his website.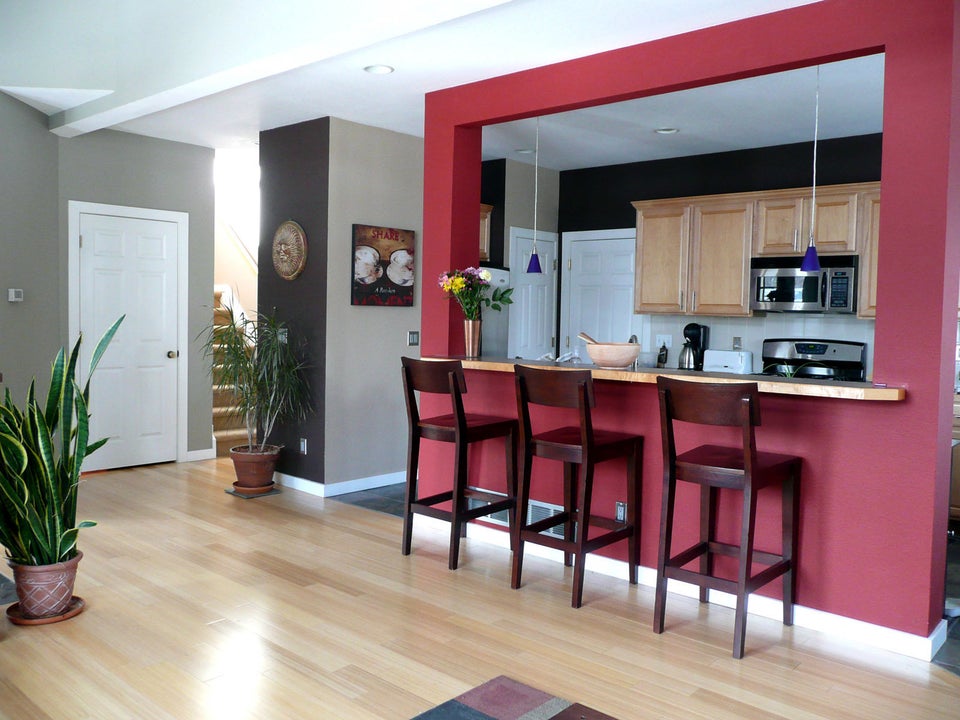 Mr. Money Mustache's House Tour
Do you have a home story idea or tip? Email us at homesubmissions@huffingtonpost.com. (PR pitches sent to this address will be ignored.)
Related