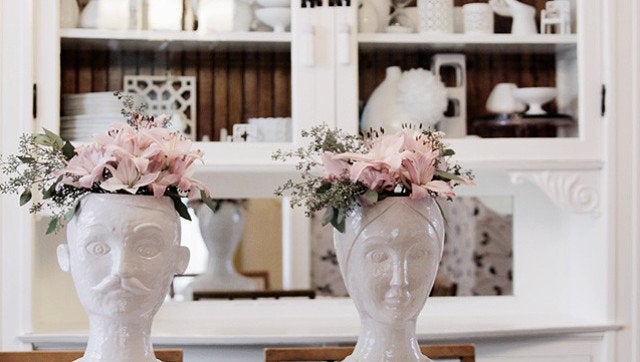 When most married couples look for a home, they look for a space that will accommodate their lives plus the possibility of a few more as their family grows. But blogger Nicole Balch from Making It Lovely and her husband Brandon not only needed space to live but also to work on her thriving stationary business. So, after a long search and a lot of paint, the duo created a home that not only has tons of character but plenty of room for all of their endeavors, making this a house tour we had to share.
When they first purchased their 1910 Chicagoland bungalow home, the structure was sound... but the decor was not. Almost every room had been painted stark white and two key spaces needed major updates. So, Balch did what she does best and focused on making the home, well, lovely!
At first, she thought her renovation efforts would be focused on the loo, but to her surprise it was the kitchen that needed the most work. "The bathroom near the bedrooms upstairs was the ugliest space in the house, and we had set aside some money to renovate it. We quickly realized after we moved in though that the kitchen was more in need or repair, so we shifted our funds to cover that space instead," she said.
Being pretty handy herself, Balch felt comfortable removing everything but the walls and wooden floors from the space. Then she and her husband accomplished the entire remodel, from the demolition to tiling the backsplash. Of course, help was needed with electrical wiring (one home improvement we agree you should never DIY). "The project took four months, so we were without a kitchen for a long time! We were pretty sick of take-out by the end," she joked.
Now, not only does Balch have gorgeous countertops, stainless steel appliances and an overall airy eatery, her entire home is filled with unique decorative accents.
Her husband's office has a vase filled of arrows ( yes the kind you shoot with a bow!) the living room has a pink chevron rug and the dining table centerpiece consists of two giant busts in the shape of a man and woman from Floral Art, which are liked by some, hated by a few but loved by Balch. "It will be great for when I totally lose my marbles. Instant dinner party guests," she jokes on her blog.
Not to mention a studio that is so organized, it's hard to believe actual work goes on there and a "library" that is not only our favorite room in the house but also Balch's.
What started off as an empty oversized landing and hallway, was completely transformed with shelves lined with books, ombre nesting tables and a couple of plants from Sprout Home.
And as the holidays near, the unusual decor will multiply. The family has a pink Christmas tree and plans to decorate with lots of metallics. "I decorate in non-traditional colors, but with traditional elements," she said.
For all of you decorators or homebuyers out there looking for a dream home like Balch's, she has a key piece of advice: find your community. "Whether it's a kindred spirit near you, or a home-blogger you can relate to, I think it's incredibly helpful to see what other people in your shoes are doing. Train your eye by paying attention to what you like, and through practice and over time, you'll end up with a home that feels like you."
Click through our slideshow to see photos of Nicole's home and be sure to head over to Making It Lovely, for more information and a ton of great tutorials.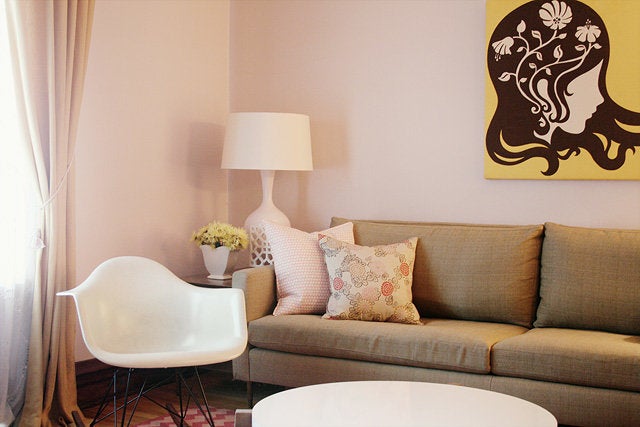 Making It Lovely House Tour
Do you have a home story idea or tip? Email us at homesubmissions@huffingtonpost.com. (PR pitches sent to this address will be ignored.)
Related