Suzi West, designer and owner of Collier West, an eclectic furniture boutique in Brooklyn, proves to all of the doubters out there that a small space can still look great and be efficient. Her studio apartment in Boerum Hill, Brooklyn, is a mere 200 square feet. But West says she loves to entertain, and she has designed her house so that she has enough room for visitors and can make the most of her small space. Plus, her Parisian-inspired decor gives this studio some extra flair and takes this teeny tiny place from cramped to quaint.
Naturally we were curious about how she fits all of her stuff into such a small space. And we found our answer: shelving, and lots of it. The most prominent piece of furniture in West's apartment is a large, antique handcrafted chest of drawers, which she says has around 112 drawers. She also has exposed shelving, which is where she stores and displays her book collection. In her kitchen, West curates all of her dishes, storing them neatly and efficiently. Other small organization tricks she uses are hanging tissue boxes on the wall as shelves and mounting her knife set. And the majority of West's clothing is stored compactly in bins in her closet. When space is so limited, a convertible piece of furniture, like a day bed, is a staple. West's bed serves as a sofa by day and her sleeping space by night.
What we especially love about West's apartment are the ways she is able to achieve certain design elements by finding an alternative that fits in her apartment. For example, West's ceilings are not high enough for chandeliers. So instead, she decorates with exquisite sconces to achieve the same elegant effect. And what she lacks in space in her studio, she makes up for with her spacious backyard, complete with a bar and a few sets of café-esque tables and chairs.
Watch the video above to learn more about West's apartment and why she loves living in a small space, and check out the slideshow below.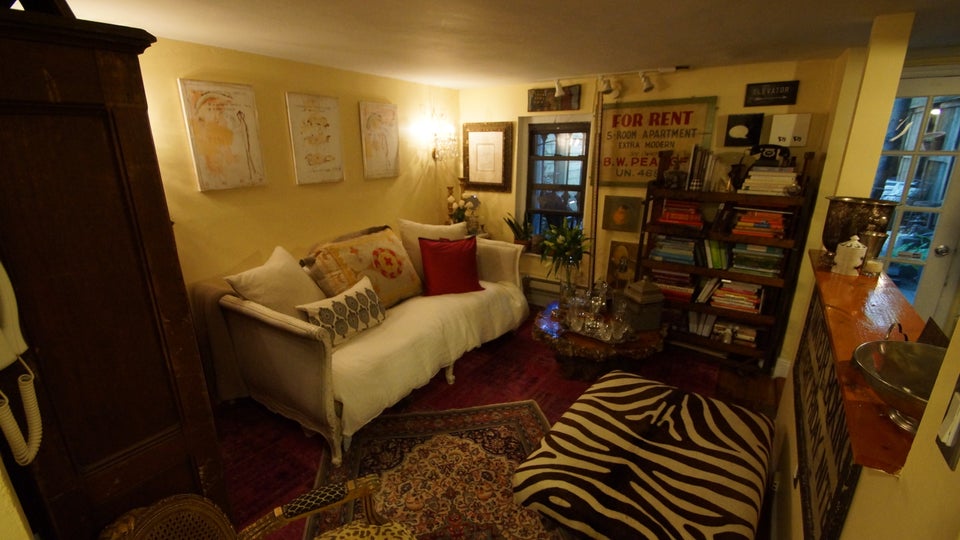 Suzi West's Brooklyn Studio