To some, a collection of vintage ceramics, glass figurines and mementos from trips are just dust-collectors, but to others they are the makings of a beautiful home. After speaking with Terry Rosen, New York-based artist and textile designer, about her own experiences with curating decor, we have even more appreciation for decorating with found objects. Rosen, whose work features familiar and common motifs such as food labels, newspaper ads and her iconic ticket stub fabric made popular by fashion designer Nicole Miller in the nineties, has now entered the home fashion industry with a new pillow line for DQtrs inspired by her own costume jewelry collection. Her use of everyday objects as inspiration transcends beyond textiles to interior design, as she decorates her weekend home in Great Barrington, Massachusetts with her personal possessions, which you can see in our house tour.
Rosen has been collecting items that have caught her eye since her teen years, and has incorporated them into her house in stunning vignettes. She is particularly drawn to interesting or beautiful forms that she may like to sketch, and is constantly keeping a look out at flea markets, antique shops and in her worldly travels. She has also incorporated pieces from her parent's home that hold significant memories. For example a Steuben glass fish acts as a shrine to her late father who was passionate about the sport. She also loves apples and has been adding to her collection of fruit-shaped trinkets slowly over time. When a tableaux she has designed becomes too cluttered, she carefully examines and edits it, giving pieces off to friends as gifts.
Her favorite finds are those from nature, like an emptied hornets' nest she found on the ground in nearly perfect condition. The hexagonal structure juxtaposes a smooth dandelion paperweight she scored from eBay. Her tablescapes aren't formed at once -- she'll start with just a couple of pieces that relate well, and slowly add more as she finds them. Her bedroom bureau began with striped and polka-dotted pieces, but then she added a set of Murano glass bookends and it now became an eye-catching selection of primary-hued treasures. Her arrangements encompass the furniture too. She decided that her milk glass pieces needed to be on a white background, so she found a small secondhand table and painted it for a complete white "story."
Rosen frequents church sales, small shops and big antique shows like the semi-annual fair in Brimfield, Massachussetts. Her suggestions for hunting for your own treasures? You can't take everything you love home, so take photographs of items you love as keepsakes. Be patient, and don't go for the first thing you see because chances are you will find something else you like even more.
To see photographs of Rosen's summer home and detail shots of her fabulous finds, click through our slideshow below.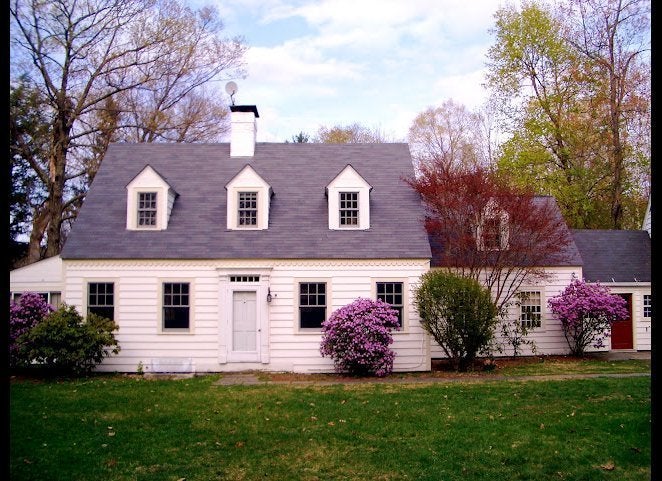 Terry Rosen's Summer Home
Popular in the Community