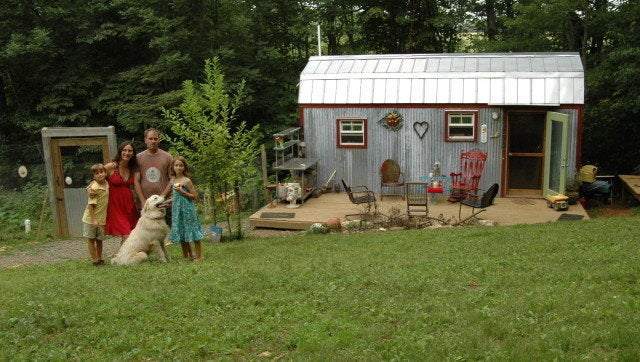 Imagine moving your family from living in a comfortably-sized home into a much tinier home, downsizing so drastically that you would have to part with three quarters of everything you own, selling, donating and tossing many items you grew attached to throughout your life. Just thinking about it gives us anxiety. But that's exactly what Hari and Karl Berzins decided to do about four years ago when their restaurant went out of business and left them struggling financially, and they've given us a house tour of their new small abode.
The Berzins owned a successful restaurant in central Florida called New Day Café. But in 2008, because of the steep rises in gas prices, Hurricane Fay sweeping through the area and the collapse of big banks like Lehman Brothers, the Berzins lost their restaurant. "So at that point, we just made a firm decision that we were not going into debt again," says Hari Berzins. "And we haven't since. We really climbed out of that hole."
After stumbling upon Tiny House Blog, the couple decided that to live completely mortgage-free, they would build their own tiny home. So they saved every penny, bought a piece of land in southwest Virginia and started building their new house on a flatbed trailer while still in Florida. The framework of the house is a total of 168 square feet. But, there are also two sleeping lofts, one for their two kids and one for mom and dad. In total, Berzins estimates that there's about 320 square feet of space. Once they were able to find jobs in Virginia, the family moved, bringing their new home with them. Hari's husband finished the interior of the home once they arrived, and they also put in a well and septic tank on the property.
Now, close to a year-and-a-half after they first moved into their tiny home, the Berzins family is building a newer, bigger (but still tiny) house. "It's still pretty small," Berzins says. "But it'll feel like a mansion to us!" The new home will have space for the washer and dryer (which are now housed in separate sheds) and give the kids some more space as they get closer to their teenage years.
Although their decision to build a tiny home came out of necessity, the Berzins' experience has truly made them happier. "Everything that's hard or a problem, you can always flip that over and find an amazing lesson behind it," Berzins says. And the biggest lesson they're learning? How to get along with others. "Part of getting along really well is knowing how to disagree and how to work through it. And that's a great thing about the house, because we have to do that," Berzins says. There's nowhere to escape when an argument arises, which forces everyone in the family to clearly communicate and solve their differences.
The long process of downsizing before their move taught them how to determine what they really need and what they can live without. And they've realized an important fact: it doesn't really matter what they have. They're together, living in a house with the basic necessities a home should provide, and that is enough. And according to Berzins, living this way can make you happier. "You're just that much more present in your life because there's not so much to distract from the moment. And if you can be in the moment, then you can really be happy."
The family has also found happiness in the idea of utility--they don't keep things in the home that aren't useful. If something looks nice, it's certainly only there because it also serves a purpose. For example, they got rid of all their place settings and only kept their wedding china, so the family eats off these fancy dishes every day. Beautiful things should be a part of daily life, Berzins says. "And when you only have the things that you use daily, if they're beautiful, then everything just feels beautiful."
Flip through the slideshow below to take a tour of the Berzins' tiny home, and visit their blog, Tiny House Family, to learn more about living small.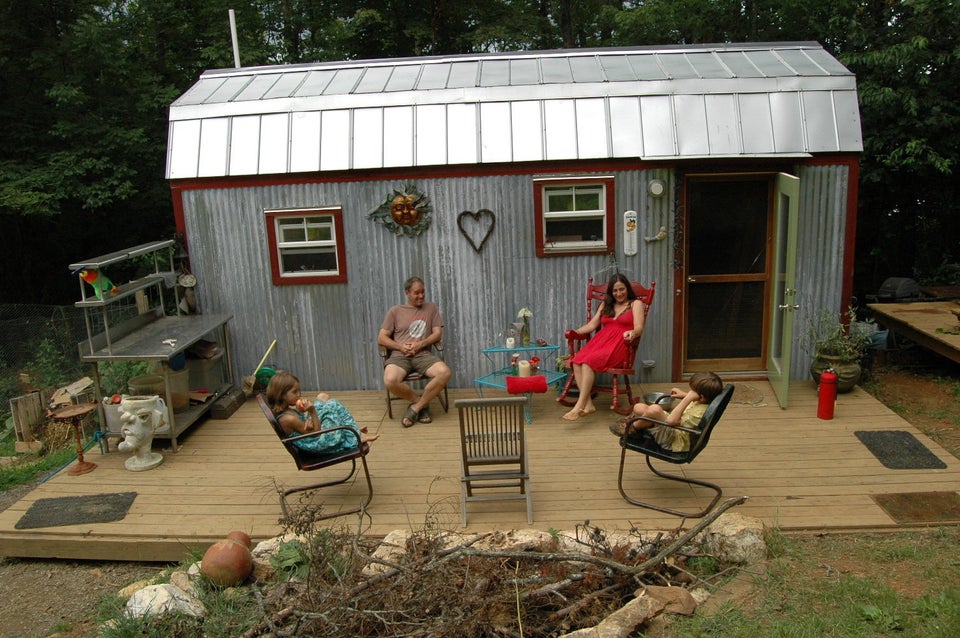 The Berzins' Tiny Home
Related