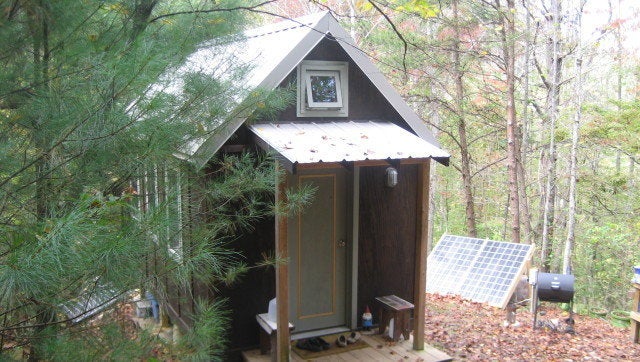 Three years go, Laura LaVoie and her husband Matt decided that they were tired of their 2,400-square-foot home and began building one a fraction of its size. Sure, they enjoyed having lots of space so they could invite guests over and throw parties. But at some point, the size became too overwhelming. "We started to get really bogged down with a lot of things like house maintenance. Every time it rained, we worried about the basement, we worried about the roof," says Laura LaVoie. "We realized if we scaled down and built something ourselves, we would know exactly what went into it and exactly how to fix it if something went wrong. And, there would be a lot less of it to worry about."
Now, the LaVoie's live in a 120-square-foot home nestled in the Smoky Mountains just north of Asheville, NC. They live completely off the grid, with a solar-powered energy system and completely self-sufficient plumbing system.
They moved into their new tiny home this past May after three long years of building. Their previous home was in Atlanta, and they would make the trip to Asheville on weekends to work on the house. "We would spend weekends up there building and then the next couple of weeks learning how to build the next thing we needed," says LaVoie. They used Tumbleweed Tiny House Company (where they bought their building plans) as a resource, along with research they did in books and online, to build their new home.
Downsizing was easy, LaVoie says, thanks mostly to technology. "I don't know that we would have been so readily able to do it if it weren't for the modern digital age of communication," she says. It was easy to consolidate everything because they could do it electronically, and now they have all of their books, music and movies on their tablets, which takes up virtually no space. "And because we were so fed up with our giant house," she adds, "it was really easy to start downsizing."
One interesting choice the couple made when building their home was to not winterize it. "We can and we may eventually, but right now since our water is off the grid and we don't have a congenital heater (and our cat doesn't like the cold), we decided that it made sense to travel now especially during the holidays to see family," LaVoie says. So for the next few months, the couple is staying in Michigan with Matt's family. This way, they can enjoy a vacation, spend time with family and not have to worry about keeping their tiny home comfortable during the harsh, snowy months in the mountains. And they're loving this flexibility that the tiny house has given them.
Another benefit of tiny house living, LaVoie notes, is that she can finally do work she enjoys. Her husband's job allows him to work from home. But burnt out from her job, she wanted to pursue a writing career, which she knew they wouldn't be able to afford without reducing expenses. And the tiny home has been a perfect solution, she says. Now, they can live on their own terms and do what they enjoy doing without feeling trapped by a mortgage or outrageously high bills. There's no stress or pressure to rake in a higher salary to be able to pay for more things.
And for the first time ever, LaVoie feels very engaged in her own life. Instead of coming home from work, watching TV, going to bed and getting up the next day to do it all over again, she can take the time to enjoy other things, even if it's just work around the house. "I don't mind doing household chores anymore," she notes. LaVoie is just grateful for this new ability to interact with her life, instead of just sailing through monotonous, unfulfilling tasks like she did before life was this simple. "And just the setting--being in the mountains and working and living--is really relaxing. It's exactly where we want to be," LaVoie says.
She knows that tiny living isn't for everyone, but she points out that the concept of a tiny home can still apply to anyone. "If someone doesn't want to downsize and really loves their stuff, then they shouldn't do it. They should find something else that makes them happy and engaged," she says. "Once you eliminate that excess baggage, you're going to find yourself a lot less stressed out day to day."
Check out the slideshow below to take a tour of the LaVoie's home. And head over to Life in 120 Square Feet to follow Laura and Matt as they enjoy their tiny, simple and flexible life.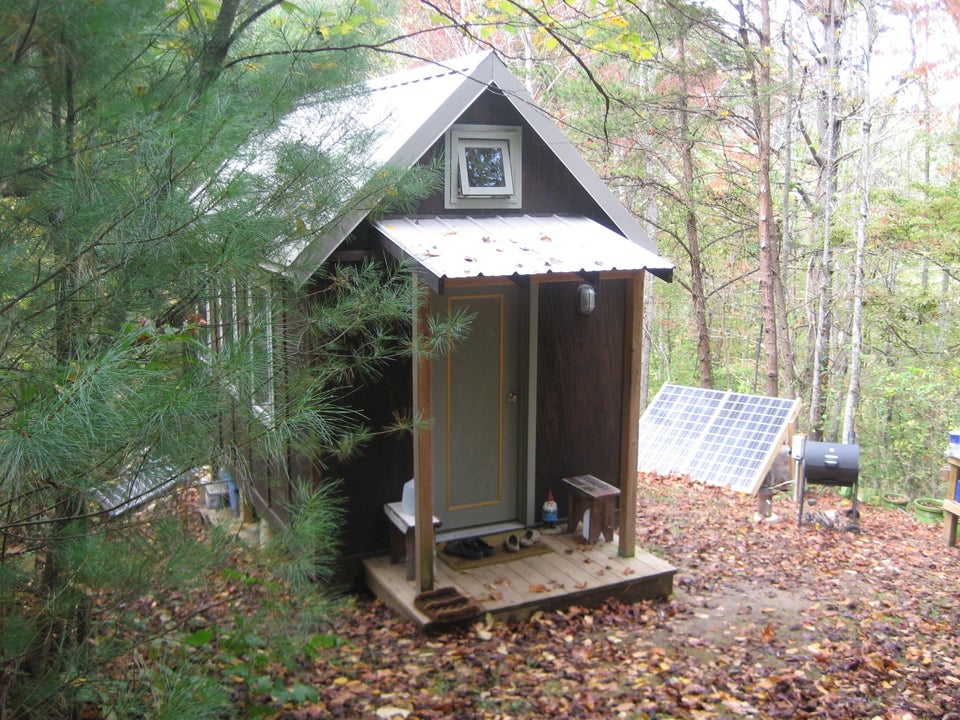 The LaVoie's Tiny House
Support HuffPost
A No-B.S. Guide To Life
Related
Popular in the Community