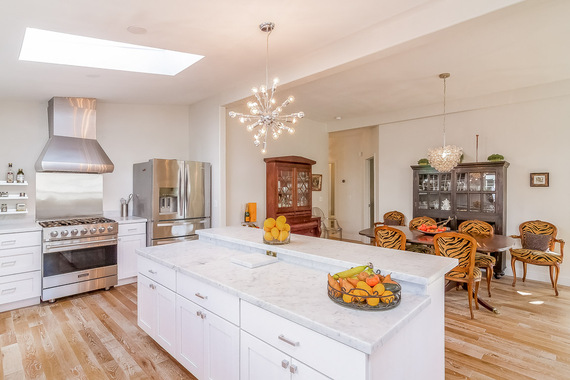 Can you believe it? This is a manufactured home. Marble counters, Viking appliances, solid wood floors, this house is top of the line.
Sometimes you have to get creative when change doesn't happen as smoothly as you planned. That's how my parents, Jay and Ermelinda, ended up in an alternative to a traditional home. Weeks after celebrating their 30th wedding anniversary, they sold their Connecticut home of 28 years and moved to San Francisco to be closer to me, my brother, and Coco and Kitty, their grand-dog-ters. The change was bigger than either imagined, the struggle to settle and find a new home felt impossible.
After eight months of searching, looking at almost 400 homes, and losing bids on at least a half a dozen in a crazy competitive housing market, Jay and Ermelinda wondered what they were thinking in moving to California. They knew they had to think outside of the box so they could find their own home (did I mention they lived with my brother and I in our apartment in SF?!), get all of their belongings out of storage, and start their life in California.
I can't remember who came up with the idea first, but after losing a bid on a house they were extra aggressive on, we all knew we needed to change the plan. I went with Jay and Ermelinda to look at a manufactured home in Yountville -- my favorite town in Napa Valley. Surrounded by mountains and filled with some of the best restaurants in the country, Yountville was a perfect place for Jay and Ermelinda to make their first California home.
It seemed like a sign that the house was on San Francisco Street. When we pulled up, I wasn't sure if either of my parents were really serious about this option. The house we grew up in was so different than this one, but hey, this is California. Even though the house was laid with wall-to-wall lavender carpet and finished with formica and linoleum accents, my mom exclaimed that this house was "perfect!" I laughed, but she was serious. My parents saw past the dated everything and realized they'd found a diamond in rough, less than half the price of any other houses they'd seen. At 1900 square feet, it was larger than most of the other "real" homes they saw, and it had laundry inside, which for my East Coast mom was a must.
Unsure of who would judge them, Jay and Ermelinda threw caution to the wind, and bought their first California home. Then, they gutted it. This was the fifth time they had renovated a home together, like pros they knew where to start. They tore out the kitchen, flooring, bathrooms, and replaced, well, almost everything. They ordered solid hardwood from the East Coast, marble for the kitchen and bathrooms, Viking appliances, and slowly turned their home into the best one they'd seen since moving to California.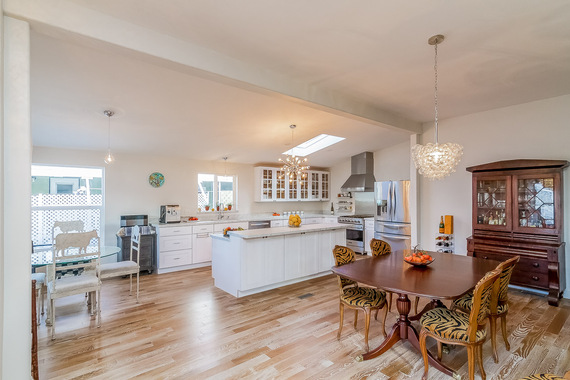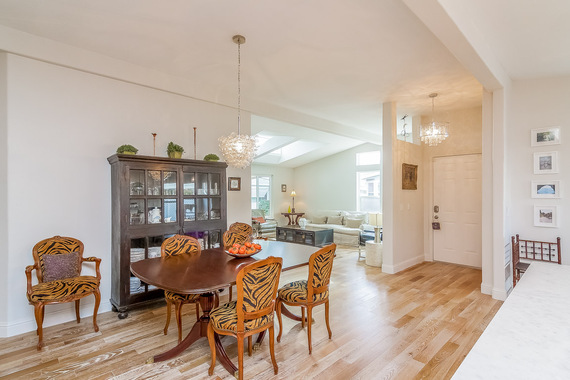 An open floor plan connects the kitchen, dining room, and living room. Pickled, solid wood floors run throughout the home.
It's been a year and a half, and even though the house is perfect, they need to relocate. But they learned that living in a manufactured home is almost better than a traditional home and condo: their taxes are super low, their house is much bigger than most CA cottages, they have a small backyard with a lemon tree that fruits year round, a view of the mountains, and are walking distance to world renowned restaurants and wineries.
My dad always joked with my mom that they'd end up in a double wide, little did either of them know there was the tiniest bit of truth to that joke. And they stepped it up by purchasing a triple wide!
Popular in the Community