WASHINGTON -- House lawmakers launched a task force Tuesday dedicated to issues of transgender equality, accompanied by Congress' first-ever forum on violence against transgender people.
"We all celebrate the great strides we've made in recent years in the LGBT rights movement. But too many times, the 'T' in LGBT has been an afterthought," LGBT Equality Caucus Co-Chair Rep. Jared Polis (D-Colo.) said at a press conference at the Capitol Tuesday morning.
Rep. Mike Honda (D-Calif.) will chair the new task force, the first launched by the LGBT Equality Caucus. It will be composed of seven Democratic members and one Republican -- Rep. Ileana Ros-Lehtinen (R-Fla.), whose son is transgender.
Honda is the self-described "proud grandpa" of Malisa, his 8-year-old transgender granddaughter whom he tweeted about in February.
"The violence against the transgender community is a national crisis," Honda said. "Far too often, they face harassment, discrimination or violence for simply being who they are. ... After 21 deaths of transgender individuals because of violence this year alone, Congress must take notice and act."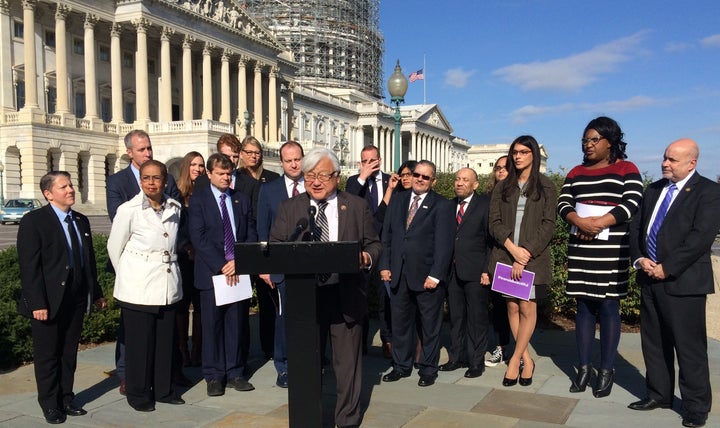 This year's killings of at least 21 transgender people -- primarily women of color -- were a focus of the press conference Tuesday. Legislators pointed to these deaths as examples of the urgent need for more awareness and measures that will advance equality. The number is the highest since advocates began tracking reported U.S. homicides of transgender individuals in 2006, according to the Human Rights Campaign.
Several of the transgender speakers at the event had their own harrowing stories to tell about facing violence and discrimination over the years.
Laya Monarez, now a staffer with HRC, transitioned in 2009. Facing discrimination, she left her job as an art teacher and assumed she would be able to find a new one. But no one would hire her, and she soon ran out of money.
"I turned to the streets and relied on couches and the kindness of others to survive," she recounted Tuesday. "There, I met violence head-on. Every night was a night that may have been my last. In my experience to survive, I have been raped, assaulted at gunpoint, stabbed multiple times, forced to jump from a moving car to escape my attacker."
"But it wasn't just on the streets that I faced violence. It was everywhere," she added. "There have been times that I have been harassed simply because someone saw me and thought I was transgender. I was once even chased in the middle of the day by someone threatening to kill me with a broken glass bottle. To be clear, I'm the one who needs protection in the bathroom."
The task force's launch comes just weeks after a blow to the LGBT rights movement. Earlier this month, Houston voters overwhelmingly rejected a comprehensive nondiscrimination measure. Conservative opponents focused the fight on the protections for sexual orientation and gender identity, adopting the slogan "No men in women's bathrooms" and playing up fears that passage could lead to male sexual predators dressing up as women and entering women's restrooms. (Like Monarez said, transgender individuals are far more likely to face harassment in restrooms.)
But none of the more than a dozen speakers mentioned the Houston loss Tuesday, except passingly as evidence of the work that needs to be done. LGBT Equality Caucus Executive Director Roddy Flynn told The Huffington Post that the launch of the task force had been in the works for months, before the Houston legislation's failure, although the outcome of that vote showed the need for such measures.
At the congressional forum Tuesday afternoon, transgender rights activists -- some of whom are transgender and have experienced targeted violence themselves -- stressed that it was important to increase education around gender identity issues.
"Ignorance is not benign," said Catherine Hyde, who has a transgender daughter and is the director of Atlanta's chapter of Parents, Families and Friends of Lesbian, Gay, Bisexual and Transgender People. She recounted how a psychologist was concerned that her son, before he transitioned, was playing with tutus and Barbies. Hyde said the psychologist, "who did not understand," encouraged them to "allow only boy toys and clothing, supposedly helping."
"Two years later, our 6-year-old was threatening with suicide," Hyde said.
A member of the police force also spoke on how the law enforcement community can improve its treatment of transgender individuals and educate itself on the violence directed at the community.
Major Irene Burks of the police force in Prince George's County, Maryland, said such improvement would begin with law enforcement agencies acknowledging "their role in injustices and discrimination." Burks suggested law enforcement start nationally tracking violence against transgender individuals.
Then, she said, strategies, training programs and policies could be informed and created to "best meet the needs of the agency, as well as the transgender community."
In addition to the task force, Congress will hold a historic forum Tuesday afternoon on transgender issues. The event will feature nearly a dozen panelists talking about the impact and causes of violence against the community, as well as policies and solutions to address the problem.
In July, a group of lawmakers introduced the Equality Act, which would update federal law to provide nondiscrimination protections for LGBT people. The White House recently endorsed it, but it hasn't moved anywhere in Congress.
All panelists at the afternoon forum stressed that, ultimately, the passage of federal anti-discrimination legislation was an imperative remedy to the transgender community's suffering.
"Every day that goes by where trans people lack federal protections and the full rights and privileges of citizenship is a day where the state failed to recognize the humanity of trans people," said Joanna Cifredo, a transgender writer, advocate and organizer, who has personally survived gender-based violence.
HRC and the Trans People of Color Coalition recently released a report shedding light on victims' stories and highlighting data on and solutions to the issue of violence against the transgender community.
This article has been updated with comments from Catherine Hyde, Irene Burks and Joanna Cifredo.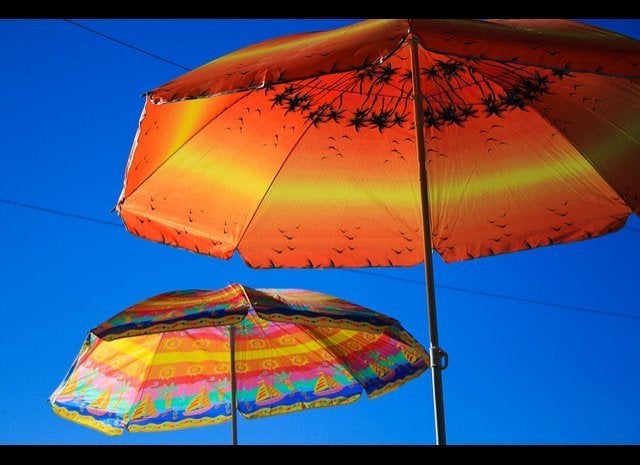 15 Things To Know About Being Transgender By Nicholas M. Teich
Popular in the Community