WASHINGTON -- What would make House Speaker John Boehner (R-Ohio) support a Senate-passed bill to restore long-term unemployment insurance to more than 2 million Americans? Ask the White House.
It's no secret that Boehner opposes Senate legislation reauthorizing long-term unemployment benefits, as he has previously stated that the bill is "unworkable." But when asked on Thursday whether he would heed calls from the bill's Republican co-sponsors to take up the measure in the House, Boehner said that the next steps were up to Obama.
"Listen, I made clear to the president last December that if he wanted us to consider an extension of emergency unemployment benefits, it would have to be paid for and it would have to include things that would help get our economy going," Boehner told reporters on Capitol Hill. "They have not put forward anything with regard to how we would create more jobs. And so the ball's still in their court."
Pressed further on what specific jobs provisions he would like to see, Boehner again punted to the White House.
"You'll have to ask the administration," he said. "I made it clear what it would take for me to consider it. They've not had any suggestions."
The White House did not immediately respond to The Huffington Post's request for comment.
The Congressional Budget Office says federal unemployment extensions boost the economy and create jobs, since unemployed people tend to spend their benefits immediately, but Boehner has tended to ignore the CBO's analysis on this. It's not entirely clear what the House GOP would like to see in the bill, though Senate Republicans had sought to amend the Senate-passed bill with a measure that included approving the Keystone pipeline, blocking new environmental regulations and giving tax breaks to businesses.
House Republicans have reportedly been weighing their own legislation that would tie the extension of unemployment benefits to job creation and the extension of tax breaks. Boehner spokesman Michael Steel acknowledged that the House GOP had not coalesced around any one proposal.
"A lot of members have proposals on economic growth and jobs provisions," Steel said in an email. "No decisions have been made at this point on how we'll proceed."
It's unlikely that the House will address the issue until Congress returns from its two-week Easter recess on April 28. If the House changed the Senate bill, the Senate would have to vote on it again. Lawmakers are set to leave town on Thursday.
Congress let federal benefits for the long-term jobless expire in December, immediately cutting off 1.3 million people who'd been out of work for six months or longer. Each week since then, another 70,000 workers who used up their state-funded benefits would have been eligible for federal compensation, bringing the total missing out to almost 3 million.
After months of haggling, the Senate passed a bipartisan bill on Monday to reauthorize the benefits through May. The five Republicans who helped craft the bill made sure that it wouldn't increase the deficit and that it included reforms to the unemployment insurance system -- two things Boehner said he wanted in the bill.
While the benefits would expire again in less than two months, everyone who has missed checks since December would receive retroactive lump-sum payments. For some, that would mean catching up on bills, while for others, it would be too late.
"If I don't land a job this week or the unemployment bill doesn't pass, I'm going to have to move out of my apartment," Vincent Oviedo told HuffPost this week. The 44-year-old facilities manager said he lost his job last June and has had interviews but no offers.
"I haven't paid rent since March," he said. "I've been telling my landlord that this unemployment bill is going to pass, and then I'll pay them rent. Well, she's watching as much as I'm watching and it doesn't look like it's going to pass. Next Friday, I'll be living in my car."
Before You Go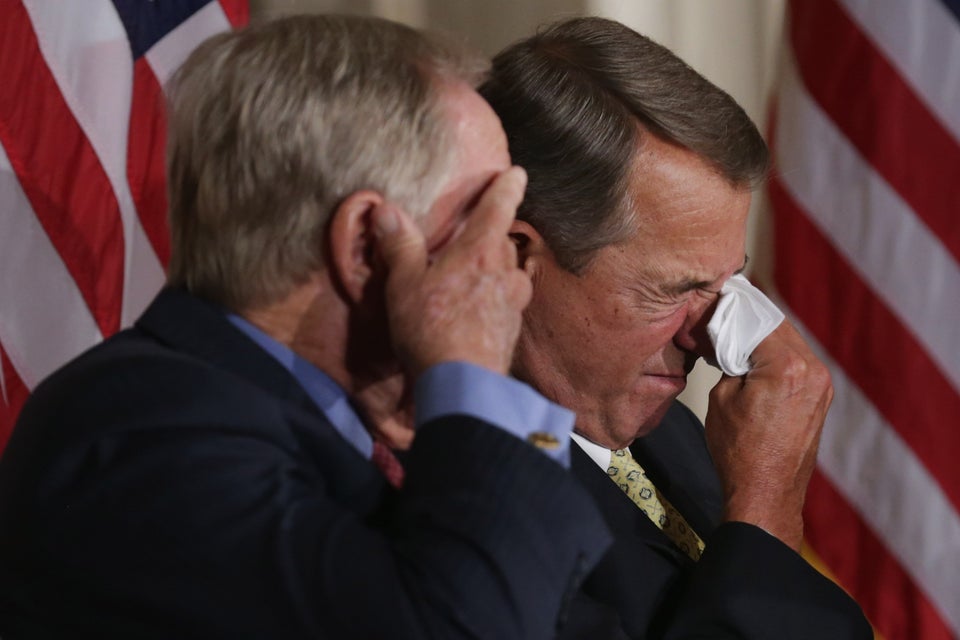 John Boehner Cries
Popular in the Community