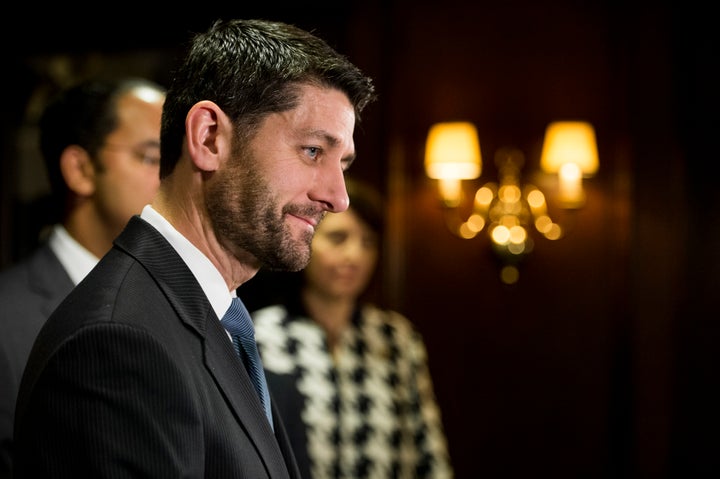 WASHINGTON -- After last month's terror attacks in Paris, there was broad agreement in Congress that lawmakers needed to do something -- anything. For days, Republicans successfully argued that the right response was to keep out Syrian refugees.
The anti-refugee backlash intensified, and the White House seemed powerless to stop it. In spite of visits from administration officials to Capitol Hill, condemnations from President Barack Obama and even a veto threat, 47 House Democrats voted with Republicans last month to make it harder for the U.S. to admit Syrian and Iraqi refugees. 
If that vote resulted from a failure of messaging by the Obama administration, the House on Tuesday handed the president a victory. By a vote of 407-19, the chamber overwhelmingly passed a bill requiring certain foreign nationals to follow additional steps before they can enter the country as visitors.
The bill's approval is the result of a concerted effort by the White House, many Democrats and some Republicans to refocus attention away from refugees onto what they argue is a more likely path for terrorists seeking to enter the U.S.: the visa waiver program. 
Under the program, citizens from 38 countries can visit the U.S. for up to 90 days without a visa. They undergo some screening, but not nearly as much as refugees or many other visitors receive. Most of the alleged Paris attackers were citizens of countries that participate in the visa waiver program.
A Senate Democratic aide said lawmakers knew their constituents wanted them to respond after the Paris attacks, and "lo and behold, there are some actual real vulnerabilities" with the visa waiver program.
"Substantively, it is a much better place to be" than focusing on refugees, said the aides, who requested anonymity to talk about the party's strategy. "And politically, it has the rare benefit of actually being a solution to a problem as opposed to just demagoguing an issue."
Within a week of the attacks, the White House asked congressional leaders to work on bipartisan legislation to address the visa waiver program. The day before the House voted to restrict Syrian and Iraqi refugees, Sens. Dianne Feinstein (D-Calif.) and Jeff Flake (R-Ariz.) announced a bill in the Senate.
"I said from the beginning, we ought to spend most of our time focused on those areas where there are real gaps," Flake said on Tuesday. "If everyone who entered the country was as vetted as those in the refugee program, then we'd be fortunate. If there are gaps there, we ought to look at them, but I think we're rightly more concerned about visa waiver and some of the other issues." 
The House, for its part, hasn't been neglecting the issue. Rep. Candice Miller (R-Mich.) introduced an initial bill in January, and the House Homeland Security Committee approved it in June.
But the legislation didn't get a vote at the time, and wasn't made a top priority after the Paris attacks, when House Republicans were focusing almost exclusively on refugee resettlement. After the Thanksgiving recess, leaders announced plans to vote on the visa waiver program legislation, which is an updated version of Miller's original bill.
The House-passed legislation would block certain people from taking advantage of the visa waiver program, although they could still apply for visas to visit the United States. Dual nationals of Iran, Iraq, Sudan and Syria, and people who have visited those countries since March 1, 2011, would be ineligible for the program. The bill would also require countries participating in the program to share more counterterrorism information.
Flake said Tuesday that he hoped Congress could find middle ground between the House bill and his legislation, which includes additional measures such as requiring travelers to submit more biometric information.
The House-passed bill garnered support from Republican and Democratic lawmakers, but also the travel industry. The U.S. Travel Association, which represents the industry and spent nearly $2 million on lobbying this year, supported the legislation.
"Without security there can be no travel, and travelers need to have the confidence to fly for our industry to thrive," Jonathan Grella, executive vice president of public affairs at U.S. Travel, told HuffPost last week. "Strengthening the program is not considered a loss so long as we don't do things that undermine the program."
Some civil and human rights groups urged Congress to amend the bill. The American Civil Liberties Union argued in a letter to lawmakers that it "arbitrarily discriminates" against certain people "based on their nationality and parentage." The group also requested an exemption for individuals who visit the countries for professional reasons, such as human rights workers, journalists and researchers, and asked for a time limit on the measure so that travel privileges wouldn't be removed indefinitely.
But even groups that expressed reservations said it was a good thing that Congress was looking at the visa waiver program rather than solely focusing on refugees.  
"The question that's been raised about the security gaps created by the visa waiver program are worth looking at, especially since so much attention has been wrongly placed on tightening up security restrictions on refugees," said Greg Chen, director of advocacy at the American Immigration Lawyers Association, which signed on to a separate letter listing concerns about aspects of the bill. 
The refugee issue hasn't gone away yet, however. House Speaker Paul Ryan (R-Wis.) declined to say at a Tuesday press conference whether the House's refugee legislation will be incorporated into the upcoming government spending bill, known as the omnibus. Sen. John Cornyn (R-Texas) told reporters later that he expects the omnibus to address Syrian refugees "in some form or another."
Democrats are likely to oppose such an effort -- although White House press secretary Josh Earnest declined to say last week whether Obama would oppose a spending bill that included provisions on refugees.
Senate Minority Whip Dick Durbin (D-Ill.) said Tuesday that Republicans would be "in for a fight" if they try to put the refugee bill into the omnibus. 
"That should not be in the omnibus package," he said. "It is clearly a poison pill." 
Laura Barron-Lopez contributed reporting.
PHOTO GALLERY
Public Opinion On Refugees Since The 20th Century
Calling all HuffPost superfans!
Sign up for membership to become a founding member and help shape HuffPost's next chapter