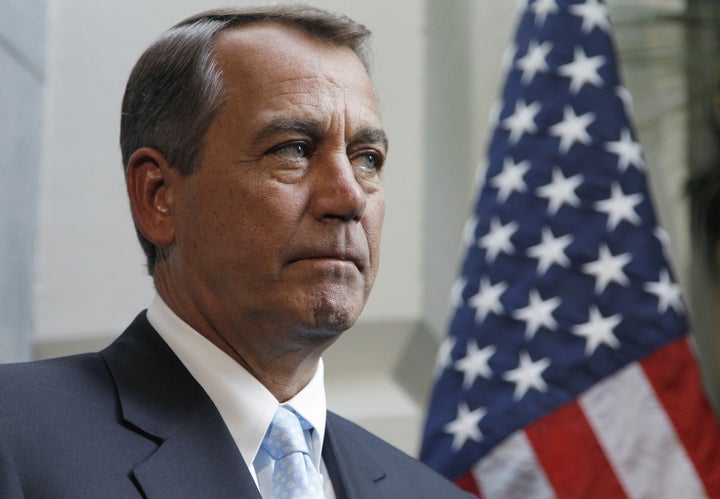 Amanda Terkel contributed reporting.
WASHINGTON -- More than half of the House Republicans voted on Wednesday to earmark $450 million in funds for a duplicative fighter-jet engines that the Department of Defense has repeatedly said it does not need. But a bipartisan coalition, including just over half of GOP freshmen, voted against the F-35 engines, approving an amendment to strip an expenditure long bemoaned as pure pork, but defended by members of Congress from the states who would benefit from the project.
Support for or opposition to the project had more to do with region than party. Members from Ohio and Indiana, where General Electric Co. and Rolls-Royce would build the fighter engines, unanimously backed the extra engine. House Speaker John Boehner of Ohio is an outspoken supporter of the jet engine, but didn't cast a vote, observing the speaker's tradition of abstaining. The opposition from inside his party to a pet-project of Boehner's is a rebuke to the speaker.
Rep. Tom Rooney (R-Fla.), who introduced the amendment, told The Huffington Post that he was heartened that members took the chance to live up to their campaign promises.
"What it comes down to is what was the November election about?" he said after the vote. "What were you sent here to do? And that was to cut spending. I have $450 million we can cut today. The speculation that over the next 50 years, two engines might drive down costs, is just that -- it's speculative."
Ryan Alexander, president of Taxpayers for Common Sense, praised the vote, saying it was important "to demonstrate that nothing should be off limits when it comes to cutting wasteful spending."
The Pentagon largely escaped the deep spending cuts proposed in the House GOP's continuing resolution, which set out to trim more than $60 billion from current spending levels. But Department of Defense Secretary Robert Gates urged Congress to add an amendment to the budget bill to cut funding for the program, calling it unnecessary and wasteful.
After the vote, Pentagon Press Secretary Geoff Morrell tweeted that Gates was "gratified that the House has recognized merits of DoD's position in opposing the extra engine."
Lobbyists from both sides tried to win over freshmen Republicans, many of whom were torn between dueling priorities: fiscal responsibility and support for military funding. Rolls-Royce and General Electric representatives descended on Capitol Hill in the days before the vote to lobby against the amendment, which they said would allow for a monopoly on fighter engines by Pratt & Whitney, the current manufacturer.
This story was updated with additional information.
Popular in the Community