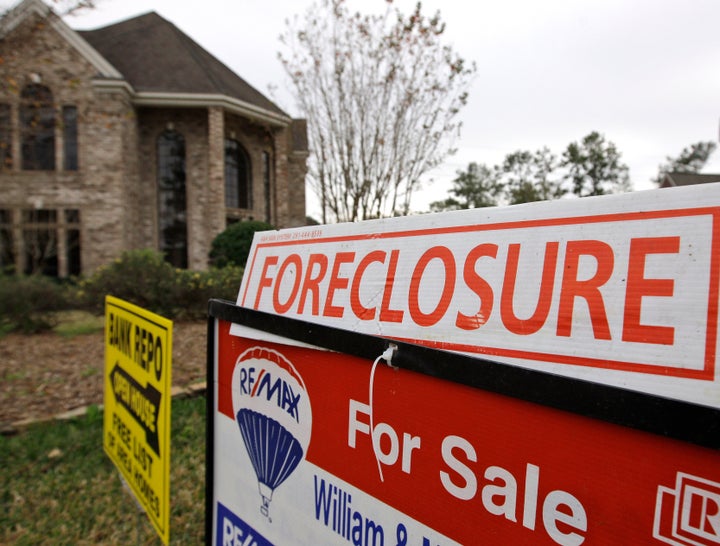 The U.S. House of Representatives voted Tuesday to terminate the Obama administration's signature anti-foreclosure effort, the beleaguered Home Affordable Modification Program. The 252-170 vote broke down mostly along party lines, with Republicans in favor of ending the program.

HAMP, as it's known, has been widely criticized for being far off track from its ultimate goal of modifying mortgages for 3 to 4 million struggling homeowners. Republicans repeated the program's latest statistics on the House floor during debate before the vote: Since the program launched in 2009, fewer than 600,000 homeowners are in permanent modifications as of February, while more than 800,000 homeowners have had their modifications canceled.
"The intent was to help homeowners, but two years after the fact we're left with the cold hard fact that this program has hurt more people than it's helped," said Rep. Patrick McHenry (R-N.C.), sponsor of the HAMP Termination Act, which is unlikely to prevail in the Senate and would almost certainly be vetoed by the White House.
McHenry read an anecdote on the floor about a constituent who'd been trying to win a modification under HAMP for 14 months, a process that is not supposed to take longer than three months. "It's false hope that this program delivers," said McHenry, who also called the program "an epic failure."
Consumer advocates have attributed HAMP's shortcomings mostly to the fact that the Treasury Department, which administers the program, does nothing to punish banks who violate its guidelines. The Treasury Department, for its part, says it can't punish bad banks because the program is voluntary.
Homeowners who are eligible for modifications under HAMP are supposed to be put into permanent modifications if they successfully make reduced payments during a three-month "trial" modification, but homeowners' stories of mixed signals and lost paperwork from their mortgage servicers are legion. Government auditors have reported that the program sometimes lures foreclosure-bound homeowners into making futile extra payments, and that in some cases the program even causes the foreclosures it's designed to prevent. Several homeowners have sued their banks over HAMP mods gone awry.
An internal report prepared by the Treasury Department's fledgling consumer protection bureau found that banks have saved $20 billion since 2007 by taking shortcuts in the processing of struggling borrowers' loans.
"We strongly oppose the action taken today by the House of Representatives to terminate the Home Affordable Modification Program," said Treasury honcho Tim Massad in a statement. "This program has helped hundreds of thousands of families across the country avoid foreclosure, and each month it continues to help tens of thousands of additional homeowners. Moreover, it has helped establish better standards for the mortgage industry that have resulted in millions more being able to stay in their homes."
Democrats criticized Republicans for pushing to eliminate HAMP without offering any sort of alternative anti-foreclosure effort.
"It makes no sense to say to 500,000 people, 'We want you to be homeless. Good luck, you're on your own." That's basically what they're saying," Rep. Jim McDermott (D-Wash.) told HuffPost. (The bill would not end the program for homeowners who are already in HAMP loan mods; the Congressional Oversight Panel estimated in December that altogether 800,000 homeowners could potentially receive HAMP modifications.)
McDermott has emerged as a HAMP defender in recent weeks. "You got to get the servicers to play better with the program. They simply don't want to do it."
A coalition of 50 Democrats, led by Rep. Maxine Waters (D-Calif.), sent a letter to the Treasury Department Tuesday outline recommendations for improving the program, among them a single point-of-contact for homeowners applying for a mods and eliminating the "dual track" that allows the foreclosure process to proceed at the same time as the modification process, a point of confusion for many borrowers.
Waters, a senior Democrat on the House Financial Services Committee, which approved the HAMP Termination Act earlier this month, proposed an amendment to require the Treasury Department to notify all HAMP applicants "that they will not be considered for a modification due to termination of the program, and that they can contact their Member of Congress for assistance in negotiating with, or acquiring a loan modification from, their servicer." The amendment was approved.
The Congressional Budget Office estimated that the HAMP-killing bill would save $1.4 billion.
This story has been updated with additional reporting.

Calling all HuffPost superfans!
Sign up for membership to become a founding member and help shape HuffPost's next chapter