Sometimes, though, life leads us abroad and into personal territory where it isn't so clear what "your best behavior" really means. It's safe to say that the aforementioned rules still apply, but depending on where you land, there are a few other things to keep in mind if you want to be invited back.
We asked Huffington Post editors from 16 countries (plus Puerto Rico) to tell us what rules you're most likely to find in any home in their country and what one thing they'd want an international house guest to know. Here's what we learned.
INDIA


Hospitality is paramount in Indian culture. There's even a Hindi saying, "Atithi Devo Bhavo," which means, "Guests are forms of God." It's common practice for a host to serve a glass of water and, as a guest, to drink it. Footwear is generally left outside the house before entering, and kissing your host on their cheeks is not always welcomed. (Indians prefer a more formal greeting.)
When food is served in an Indian home, don't expect alcohol to be served along with it. And, don't expect your host to take no for an answer when they try to refill your plate. "If you merely say 'no,' he or she is not going to stop," says Huffington Post India's Editor-in-Chief, Sruthijith KK. "You have to protest vehemently, preferably by waving both hands signaling 'no' and holding your belly, to show that you are really full."
ENGLAND


Chris York, HuffPost UK's Social Media Editor, tell us that Brits may not be the best at-home hosts around. "We are far more likely to go out to eat," he says, though there are three rules that apply when coming 'round to dinner.
Bring enough booze to cover yourself AND some extra as a gift to the host. "One bottle between a couple is not on [enough] quite frankly." If entering a carpeted home take your shoes off. And when the party's over, return the invite.
ITALY


When you find yourself in someone's home, "never -– NEVER! –- ask for a spoon to eat spaghetti or other kinds of pasta, except minestrone," says HuffPost Italia's Giulia Belardelli. Leaving food on your plate is also highly discouraged. "Do your best and enjoy the experience. Life is too short to be on a diet," Belardelli adds.
FRANCE


HuffPost France editor Sandra Lorenzo recommends that you always come with something when you are invited into a French home. Wine, dessert, sweets or flowers are welcome, but the best present ever? Champagne!
CANADA


Canada's diverse population makes it trickier to nail down universal rules, but remember that even if your host says, "Just bring yourself," you should still arrive with a token of thanks. Then, offer to help clean up afterwards, even if your host declines. The party typically ends in the kitchen anyway, says HuffPost Canada's Managing Lifestyle Editor, Lisa Yeung.
GERMANY


Germans expect you to be on time to an event. "More than 15 minutes delay for dinner is really impolite," says HuffPost Germany's Lea Kosch. Also good to note: When bringing alcohol, Kosch says no one ever brings beer. And, "don't behave if it was your place," Kosch adds. In other words, "Don't feel 'too' at home.'"
MAGHREB


Across the Maghreb, including Morocco and Tunisia, you'll want to bring something, but be careful with wine. "Unless you're sure your host drinks, it can offend people who don't," says Maghreb Editor-In-Chief, Houeida Anouar. Something sweet is a safe option -- a delicacy from your country that they can't find on the market, for instance. As a guest, you won't be allowed to help clean up, but if you do, avoid throwing bread in the trash. "Bread has a sacred place in the Maghreb culture," Anouar says. "The idea is that you can't throw bread knowing that people are hungry elsewhere." And lastly, don't overdo it with clichés. "Except in bedouin and very remote places, nobody eats couscous with their hands. Use your spoon!" Anouar adds.
GREECE


As the guest in Greece, you are never meant to arrive with empty hands, says Despina Trivoli, HuffPost Greece's Head of Life and Culture. "The most usual gifts include alcohol, dessert (cake is very popular) or plants." Flowers in general are welcome, but usually potted plants are preferable -- something that will be able to grow in a balcony or garden.
And if the event centers on a sit-down dinner, be prepared to wait until all of the guests have arrived. "Lateness is routine though, so it's an uneasy balance," Trivoli notes.
SPAIN


In España, an invitation will almost always be for 9pm or later. "Never, EVER, invite anyone before then," HuffPost Spain's María de Sancha says. And as a guest, you'll do well to make sure you don't show up before then either. Be prepared for alcohol to flow freely throughout the evening -- from the moment you arrive to the one you'll sip (and continue to sip) after dessert is served. de Sancha also notes how important it is that conversation never dies. "A silence over 10 seconds speaks 'failure,'" she says.
BRAZIL


When it comes to arrival time in Brazil, you've been warned: "DO NOT show up on time, unless your host specifically asks so," says HuffPost Brazil's Science & Health Editor, Ione Aguiar. "We always set up events one hour earlier than we actually mean. It is not considered offensive if you're really late, and if you show up on time there is a big chance that you find your host on pajamas, preparing the food."
Once the festivities are underway, Aguiar says it's perfectly acceptable to make yourself at home. "This means you can open the fridge and pick up whatever you want, but also that it is polite to help cooking and cleaning... and washing the dishes after the meal."
KOREA


Once you've arrived at a Korean home, always take your shoes off and "say compliments like 'this place is so cozy, pretty, neat and so on,'" suggests HuffPost Korea's Trend Editor, Hyunji Nam. And no matter how delicious the food looks, let your host take the first bite. If the food isn't delicious, "say it was great and try to finish it all," Nam says.
JAPAN


According to HuffPost Japan's Editor-in-Chief, Kosuke Takahashi, bacchanalianism (aka, going wild) at somebody's home, especially at night, is deemed inconsiderate as it could cause trouble with their neighbors. "Tokyo is an overcrowded city and you are supposed to be quiet," Takahashi says.
ARGENTINA


The most important thing to remember at an Argentinian affair is that you should never, ever leave the house without drinking a cup of coffee or a round of "mate." "That's the most special moment of the day, where friends open their hearts and share their feelings," says HuffPost Voces editor Sonia Ramirez. "It's like giving everyone a big hug. It's food for the soul."
MEXICO


If you're headed to a house party in Mexico, prepare to eat like it's the end of the world and then stay a while. "The gatherings are long," Ramirez says. "Even if it gets late and everyone seems to be sleepy, no one will be willing to go home -- unless they have children, in which case the parents will probably send their kids to sleep on the couch."
CUBA


Like its Latin American counterparts, punctuality isn't important in Cuba. What is it important is that you show up with a smile, "even if someone died the night before," says HuffPost Voces editor Hirania Luzardo.
PUERTO RICO


If you're invited to a 6pm event at someone's home in Puerto Rico. Be there at 7... prepared to drink coffee. Also important to keep in mind: "We are very loud," Ramirez says. "We all talk at the same time, but that doesn't mean we are arguing."
UNITED STATES


Even for a host who loves surprises, having someone show up at your front door unannounced can be a turnoff (especially if you've got your kids, pets or significant other in tow). Give them a ring beforehand and be clear about how long you plan to stay if it's for more than just a night.
Illustrations by Alissa Scheller
Are you an architect, designer or blogger and would like to get your work seen on HuffPost Home? Reach out to us at homesubmissions@huffingtonpost.com with the subject line "Project submission." (All PR pitches sent to this address will be ignored.)
Support HuffPost
A No-B.S. Guide To Life
Related
Before You Go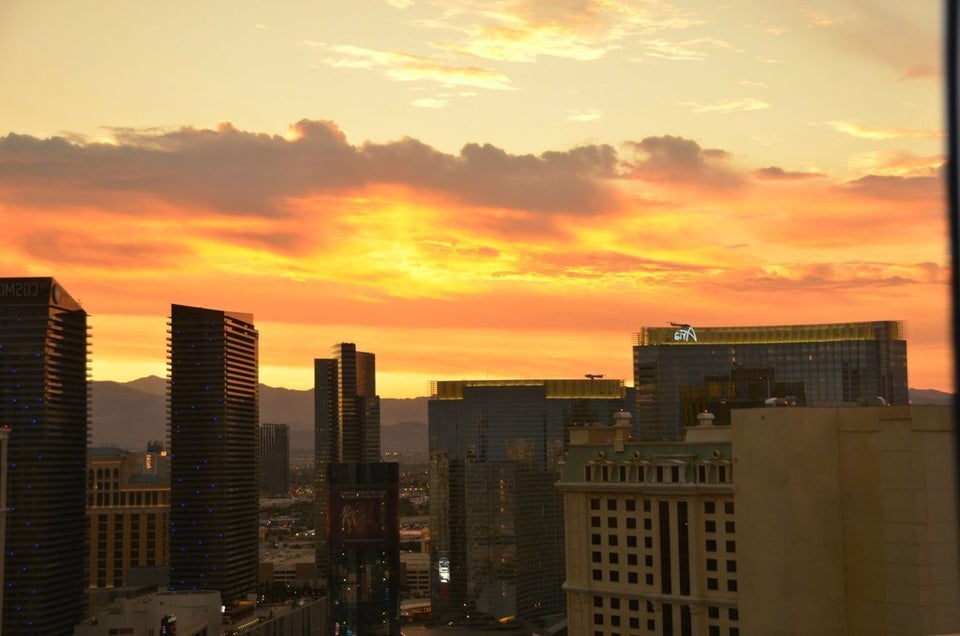 Apartment Views From Around The World
Popular in the Community