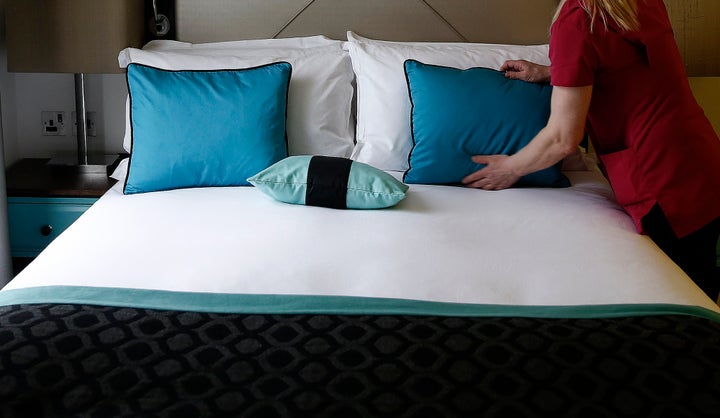 Cecilia was working as a minibar attendant at a Chicago hotel when she knocked on the guest's door and announced herself. The man's response was quick and unequivocal: "You can come in."
When she opened the door, "He was at the computer, masturbating," Cecilia recalled. She was overcome with shock and embarrassment. Judging from the satisfied look on the man's face, that was the whole idea.
"I felt nasty," recalled Cecilia, who asked that her last name and the hotel not be identified. "You'd expect that to happen to people in a jail but not in regular work. I felt like crying."
It wasn't the only time Cecilia had dealt with extreme forms of sexual harassment in her three decades working in downtown hotels. A male guest once answered her knock by opening the door naked. Just a month and a half ago, a younger colleague confided to Cecilia that a male guest had tried to embrace her while she was in his room. Cecilia escorted the shaken housekeeper to the hotel's security team to report the incident.
Since the allegations against movie producer Harvey Weinstein were first revealed last month, more and more women have stepped forward with stories of sexual harassment and assault at work. Their bravery in speaking out has toppled powerful men's careers in Hollywood, Silicon Valley and Washington. But much less attention has been paid to the rampant harassment in blue-collar workplaces, particularly the hotel industry.
Many of the stories that have hit front pages ― Weinstein, journalist Mark Halperin, comedian Louis C.K. ― center on powerful men who preyed on underlings or colleagues in hotel rooms ― a trend that would surprise no woman who's ever worked as a housekeeper. If famous A-list actresses must deal with unwanted advances in the privacy of a hotel suite, imagine the vulnerability of an immigrant woman cleaning the room alone, for close to minimum wage, plus tips.
"Frankly, I don't think much of the public understands what housekeepers go through just to clean these rooms and carry out the work," said Maria Elena Durazo, a labor leader with the hospitality union Unite Here.
For several years Durazo's union has advocated for housekeepers to be given handheld, wireless panic buttons that can alert hotel security when a worker feels threatened ― a sign of how dire it views the problem of sexual predation in the hotel industry. After working to negotiate the use of panic buttons in their employer contracts, the union is now lobbying city councils to mandate them through legislation so that all workers have access to them, union and non-union alike.
"The customer is always right in this industry... I just let it go."
But, according to Durazo, the panic buttons only go so far in addressing the more fundamental problem: an imbalance of economic power between perpetrators and their victims, especially when the victims are working in or near poverty. "We have to do something to equalize the power so that women really have the ability to speak up, without having to risk their livelihood," she said. "That goes for whether you're a housekeeper or a food server or a big-time actor."
58 percent of hotel workers and 77 percent of casino workers said they had been sexually harassed by a guest.

49 percent of hotel workers said they had experienced a guest answering the door naked or otherwise exposing himself.

56 percent of hotel workers who'd reported harassment said they didn't feel safe on the job afterward.

65 percent of casino cocktail servers said a guest had touched or tried to touch them without permission.

Nearly 40 percent of casino workers said they'd been pressured for a date or a sexual favor.
Nereyda Soto, 25, was working in a hotel restaurant in Long Beach, Calif., two years ago when a guest's attention over several days started to feel like stalking. The man repeatedly called Soto over to his table whenever he dined in the restaurant, asking her personal questions, such as whether she had a boyfriend. Relatively new to the job at the time, Soto didn't feel comfortable telling a paying guest to buzz off.
When Soto came by his table to collect the man's check one night, she found a hotel key card along with his payment. "He said, 'I'd love to see how you look outside this uniform. You should meet me in my room.'"
Soto was mortified, but she didn't tell her boss at the time.
"I didn't tell management, and I didn't tell security, because he didn't technically touch me and the customer is always right in this industry," Soto explained. Even if she did report it, she didn't expect her company would do anything about it, and she didn't want to come off as a troublemaker: "I didn't want my name to be out there. So I just let it go."
The experience got Soto involved in a campaign in Long Beach to bring panic buttons to the city's hotel workers. Led by labor groups, the idea of outfitting housekeepers with a way to alert hotel security started to catch on in 2011, after French politician Dominique Strauss-Kahn was accused of assaulting a housekeeper at a New York hotel. The following year, the New York Hotel Trades Council won a contract for 30,000 workers that guaranteed the use of panic buttons for housekeepers covered under the agreement.
"I don't think much of the public understands what housekeepers go through just to clean these rooms."
In Long Beach, Soto's union took a different tack: They tried to win the panic buttons through legislation so that the protections would be extended to all of the city's hotel workers, not just those covered by a union contract. The local chamber of commerce campaigned against the regulation, estimating that compliance would collectively cost affected hotels about $3 million. After a yearlong effort, the Long Beach City Council narrowly rejected the panic button proposal in a 5-4 vote in September.
A similar panic button measure Unite Here pushed in Chicago recently fared much better. The City Council passed a "Hands Off, Pants On" ordinance last month, which requires hotels to outfit housekeepers and others who work alone in guest rooms or bathrooms with panic buttons by July 1, 2018. It also requires hotels to develop sexual harassment policies that show workers how to report incidents and provide them with time to file complaints with the police.
Unlike the union contract workers secured in New York, the Chicago ordinance will apply to hotels citywide, regardless of whether workers are in a union. A similar ordinance was passed last year in Seattle.
The Chicago campaign probably got a boost from the findings of its member survey on harassment, which Jorge Ramirez, president of the Chicago Federation of Labor, said he found "astonishing." Ramirez said the city's hotel lobby didn't actively fight the measure. The new national conversation about sexual harassment at work will make it harder to do so, he predicted.
"We didn't see them out there with pompoms, but they didn't speak out against it, either," Ramirez said. "I think the industry would have a hard time opposing this, especially with everything that's come to light in the last few months."
The housekeepers wore "No Harveys in Chicago" T-shirts to mark the ordinance's passage. Among those celebrating was Cecilia, who had spent months rallying her colleagues around the cause. She hopes the new panic buttons will bring a sense of safety to workers like the young housekeeper she helped not even two months ago.
"It's more security, and more support," Cecilia said. "Trust me. You shouldn't be scared to work."
CORRECTION: A previous version of this story said Chicago was the first city to pass panic button legislation. In fact, Seattle was.
Related
Popular in the Community