Crystal Wells in on the ground in Nepal as part of Concern Worldwide's emergency response team. She was in the isolated village of Bhirkot, preparing for an aid distribution, when the May 12 tremor struck.
Charikot, Nepal -- The ground didn't just shake -- it rocked back and forth violently. The earth groaned as rock and dirt crashed down the hillsides around us, consuming everything in its path. Across the foothills, puffs of dust rose to the sky, marking the collapse of homes into masses of mud and stone.
My colleagues and I were in Bhirkot, a village nestled in the forested hills of Dolakha district in northern Nepal. We were preparing for the following day's distribution of shelter and relief supplies to more than 600 families when a massive tremor struck just before 1 p.m. It was quickly followed by another big tremor, measuring 6.8 in magnitude, and dozens of aftershocks.
Villagers immediately crowded together in an open field, trying to find safety. Shouts and cries filled the air. Many were terrified that their houses -- weakened by the earthquakes and aftershocks of the past two weeks -- had fallen and taken the lives of their children and loved ones.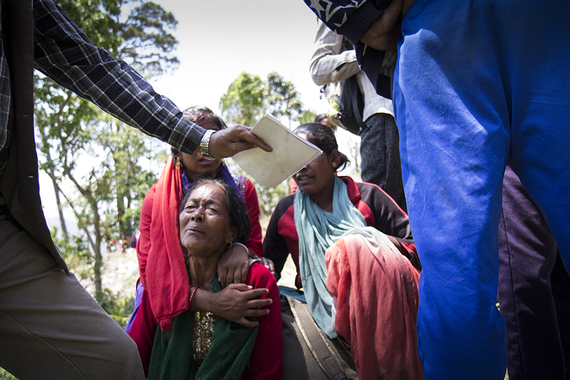 We all waited in the field for a couple of hours as we tried fruitlessly to make calls to friends, families, and colleagues. The networks were simply overwhelmed. The ground continued to rumble and shake beneath us.
As people received word that their houses had collapsed, they began to make their way back up the hills. Many were at least two hours' walking distance from their homes.
My colleagues and I needed to reach the district capital, Charikot, which is roughly an hour's drive on a single lane road that snakes through mountains. We got conflicting advice on what to do. Some said the roads were clear and that we should start making our way there before nightfall. Others said we were caught between two landslides, making road travel impossible. Meanwhile, rain clouds darkened the snow-capped Himalayas in the distance.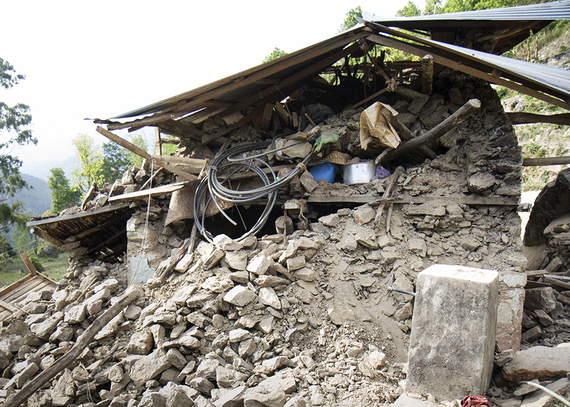 We decided to drive down from the village and see what we could find ourselves. On our way down to the main road, we came across another village, where home after home was flattened. The sound of a woman wailing grew louder and louder.
Sitting in a cornfield, surrounded by neighbors and family, sat a woman, tears streaming down her face as she cried to the sky. Her six-year-old son was killed after being buried under the heavy stones that made up the family's home.
We soon confirmed that landslides were indeed blocking the road in both directions, giving us no choice but to walk out and meet a car on the other side. Our driver drove us as far as he safely could and then we set out on foot. Boulders and debris littered the winding road as we passed people carrying whatever belongings they had salvaged, trying to find an open space and somewhere they also might receive help.
A mile or so later, we reached the landslide that stopped all road traffic from Charikot to Bhirkot. What seemed like an entire hillside had come crashing down. Rock, dirt, and trees were scattered across the road as we made our best to move quickly for fear another aftershock could strike as we were trying to pass.
We reached our car sometime after 5 p.m. and snaked our way through the valleys and hillsides on the way to Charikot. While I was relieved not to have to spend the night in the valley, I was overwhelmed by a familiar feeling: the guilt that I have the means to leave, to retreat to comparative safety, while thousands of others have nowhere to go but to sleep in the open, beside ruined homes.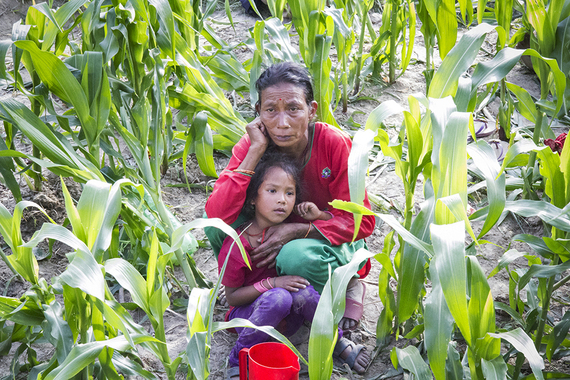 Here in Nepal, the needs left by the earthquake on April 25th were already staggering. Hundreds of thousands of people lost their homes, taking with them all that they owned and worked over the years to build. And some, like the bereaved mother we encountered on the hillside today, lost their loved ones.
All of that was worsened with the latest earthquakes. Many more families have been left homeless and more people have been killed. And that makes our mission to reach people with relief supplies even more critical.
We are now in the relative safety of our hilltop tents, but all around us, thousands of families are huddled beneath whatever shelter they can find, more afraid than ever of the mountains that refuse to stop moving.
To support Concern Worldwide's emergency response in Nepal, visit concernusa.org.
REAL LIFE. REAL NEWS. REAL VOICES.
Help us tell more of the stories that matter from voices that too often remain unheard.