With 4 kids and lots more in the hopper, my parents, in 1960, pulled the trigger on writing a gargantuan check for $6,500 to buy into their future - and their kids' future.
They made the big move out of a small downtown Chicago apartment and bought a very modest starter home in La Grange, Illinois; a spectacular family suburban town - about a baseball field-away from great schools, churches and about a gillion other young kids and families.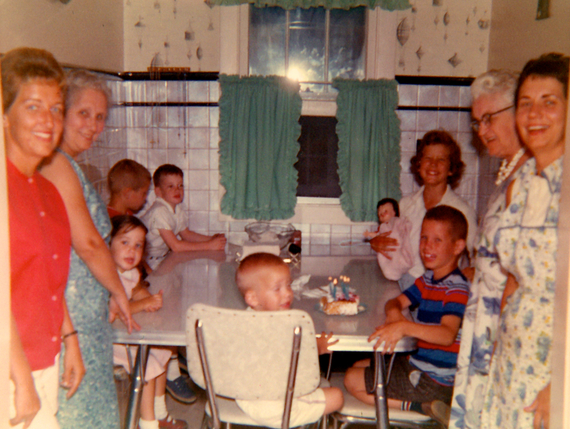 My birthday party at our kitchen table with my Mom, the Grandmas and Aunt Mimi. Check out the kids' rosaries hanging on the wall.
It wasn't easy and it was risky. But my dad made it work. As my Dad said with a big Irish smile, "It was the best dough we ever spent that we never had."
Right across the street, that's where the fantastic Piggy O'Brien lived - with a farm of other fabulous O'Brien kids and parents. His house was smaller than ours. Piggy scarfed down about 10,000 Spam and liver sausage sandwiches on white bread and drank a couple rubber swimming pools of cherry kool-aid in our kitchen.
Piggy's house now has central air conditioning. That wasn't invented when we were kids, at least on Kensington Avenue.
Our name for 'air conditioning' in the dinky bedroom I shared with my little brother on a wickedly hot, sticky August night was called "cold showers."
Piggy's house went on sale today.
That's at least a hundred times more than Mr. and Mrs. Piggy paid.
I'll bet the ranch a great young family, just like ours and just like Piggy's, is going to move into that home and on that tree-blanketed street.
Their kids will go to one of the tons of schools and churches right around the corner. They'll still get candy at Hank's General store that's turned over owners about as many times as the Cubs have lost the pennant.
Their dad will probably walk to the train station in a suit - and he'll work downtown in a big tall building. He'll take the train home dreaming about seeing his flowering, beautiful, exciting family.
But I'm sure it'll be the best $682,000 they'll ever spend that they never had.
Support HuffPost
The Stakes Have Never Been Higher
Related
Popular in the Community