The fake breasts on 'The Real Housewives of New Jersey' have come back into balance as Dina Manzo has had her reduced less than a year after fellow 'Housewife' Teresa Giudice had hers enlarged.
Manzo shows off her new, smaller chest in the new Life & Style, as seen below.
The Real Housewives of New Jersey's Dina Manzo reveals her breast reduction in the new issue of Life & Style. Dina says her first boob job that she had done in 2000 turned into a 10-year nightmare of back pain and self-consciousness. "I woke up from surgery and just knew I was super huge and needed to get the implants taken out," she told Life & Style during an exclusive interview. "I went back within the first two weeks and got them reduced." After going under the knife for the third time on April 6, Dina is brimming with confidence and shares her decision to go from an over-the-top 32DD to a more modest 32C cup:


L&S: What motivated you to get this reduction?
Dina: I was uncomfortable and felt like I was carrying a child around with me all the time. Plus, you don't realize it until you have big boobs, but they're a pain when it comes to dressing.

L&S: How did your husband of nearly five years, Tommy, react to the decision?
Dina: He was okay with it but said, "Make sure you don't go too small!" I hope I met his requirements.

L&S: What's the best part of your reduction?
Dina: I'm so excited to go bikini shopping! I've always had to wear cover-ups because I've been self-conscious. When you have big boobs, there's a fine line between looking tasteful and looking tacky.

Read the full interview in this week's issue of Life & Style, on stands now.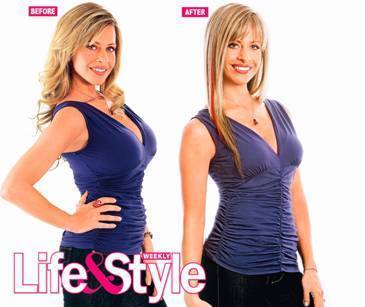 Popular in the Community