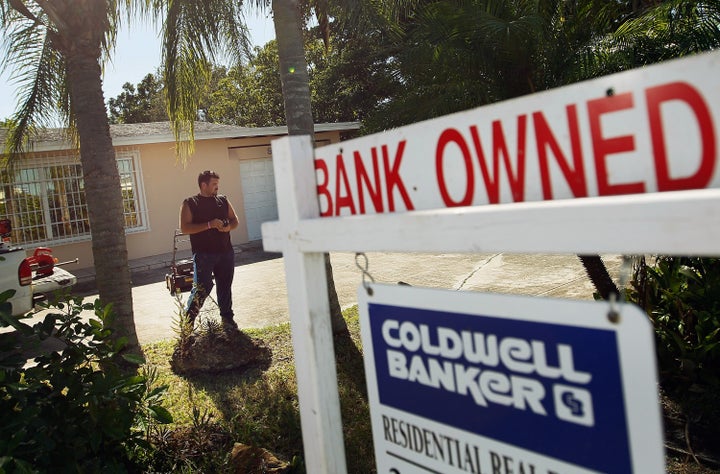 Banks helped create the housing crisis, and now they're seeking a new way to profit from it. As Bloomberg reported Monday, several financial and investment companies have submitted proposals to the federal government, suggesting ways that they can help manage a program to rent out 180,000 foreclosed homes.
Fair and affordable housing advocates are calling on the Obama administration to reject help from the financial sector, or at least limit its influence.
"It's really a question of whether the banks that made so much money creating this crisis are going to profit again," Jeremy Rosen, policy director at the National Law Center on Homelessness and Poverty, told The Huffington Post.
More than 4,000 companies, organizations and individuals submitted ideas to the federal government this fall, Bloomberg reported. Of those, about 400 proposals are considered valid. UBS, Deutsche Bank AG, Barclays Capital Inc. and others submitted ideas, according to Bloomberg.
The National Law Center on Homelessness and Poverty also registered its suggestions, Rosen said.
Perhaps most notable is a proposal from Fortress Investment Group, LLC, a private equity firm helmed by former Fannie Mae CEO Daniel Mudd. Earlier this month, the SEC sued Mudd for alleged wrongdoing during his tenure at Fannie, claiming that he lied about the amount of risk the mortgage finance giant was taking on during the housing boom. Many of the foreclosed homes now owned by the federal government had mortgages underwritten by Fannie. In proposing to help the government unload those homes, Mudd would be profiting off a problem he may have helped to fuel.
Though the particulars of the proposals are not yet clear, it's believed that most financial institutions would either want to help the government sell the properties, or rent them out at market rates. However, fair housing advocates balk at both those ideas, saying that the government should seize an opportunity to help stabilize the housing market, assist families affected by the foreclosure crisis and accomplish elusive social goals, such as integrating neighborhoods and creating mixed-income communities.
The Federal Housing Finance Agency, which solicited the ideas, declined to answer detailed questions about the proposals submitted or its timeline for creating a program to deal with the houses, Bloomberg reported. The federal agency only supplied Bloomberg with five examples of the ideas it received after the news organization filed a public records request. The agency also redacted some of the content of those proposals and the names of the individuals and organizations behind them, as well as their contact information. The agency said that the information was withheld to protect trade secrets and privacy.
Government officials have remained tight-lipped about plans for the estimated 180,000 homes currently on the federal government's books. The Federal Housing Finance Agency, Fannie Mae and Freddie Mac own those homes because the agencies underwrote mortgages that homeowners ultimately could not pay. The Federal Housing Finance Agency has overseen Fannie Mae and Freddie Mac since the federal government rescued the two mortgage finance giants from financial collapse in 2008.
This summer, the government called for suggestions as to what the three agencies should do with those repossessed homes. The proposals were due Sept. 15. While many of the details remain unknown, Bloomberg's request did yield hints of strong interest from commercial and investment banks, private property management companies and nonprofit agencies. One property management company told Bloomberg that it is actively raising about $1 billion to purchase foreclosed homes.
A Federal Housing Finance Agency representative could not be reached for comment Monday.
"But the way that these houses are ultimately disposed of will have real implications for the housing market in the next few years," said Goldberg. "This is bigger than Freddie or Fannie's portfolio. This isn't abstract. This is about real families, real neighborhoods and real communities." Goldberg's group did not submit suggestions or ideas to FHFA.
Making the right decision is critical to the overall heath of the economy, Goldberg said. If banks and other companies are allowed to purchase large chunks of the government's surplus housing stock, then dump the houses on the market at bargain basement prices, neighborhoods and families across the country will only see the values of their homes fall further, according to Goldberg.
If property managers are allowed to rent out thousands of homes and are not closely monitored, the government could create a situation in which thousands of properties fall into disrepair, Goldberg said. That's already happening in many communities populated mostly by ethnic and racial minorities, an April report released by the alliance found. Across the country, banks and property managers -- paid in many cases by the federal government to maintain foreclosed properties so that they do not become eyesores or further drags on community property values -- are doing a better job looking after homes in mostly white neighborhoods, the report also found.
"Let's just say their track record isn't good," Goldberg said.
Many foreclosed homes are located in communities with quality schools and ample numbers of parks and libraries, Goldberg said. Others are located near jobs, public transportation and other community resources. And now the government has an opportunity to market, sell or rent homes in those neighborhoods to a wide variety of Americans.
"What we are saying is, if the government is selling properties," she said, "it needs to be very careful about who it sells them to and the terms and conditions of those sales, and that we don't do further damage to communities that are reeling from the impact of the housing crisis. If all of that is done, there are some real opportunities here."
Banks and other profit-making enterprises should be kept out of the process or limited in their participation in any program that aims to sell or rent out the nearly 200,000 repossessed houses, said Rosen of the National Law Center. Instead, the government should turn primarily to nonprofit agencies around the country that have property management or sales experience to develop a plan that benefits middle and lower-middle class people directly affected by the housing crisis, he said.
"Otherwise families that lost their homes during the crisis are at risk of being taken advantage of again," Rosen said. "Not everything, in terms of responding to the foreclosure crisis, has been within the control of the administration. This is fully within their control. It's time for them to stand up for families."
Popular in the Community