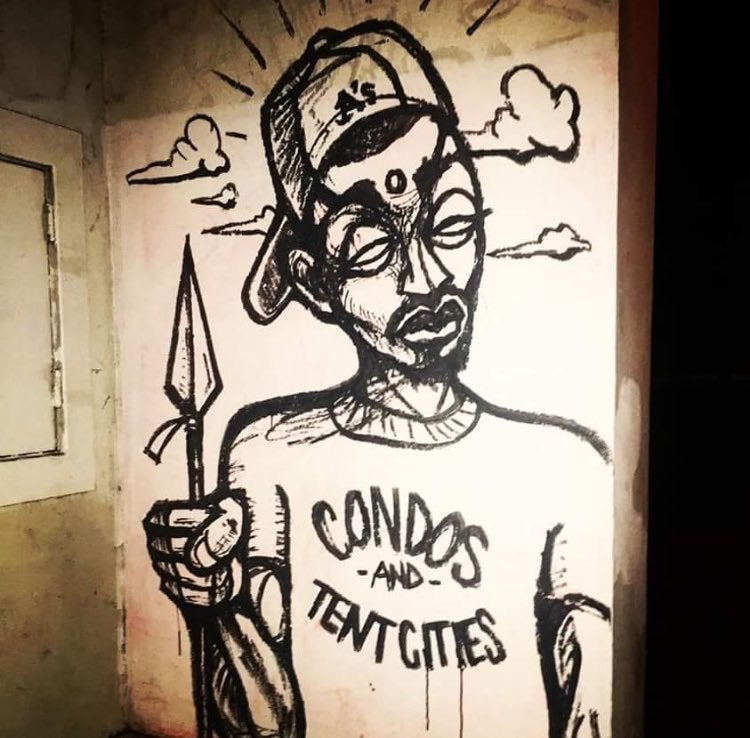 The new Alameda County homeless count reflects what we see daily in Oakland—homelessness has surged by 39% in 2 years. The new faces of Oakland's homeless crisis are not people with mental illness or substance abuse problems, rather they are people who cannot afford the new housing costs. They are families making the median household income of $36,000 whose rents have increased by 54% in 2 years to $3,000/month, requiring them to pay 100% of their income towards housing. They are the 36,559 African Americans who have left Oakland since 2000, a 26% decline. They are working parents with children, elderly tenants and former homeowners who lost their homes, formerly incarcerated residents, and students.
They are people like Miriam, a young single Mom with three small children, who was doing everything right to move up the economic opportunity ladder. Miriam worked full-time at Target and went to school at night. Her mother, Susan, helped take care of the kids. A kitchen fire in Miriam's apartment led to her eviction from an affordable rental at $850 month. Miriam and her family couldn't find housing—every place that they saw was double or triple what they could afford. The few existing family shelters were full. Miriam and her family were on the brink of homelessness. Fortunately housing counselors at Causa Justa::Just Cause referred them to the City of Oakland's Housing Assistance Center which connected Miriam with emergency rental funds, enabling them to stay in a hotel until transitional then later permanent housing could be found. Miriam and her family are now living in permanent affordable housing in Alameda Point.
How can the Oakland City Council, in the process of crafting its new budget, help people like Miriam and her family, and prevent Oakland from becoming a national epi-center for the new homeless crisis?
Margaretta Lin is Executive Director of the Dellums Institute for Social Justice and a former Deputy City Administrator for the City of Oakland. She offers:
"The City of Oakland has $5 million from housing boomerang funds used to build affordable housing that can be used instead for anti-displacement. Through new housing bond measures and a new housing impact fee, the City will have over $200 million in other funds for affordable housing development. But it will take three to five years to build new units. Meanwhile, people are losing their homes every day and ending up homeless."
Research and the City's own prior experience show that funding a continuum of care--housing counseling, legal services, and emergency housing funds for low-income tenants and homeowners—works. Alameda County Supervisors have just committed their housing boomerang funds towards these exact strategies. The problem is that sufficient funds have not been invested.
I asked Catherine Bracy, Executive Director of TechEquity Collaborative, an illustration of the magnitude of evictions happening and where some of the voids in resources lay .
'"About 3,500 tenants facing eviction court proceedings annually in Alameda County go without legal representation because there are only 9 publicly funded tenant attorneys available to help low-income tenants. The majority of these tenants are Oakland residents. Research shows that having legal representation increases your ability to prevent eviction by more than 10 times...'', says Bracy.
I asked Margaretta Lin what is the immediate thing people can and should do to have a huge impact and impact change.
She said, "Well there is one major effort we need everyone behind in the coming days. With innumerable pulls on the Oakland Mayor and City Council's attention, we need concerned residents to call the Oakland Mayor and Councilmembers before the June 12th special Council budget meeting, advocates are asking them to take action and fund proven anti-displacement strategies and prevent homelessness."
As the old adage goes, an ounce of prevention is worth a pound of cure.
REAL LIFE. REAL NEWS. REAL VOICES.
Help us tell more of the stories that matter from voices that too often remain unheard.
This post was published on the now-closed HuffPost Contributor platform. Contributors control their own work and posted freely to our site. If you need to flag this entry as abusive,
send us an email
.