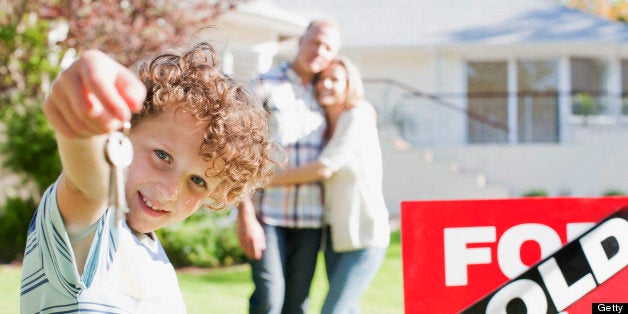 For families to have any chance of accessing the middle class, they need to start with a stable home in a strong community.
In Wednesday's address on the state of our economy, President Obama laid out his plan for spurring growth through a large and thriving middle class. He called the middle class the "engine of our prosperity" and echoed a longstanding American ideal: that no matter how poor you start off, you can make it by working hard and playing by the rules.
"When the rungs on the ladder of opportunity grow farther apart," Obama said, "it undermines the very essence of this country."
Unfortunately, even the first rung on that ladder -- having a safe and stable place to call home -- is out of reach for millions of families today.
On any given night more than 600,000 people in the U.S. are homeless. Another 20 million families are paying more than half their income on housing, leaving them one paycheck away from losing their home. And at least 20 million more families live in homes without access to jobs, education and other opportunities.
We know that where you live has a profound impact on the person you become. Doing well in school, landing a good job and staying healthy all seem out of reach if you don't know where you're sleeping at night or how you'll make this month's rent.
This is especially true for families trying to work their way out of poverty, according to a groundbreaking study released earlier this week by researchers at Harvard and Berkeley. For example, the study found that low-income families in New York City or Los Angeles have a roughly 10 percent chance of moving up to the upper-income bracket within a generation. For families in Atlanta or Charlotte, those odds are closer to four percent. In Memphis, low-income families have less than a three percent chance of moving up the income scale.
What drives that disparity? The researchers identified four characteristics of communities that foster upward mobility: better schools, more mixed-income neighborhoods, more civic engagement and more two-parent households.
So while housing is a critical part of opportunity, it's just one of many. Stable homes must be linked to good schools and well-paying jobs, which lead to a shared stake in a neighborhood's growth. In other words, the key is to build strong "communities of opportunity."
That's our primary goal at Enterprise Community Partners. Over the past three decades, we've helped some of the country's most distressed neighborhoods become places where people are living by choice, not as a last resort -- from Fort Apache in the Bronx to Tremé in New Orleans. We do that by connecting affordable homes to schools, jobs, transit, healthcare and other opportunities.
Starting later this year, we'll help build more communities of opportunity as part of the Obama administration's Strong Cities, Strong Communities National Resource Network, or SC2. The network will help support economic growth priorities through targeted technical assistance to governments and community groups across the country. We'll also work with the administration to focus federal resources where they're needed most, starting with high-poverty neighborhoods that have been targeted for revitalization known as "Promise Zones." The goal is to partner with communities to help create jobs, leverage private investment, increase economic activity, expand educational opportunities and improve public safety.
We're making progress, but there's still a long way to go before everyone in the U.S. has a real shot at accessing the middle class. And today we're at a critical crossroads.
President Obama said this week that "as Washington prepares to enter another budget debate, the stakes for our middle class could not be higher." To many members of Congress, housing programs are simply line items in an overstuffed budget. But to hundreds of thousands of families, they are the difference between a stable home and the streets, between a lifetime of poverty and a clear path to the middle class. It's time to repair the broken "ladder of opportunity," starting with the first rung.

Terri Ludwig is the president and CEO of Enterprise Community Partners, a national organization that creates and advocates for affordable homes in thriving communities linked to jobs, good schools, health care and transportation.

REAL LIFE. REAL NEWS. REAL VOICES.
Help us tell more of the stories that matter from voices that too often remain unheard.