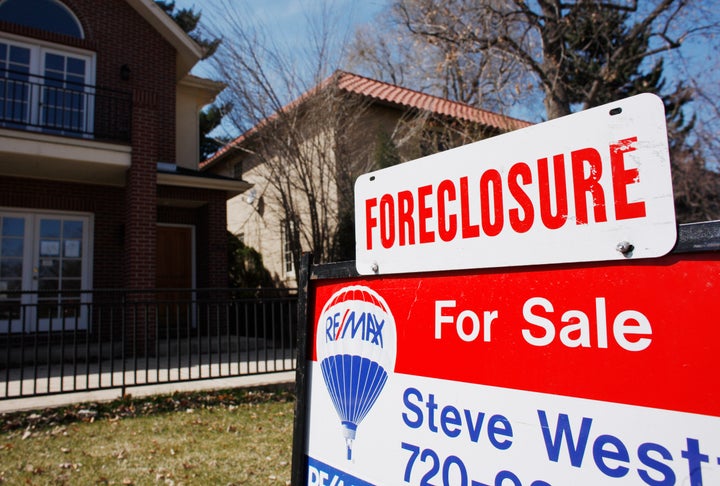 The ailing housing market remains hampered by the backlog of distressed properties, which is growing larger as banks repossess more homes than they sell.
Banks now hold more than 872,000 homes, nearly twice as many as in 2007, the New York Times reports, citing data from RealtyTrac. In regions like Atlanta and Minneapolis, banks are seizing more homes than they're selling, suggesting that their staffs are overwhelmed by the volume of foreclosures, the NYT notes.
For the broader housing market, which still has not hit bottom, this glut constitutes an ever-present drag. Foreclosed properties weigh on an already weak market, and the presence of a "shadow inventory" that has yet to be put up for sale darkens the long-term outlook for the market, further hindering progress.
As of January, the shadow inventory constituted a nine-month supply of properties, according to a March report from data-provider CoreLogic.
The fall in prices even appears to be accelerating, as home values fell 3 percent in the first three months of this year, for the biggest quarterly drop since 2008, according to a report from data-provider Zillow. Home values will continue falling through the year, and likely won't stabilize until 2012, Zillow chief economist Stan Humphries said in a statement earlier this month.
And the volume of distressed properties appears to be growing. In 2009, more than 2.8 homes received a foreclosure filing, according to RealtyTrac. In 2010, nearly 2.9 million homes received a filing.
It takes many months for a home to work its way through the foreclosure process, and then many more months for it to be sold. As a home is being foreclosed on, the homeowners sometimes live there without paying monthly mortgage bills -- a phenomenon that actually gives the broader economy a boost, as these homeowners find themselves with more spending power, Bloomberg News reported this month.
As banks handle mortgages and foreclose on properties, the often-rushed process has been tainted by abuse, federal and state officials allege. Last fall, some of the nation's biggest mortgage companies temporarily halted foreclosures nationwide, when it came out that they employed so-called "robo signers," who signed thousands of foreclosure documents daily without reading them.
All 50 state attorneys general, along with the Obama administration, are in the process of working out a deal with the nation's five biggest banks, to settle allegations of illegal foreclosures.
The inspector general at the Department of Housing and Urban Development concluded that the nation's five largest mortgage companies defrauded taxpayers in their handling of foreclosures, The Huffington Post reported last week. The Department of Justice must now decide whether to file charges.
Popular in the Community