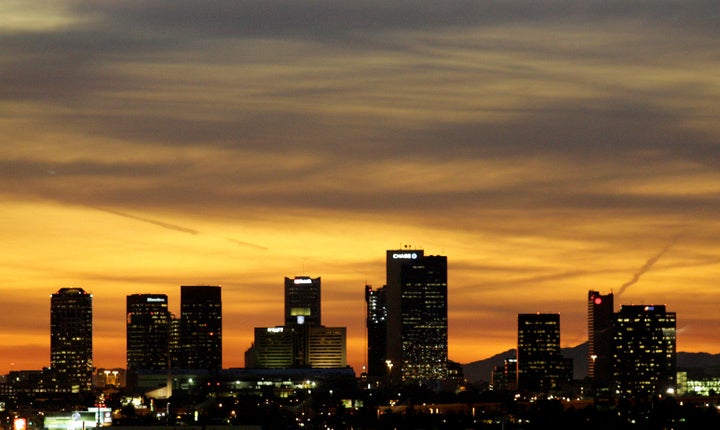 The much-feared "double-dip" in housing may finally be here, as home prices in 11 major U.S. cities reached new lows in December, according to data released today.
Home prices across 20 major U.S. cities have fallen drastically over the last year, according to the S&P/Case-Shiller Home Price Index released Tuesday.
Overall, the composite index fell 3.1 percent, which Bloomberg notes is the biggest year-over-year decrease in over a year. Of the 20 housing markets surveyed, only Washington D.C.'s housing market experienced a positive annual growth rate of 3.6 percent. Home prices in San Diego also rose, but at a negligible rate of 0.1 percent.
"The housing market recession is not yet over, and none of the statistics are indicating any form of sustained recovery," David M. Blitzer, Chairman of the Index Committee, said in a statement on the findings. "At most, we have seen all statistics bounce along their troughs; at worst, the feared double-dip recession may be materializing."
Survey results had particularly troubling news for Atlanta, which joins Cleveland, Detroit and Las Vegas as the fourth city where home prices have fallen to their lowest average since the 1990s.
Of the twenty cities surveyed, Phoenix witnessed the steepest decline in home values from last year (9.1 percent). After that, those cities faring worst were Detroit (8.1), Portland (7.8), and Minneapolis (7.6).
Eleven of the twenty cities posted their lowest average home prices since 2006-07 peaks. Here they are along with their percent decrease in the last year:
Atlanta, 7.0%
Charlotte, 4.8%
Chicago, 7.5%
Detroit, 8.1%
Las Vegas, 4.4%
Miami, 4.7%
New York, 3.0%
Phoenix, 9.1%
Portland (OR), 7.8%
Seattle, 6.7%
Tampa, 7.0%
Those same cities previously posted lows in December's report.
Rising foreclosures have wrecked both the housing market and construction industry by creating a glut of empty homes and little reason to build new ones, with the number of homes being constructed falling to its lowest level since 1984. Building permits have also dropped to record lows.
Stubbornly high unemployment, standstill middle-class wages and speculation over whether prices could dip lower have added to potential homebuyers' lagging demand.
The graph below shows index levels for the 10-city and 20-city composite indexes. Both indexes are back to their summer 2003 levels: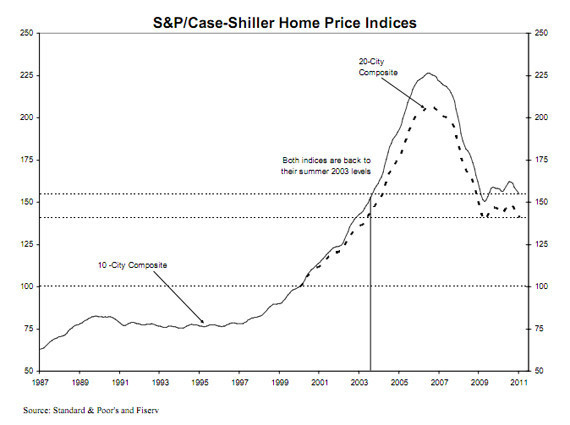 Calling all HuffPost superfans!
Sign up for membership to become a founding member and help shape HuffPost's next chapter