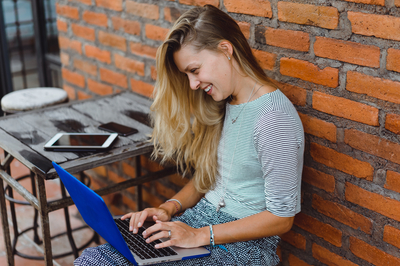 Brand recognition was simple in the days when television gave marketers a captive audience. The key was keeping your name and cute jingle in front of enough people, often enough. These days are no more. Consumers can choose what they will view and when, and don't appreciate invasive marketing. The challenge for Houston businesses is getting customers to choose to look at you on their own. What unique value does your business bring?
Adding Value in Houston Brand Management
One of the most effective ways to develop your brand today is through blogging. Want an edge on your competition? This is it. You can position yourself as an authority in your field. You can educate and engage consumers in meaningful conversation. It's ongoing value added.
Effective and consistent blogging isn't easy to maintain, though. It requires time to research and develop topics. You will need practice to create ongoing engaging content. There are a wealth of tools online useful in improving your ability to write and manage blog posts. Your company's blog needs to be a dynamic brand-enhancing marketing strategy. The following 7 online tools will help you get started.
1.Hubspot's Topc Generator
Sometimes the hardest part of blogging is coming up with a steady stream of topics. Hubspot offers a Blog Topic Generator to address this difficulty. Enter in up to three different subjects and the generator will create five different titles -- enough for a week of blog posts.
2. Buzzsumo
You may have some ideas for topics you would like to blog on, but do not feel confident in how well they would be received. BuzzSumo's content analyzer is the perfect place to research content performance potential. You can use it to flesh out new ideas or zero in on your perfect angle.
3. Grammarly
Your professionalism will be reflected by the quality of writing in each blog you post. Grammarly offers one of the best writing improvement tools on the net today. It not only keeps your grammar and spelling in check but also helps you improve your writing. With Google Chrome and Word integration, it's a must-have for any serious writers.
4. WordPress Distraction Free Writing
The busy-ness of running a business is often not ideal for creating engaging blog content. There are simply too many distractions. Embedded within the WordPress editor is a distraction-free editor. This will help you block out anything that challenges your ability to focus and create. This useful tool can be accessed via the four-way arrow icon at the top right corner of each WordPress post.
5. Hemingway
People are busy and have ever-shrinking attention spans. It's important to write at a reading level that is easy enough to read without being insulting. Generally, you should shoot for about an 8th-grade reading level. The Hemingway web app is a great tool to evaluate and simplify your writing. It also provides a readability grade to gauge complexity.
6. LinkedIn Pulse
Imagine a platform where you could keep up to date with the trending topics in your industry, have access to industry leaders, be able to publish directly to your chosen audience, and improve your search engine visibility -- all in one. Believe it or not, that platform is LinkedIn Pulse. The benefits of using this tool in your online marketing plan are clearly too many and too good to pass it by.
7. Stock Images
Adding at least one image to your blog enhances it in so many ways it'd be foolish not to. The right image can make the difference between a blog that is overlooked and one that is shared repeatedly. There are many great stock image sites available on the web such as DepositPhotos.com, and Shutterstock.com.
Build Your Houston Brand, One Blog at a Time
Blogging is a vital component of your Houston Brand Management strategy. Don't pass up the opportunity to distinguish yourself from your competition. You will develop a relationship with potential clients. Your voice will stand out and you will attract consumers to you.
For help generating content and maintaining your company's blog, Contact Us. ITVibes provides quality content management services including original and compelling blog article writing.
Calling all HuffPost superfans!
Sign up for membership to become a founding member and help shape HuffPost's next chapter