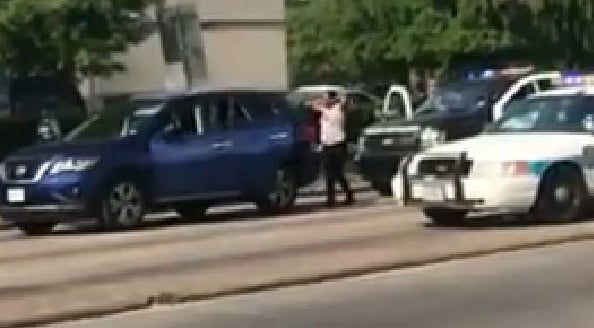 Video of a white Texas cop making a racially insensitive remark to an unarmed black woman has gone viral on social media.
In video of the Saturday incident, which you can watch below, a bystander records a group of Houston cops with weapons drawn surrounding a small SUV.
Around the 2:24 mark, after ordering two people out of the vehicle, a white officer tells a black woman in the back seat to step out and raise her hands above her head. When the woman apparently doesn't raise her hands to his satisfaction, the officer makes what could be construed as a threat.
"Pretend like we're going to shoot you," the cop yells over a loudspeaker at about 2:37.
"Why would you say that?" the woman filming wonders aloud.
The last passenger to exit the vehicle appears to be injured and can be seen using a crutch to limp toward the officers. When he finally reaches them, an officer grabs the crutch and tosses it aside.
At the end of the video, which lasts about six and a half minutes, an officer is seen driving off in the SUV. It's not clear why the vehicle didn't get towed, as is typical in such situations.
In an era of increased scrutiny of police shootings ― especially those involving white cops and black Americans ― the officer's choice of words is troubling.
"There is no excuse for such threatening statements, particularly given the high number of unjustified police shootings... and the fact that the woman appears to be complying," Andre Segura, legal director for the American Civil Liberties Union of Texas, told HuffPost. "The officer's statement demonstrates a disregard for the sanctity of the lives of those whom our police officers are sworn to protect."
Contacted by HuffPost on Tuesday, the woman who filmed the video said she's afraid to discuss it and asked that her name not be used.
"The news media has used my name and possibly put me in danger with the police," she said. "I'm afraid that they may retaliate against me in some way."
Authorities have not released the name of the officer who made the disturbing remark or the names of the individuals who were in the vehicle.
In a statement, Houston police Chief Art Acevedo said the officers were conducting a felony stop on a suspected stolen vehicle.
"During the stop, the officers followed tactics and procedures designed to take suspects into custody in a manner that maximizes safety for both officers and suspects," Acevedo said. "While the tactics used were consistent with policy, the phrase in question is not consistent with the expectations of the Houston Police Department."
Segura said Acevedo should have indicated what, if anything, the department is doing to address the incident.
"While we appreciate Chief Acevedo's quick acknowledgement... we urge [Houston police] to immediately investigate and take steps to ensure that this does not reoccur," he said.
Before You Go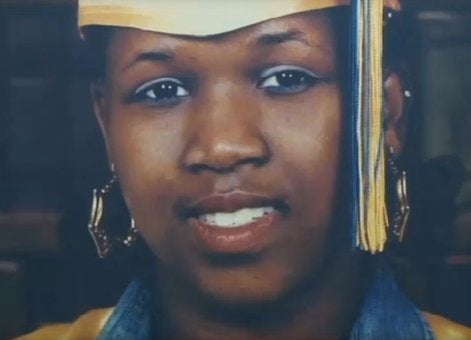 Black Women Killed In Police Encounters
Popular in the Community