The storm unfolding in Houston is "beyond anything experienced," the National Weather Service said Sunday afternoon. While the rainfall and floods soaking the region are poised to shatter records, the Houston area has become well-acquainted with this type of weather in recent years.
Hurricane Harvey, which has been downgraded to a tropical storm since making landfall in Texas on Friday, is the latest in a series of wet weather events to devastate the Houston region, though past rainfall and flooding will assuredly pale in comparison to that brought on by Harvey.
The National Weather Service expects "catastrophic and life-threatening" rainfall in some areas to total 50 inches, the highest ever recorded in Texas. While rain is expected to continue for several days, flooding records have already been shattered throughout Harris County, in at least one spot by more than five feet. As of Sunday, this August is the wettest month ever recorded in Houston.
The Houston metro area has seen a major rise in rainfall in recent decades, more so than most places in the U.S. Since the 1950s, the region has seen a 167 percent increase in heavy downpours, Climate Central found in 2015. And some of the worst events have occurred in recent memory. In April 2016, the area was soaked by abnormally intense rainfall as 15 inches fell in some areas in just 24 hours. The local flood control district declared it a one-in-10,000 year rainfall event.
In May 2015, at least six people died and more than a thousand vehicles were submerged when 12 inches of rain fell in the area in just 10 hours. Similar rainfall totals were documented in July 2012.
Harvey has prompted many comparisons to Tropical Storm Allison, which in 2001 claimed 23 lives in the Houston metro area. But it was "a measly little storm" compared to this week's event, CNN meteorologist Jennifer Varian said Sunday.
Several factors ― both natural and manmade ― have made Houston, the fourth-largest city in the U.S., a hotbed for severe rain and floods.
Houston is just 40 miles from the Gulf Coast, making it especially susceptible to storms that tend to linger in the area from late spring through early fall, The Weather Channel explained. Additionally, the city is exceptionally flat and sits about 50 feet above sea level, making it prone to flooding when heavy rainfall is coupled with already-rising sea levels.
The Houston metro area sits beside multiple waterways and sprawls out in every direction. This has long put the city at risk of a natural disaster.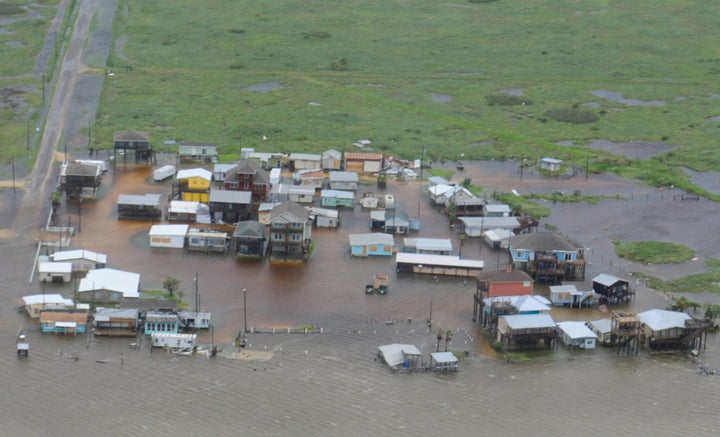 "Houston has basically just grown outwards," Andrew Dessler, a climatologist and professor of atmospheric sciences at Texas A&M University, told HuffPost by phone on Sunday. "As Houston grows out, you're paving over more and more space and you're collecting rain over a larger area that's just hitting cement. It's got to go somewhere, so it gets concentrated where the elevation is low."
Houston has suffered more deaths and property loss from flooding than any other locality in the country since 1960, according to data Texas A&M collected. Worse yet, Texas ranks second only to Louisiana in dollars paid in flood claims, according to the American Society of Civil Engineers. Plus, the state does not require municipalities to enroll in the Federal Emergency Management Agency's National Flood Insurance Program.
The last major storm to hit Houston, 2008′s Hurricane Ike, came as what The Atlantic described as a wake-up call. But it failed to rouse urban planners ahead of the storm now ravaging the city.
"Since Ike, people have known this is a looming problem, and they haven't done anything about it," Dessler said. "We're doomed to repeat this every so many years, and it's just going to keep getting worse because climate change is clearly exacerbating the impact."
He added: "This is a taste of the future."
Climate change is expected to amplify all of these factors as rising global temperatures give storm systems an extra push. That was evident during Texas' 2015 floods, Michael Mann, a climate scientist and director of Penn State's Earth System Science Center, told HuffPost at the time.
"Human-caused climate change is in many cases the straw that broke the camel's back," Mann said. "That extra fuel that takes what would have been a really bad flood and turns [it] into a catastrophic flood."
But a warming planet is just part of the problem, said Daniel Cohan, a professor of environmental engineering at Rice University in Houston. Storms can take unpredictable paths and, by sheer misfortune, Harvey appeared to gather over particularly warm waters, further intensifying the hurricane, he said. Climate change makes clear the need for better planning, but the element of chance, which was always a factor, underscores policymakers' lack of preparedness.
"You have a guy who's smoking, overeating and has bad luck, and he has a heart attack," Cohan told HuffPost. "For an event to be at the scale that Harvey's at, you need to have a lot of things go wrong."
This story has been updated with comment from Andrew Dessler and Daniel Cohan.
Related
Before You Go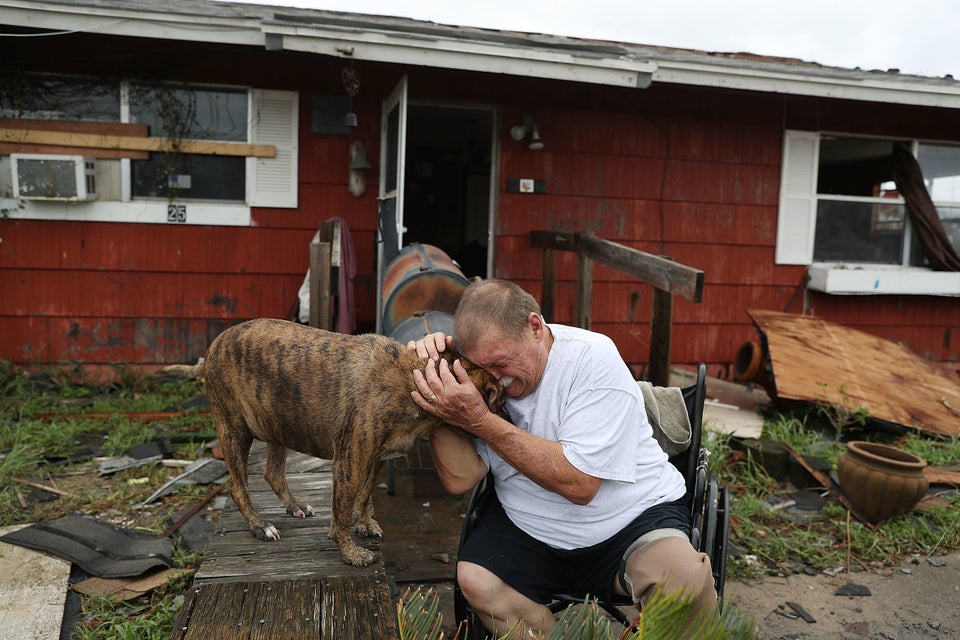 Hurricane Harvey Aftermath
Popular in the Community