Two new Houston restaurants show the city's gastro-diversity.
The not-always-friendly competition between Houston and Dallas of course includes bragging rights over which has the better food scene, and, now with some world-class restaurants like Stephen Pyles, Spoon and Fearings, Dallas is nudging upwards with new, exciting restaurants. For the moment, though, Houston can readily claim to have the broader, deeper food scene. Here are two places currently brightening the gastronomic skies in town.
Chef-owner Chris Shepherd calls what he's doing at Underbelly "The Story of Houston Food," which some back east might brush off as beef barbecue and messy Tex-Mex. Don't even dream of getting that by Shepherd -- a big, muscular guy who has his own in-house charcuterie and butcher's shop where he breaks down carcasses from his own herds of goats, lamb and steers. He'll talk your ear off about the contributions the Vietnamese and Koreans have added to the city's food culture, and will remind you that Houston is the largest port city in the South, hauling in all that is good in the Gulf. "It's not just about remarkable food," says Shepherd with justified pride. "It's a story taking shape right before us that will continue to define Underbelly and those that call Houston home. We're serving the food of locals who live in neighborhoods most people never even see."
To that end Shepherd is a "locavorus extremis," drawing entirely from the bounty of Texas farms and Gulf Coast fisheries -- "If it's got to be shipped in, we won't buy it" -- so you won't find Maine lobster or Chinook salmon on the menu. What you will find are dishes -- many served family style -- made from the least possible number of perfect ingredients: nowhere have I had better, sweeter heirloom tomatoes, served with rich house-made ricotta and tangy slices of wild boar salami. Moist pulled chicken comes with crunchy cabbage and a shot of pungent Vietnamese nuac mam sauce.
Tender goat's meat is braised Korean-style, served with dumplings. Flank steak with eggplant, tomato and massaman curry is deliciously well fatted, and snapper with tomato, corn and purslane just sings. And his peaches and cream fried pie with vanilla ice cream is maybe the best American dessert I've gobbled up this year. Nothing wrong with the vinegar pie -- a Midwestern vestige from a time when people lacked citrus fruits in winter -- here sided with salt brittle.

For his expansive vision and a local pride that shows in every morsel of food Shepherd sends out, Underbelly is as important as it is delicious.
Open for lunch Mon.-Fri., for dinner Mon.-Sat. Dishes run $12-$32.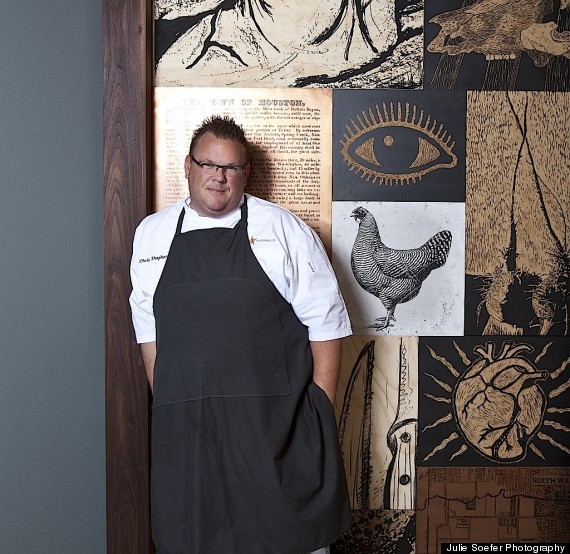 Chris Shepherd, Chef and Owner of Underbelly
Triniti
2815 S. Shepherd713-527-9090

Triniti is certainly one of the most handsome restaurants to open in Houston in a while, taking advantage of huge windows, cracked glass partitions and hanging chandeliers to give it a buoyancy, without any dark recesses among the 110 seats and a Chef's Table that seats 14. It seems minimalist but in fact every square inch has been thought through for casual cool. With one exception: the booths are set with high, straight-backed wooden benches that seem straight out of one of the sterner backwoods Baptist churches. Otherwise, this is a terrific looking place, and the tables and chairs have no such discomfort.
Exec Chef Ryan Hildebrand and Chef de Cuisine Greg Lowry are doing what they call "Third Coast French," which is regional American food with French techniques and menu changes every week. When I was there, I was enchanted with the range of flavors and textures in every dish, from the "mosaic" of corn and shrimp with bacon powder to lobster with corn milk, mustard biscuit, strawberry and kumquats, which somehow escaped masking the delicacy of the main ingredient. The "foie gras breakfast" makes a good case for a dish I'd go for on a Saturday morning with a mimosa: it's a waffle topped with a fried egg and a generous slice of foie gras, along with bacon, pistachio granola, yogurt gel, and spiced honey -- brilliant idea. Fluke -- an underrated fish -- comes with artichokes, carrots, parsley and a rich beurre blanc, while a creamy classic blanquette of veal is served with veal tongue pastrami that adds real dimension.

But don't skimp on desserts like a fine Key lime pie or macadamia with Kahlúa ice cream, enjoyed perhaps with a glass of tawny Port from a first-rate wine list that goes with this kind of food, which is not easy in every case. Everything is very much a piece of a whole concept -- of well-integrated global cuisine based on sometimes disparate ingredients that work beautifully together here. You'll want to come back for the excitement of an ever-evolving menu.
Open for lunch Mon.-Fri., for dinner nightly.
Popular in the Community