HOUSTON ― More than 9,000 people forced to evacuate their homes have ended up at the George R. Brown Convention Center on the east side of downtown Houston ― nearly double the number of people the space can accommodate.
Among them was Nina Robinson, 34, who brought six children to the convention center after her house was swamped with floodwater.
"We had to get boated out ― the water was just steady rising, up to our chest," Robinson told HuffPost outside the convention center, surrounded by her children. "I just got a call saying the house is underwater now."
The family slept at the makeshift shelter Monday night, surrounded by thousands of other displaced Houston residents. Robinson said her family has been treated well, but she's heartbroken for her children.
"It was horrible," she said. "You have people from all different walks of life here, you have to sleep on the floor and eat [military food] packs. If it's what you have to do, you have to. But it's no condition for kids."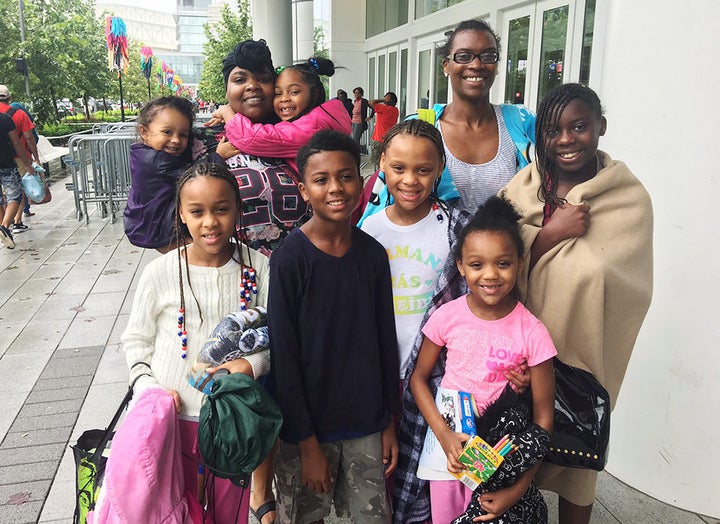 Downtown Houston was still dealing with heavy rain and wind gusts on Tuesday as the displaced came and went from the convention center ― some arriving for an indeterminate stay, others leaving for other places to stay.
The Red Cross told the local ABC affiliate's Eyewitness News that the number of people coming to the convention center continued to grow, and that no one would be turned away. Aid workers were trying to expand the center's capacity.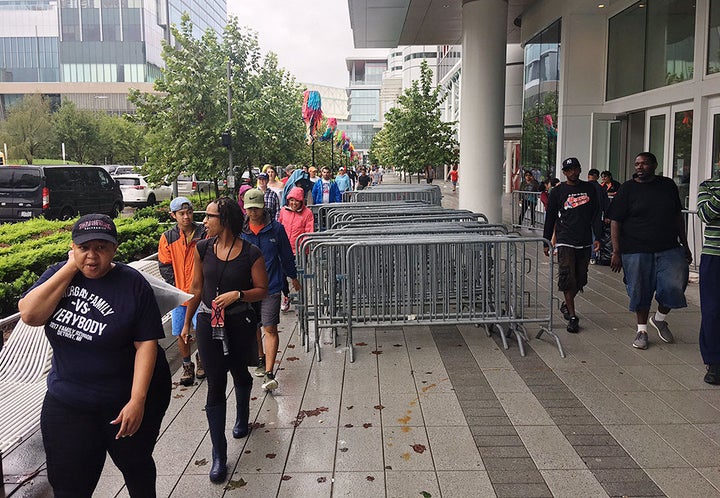 Allfonso Bosquez, 48, had set up a makeshift bedding area for his daughter and her children just outside the main shelter area in the convention center. He said he wanted a "little peace and quiet" for the kids; they'd just endured a lot.
His daughter called him, scared, as the water rose to waist height in their house. "We had to get our family out and make sure they were okay," Bosquez said. "So we came here."
"I don't know what happened to my house," he added.
Like many evacuees sheltering at the convention center, Bosquez said he has no intention of leaving the city, despite living through several terrifying storms over the years.
"We can't leave Houston," he said. "This might be devastation, but we have to stick together. This is our roots. We're not going anywhere."
Lt. Michael Pappillion of the Harris County police praised the response of volunteers and city workers, given the dire circumstances. "It's one of those situations where you could not have really have planned for it," Pappillion told HuffPost. "Nobody anticipated this much water."
Pappillion said the shelter is most in need of basic supplies ― blankets, socks, food, bedding, toiletries. Donations of money are appreciated, as is manpower ― especially people willing to volunteer for overnight shifts.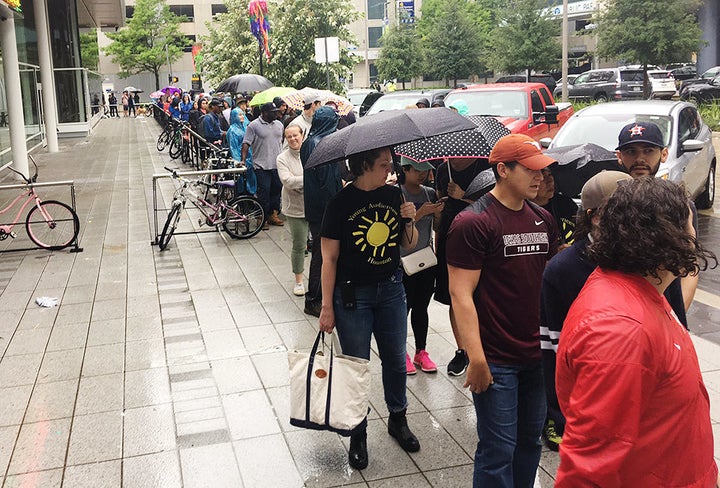 Those lucky enough to have not suffered any damage said they're relieved that the roads into downtown are beginning to open again, so they can make it into the city to help.
"You're getting all this information and you're just stuck ― there's nothing you can do," said Dahnya Giampietro, 33, who came with her husband Francis to volunteer after she heard her friends were evacuated.
"I don't wanna tell you, 'Yes we watched the "Game of Thrones" finale, yes we had power the whole time,'" Giampietro said. "We felt so guilty, and this is the one thing we could do."
Houston resident Jet George, 44, came to the convention center on Tuesday to donate bags of jackets and other supplies.
"This is crazy. I've lived here all my life and never seen anything like this," said George. "We were lucky, so we thought we'd bring things they said they needed."
Calling all HuffPost superfans!
Sign up for membership to become a founding member and help shape HuffPost's next chapter