Houston is seeing a record-breaking number of tornado warnings each day, based on records since 1996 from the Iowa Environmental Mesonet database.
The warnings have broken the previous day's number since the storm hit land on Friday. Meteorologist Daryl Herzmann says the number of warnings given by the National Weather Service are the most noted in any reliable record for the Houston area to date.
"The simple explanation is the exceptional nature of what Harvey is doing now," Herzmann, who oversees the IEM database, told HuffPost. "It has a near perfect environment for tornadoes to form in the southeast quadrant of the storm."
Harvey has precisely the type of chaos that allows tornadoes to thrive: an unstable environment with warm and moist air from the Gulf combined with turning winds, Herzmann said.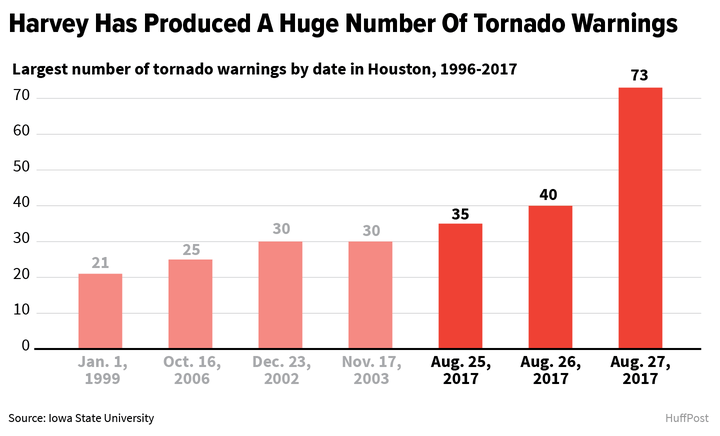 Warnings have increased daily, with 35 on Friday, 40 on Saturday and 73 on Sunday. There were two warnings on Monday as of about 8:30 a.m. local time.
The numbers are based on National Weather Service bulletins given since 1996, when the unofficial records are the most reliable. Herzmann began the IEM database out of Iowa State University in 2001, compiling archival weather bulletins to track trends.
Another reason the numbers have changed is that the criteria for issuing tornado warnings changed in 2007, which means weaker conditions will now prompt warnings.
"While this is one of those things where we get these tropical cyclones or hurricanes that produce tornadoes, we have to watch that really closely because we've seen a lot of that lately that's led to more warnings being issued than [ever before]," said Scott Overpeck, a NWS Houston meteorologist.
The abnormally elevated number is unique to this event, he added. "It's basically the fact that we had Hurricane Harvey over the area and we just had to watch things that much more closely."
He said he expects the number of warnings to go down beginning Monday as the storm starts to move out of Texas and further east.
The question that remains is how many warnings will actually spawn real-life tornadoes and how much destruction they will cause. Hurricane Ivan currently holds the record for the most tornadoes spawned in 2004 with 120 tornadoes, says Philip Klotzbach a meteorologist at Colorado State University.
But Harvey may have special circumstances.
"Basically with this storm it's kind of a perfect storm because part of it's still over water, so it's not weakening as quickly as a normal hurricane in Texas does," Klotzbach told HuffPost on Sunday. "Harvey is the longest-lived hurricane to still be a storm over Texas since 1971 ― if it lasts another day it will be the longest one on record."