Viral photos like the one of residents in an assisted living home sitting in waist-high floodwater have onlookers wondering why these and other kinds of health care facilities didn't evacuate before Hurricane Harvey made landfall.
The decision to evacuate patients is difficult, experts say, because it's impossible to predict whether a storm will be devastating enough to justify the difficulty and danger of moving critically ill or fragile people.
Houston's history presents this cautionary tale: During Hurricane Rita in 2005, more than 100 people died as a result of the traffic gridlock that ensued after officials ordered an evacuation. Among the tragedies, a bus carrying nursing home evacuees burst into flames, and 24 people burned to death.
There is no national criteria for when hospitals and health care facilities are compelled to evacuate their patients, experts say, because the needs of each location and the dangers presented by each natural disaster can differ greatly. Still, widely used guidelines developed by the National Fire Protection Association, a nonprofit group, can help hospitals hold drills for emergencies and develop evacuation plans.
But no matter what plans they have in place, hospital administrators in the Houston area faced a difficult choice: Should they evacuate vulnerable patients, some of whom could die in the evacuation process, or should they wait out the hurricane and hope that floodwaters retreat before they are affected?
Here are a few of the logistical issues hospitals and care facilities in Houston face when floodwaters rise.
1. Where should 14,000 Houston patients go in the event of a mass evacuation?
When Hurricane Sandy hit the East Coast in 2012, hospital administrators managed to successfully evacuate about 6,000 patients from 36 health care facilities and fan them out across 148 care centers outside the flood zone.
But not all cities have so many well-resourced facilities nearby. In the case of Hurricane Harvey, the closest major hospitals that can receive a massive influx of patients could be up to 200 miles away, according to Chad Beebe, deputy executive director of the American Society for Healthcare Engineering. He estimated that Houston hospitals have a total of 14,000 patients.
"Getting there is the first hurdle, quite literally," he said. "The best bet is probably to stay and shelter in place."
As of Tuesday evening, 23 Houston-area hospitals had evacuated patients, The Houston Chronicle reported, while an additional 25 facilities were on the brink of "internal disaster status." The total number of affected patients remained unclear.
2. Do Houston hospitals have the resources to shelter in place?
Thankfully, the billions of dollars in renovations that many of the Houston-area hospitals undertook after Tropical Storm Allison in 2001 appear to be serving them well, for now. The New York Times reported that as of Monday morning, "submarine doors" that protect foundations from floodwater appeared to be holding up for most of Texas Medical Center's 23 hospitals in Houston. Texas Medical Center installed these upgrades to buildings on their campus after the storm killed tens of thousands of lab animals, destroyed decades of medical research and forced patient evacuations, according to The Houston Chronicle.
"They learned a lot from [Allison], and they developed a flood mitigation network with Texas Medical Center, which is serving them very well right now," Beebe said. "Knock on wood, it's not over yet, [but] I think they'll be able to maintain in that area until waters recede."
3. How long can a hospital keep running when cut off from supplies?
While sheltering in place is probably the safest option for most patients, it won't work if a hospital doesn't have enough supplies to wait out the flood. Ben Taub Hospital, which is Houston's largest Level 1 trauma center and has about 350 patients, decided Sunday to begin evacuating some patients. However, rising water levels prevented the relocation from going forward, and the facility is running out of food.
On Monday, a hospital spokesman told The Atlantic that they had enough dry food supplies to last until Tuesday evening. After that, he said, the hospital was going to need a "food drop" of some kind, although all the roads that lead to the hospital's campus were flooded, with water ranging from knee-deep to waist-high.
Dr. Kathy Hebert, who worked at Charity Hospital in New Orleans just before Hurricane Katrina hit, said hospital administrators may plan to have a certain amount of supplies for patients for a few days but rarely take into account the other people who may be with the patient when disaster strikes.
"For an event like that, you have to feed not only all your patients but all the family members that come and smash into the room and stay there for three meals a day for five days," she said. "You have to take into account not only the number of beds but multiply that maybe fourfold, for more people and all of your employees staying around the clock."
4. How can Houston hospital staff be replenished and refreshed?
Hospital staffers who, for a lack of a better term, were "trapped" at work when the storm hit Friday are probably pulling long shifts, sleeping little and then getting back to work nonstop. Because other workers can't get in to relieve them, they're likely keeping their facilities running with a single crew, and the grueling pace could go on for days.
Reports from hospitals affected by Hurricane Harvey are still coming in, but interviews conducted in the aftermath of Hurricane Katrina 12 years ago detail just how bad things can get when hospitals lose power and the ability to communicate with the outside world. In a report for The Urban Institute based on a dozen interviews with New Orleans health care workers, Hebert writes that when the ventilators went out at Lindy Boggs Medical Center, staffers had to hand-pump manual ventilators so that four intensive-care patients could breathe. Eventually, family members were trained to take over. An unnamed hospital said it conducted emergency surgery by flashlight with little to no anesthesia. Staffers were also charged with carrying patients up and down flights of stairs when it came time to evacuate.
And when that hectic week was over and every patient had been evacuated, many of the doctors, nurses and other hospital staffers who stayed on to tirelessly care for their patients found themselves out of a job. Their hospitals had to close down for extensive repairs.
Hebert's husband, a pediatrician in a New Orleans hospital, experienced something similar during Katrina.
"He was at the hospital those seven days, working around the clock," she recalled. "And when they evacuated the last patient, the CEO brought them all into the boardroom and said, 'I just want to let you know that officially today we're closing the hospital, and you are all unemployed.'"
As the floodwaters recede and Houston begins to recover, a new set of medical problems will arise. In the chaos of evacuation, people may not have packed all the medications they need, or they may run out of what they did bring. Medical care will also become more dispersed throughout the region as hospital centers recover from the floods.
Regional health departments and medical societies across Texas have sent out calls for doctors, nurses, physician assistants and other medical professionals who want to volunteer as evacuated patients are brought in. Below is a request from the Bexar County Medical Society, in San Antonio, which is about 140 miles north of where Harvey made landfall.
CORRECTION: Due to an editing error, a previous version of this story incorrectly stated that Dr. Kathy Hebert was working at Charity Hospital when the hurricane hit New Orleans. In fact, she had left one week before the disaster.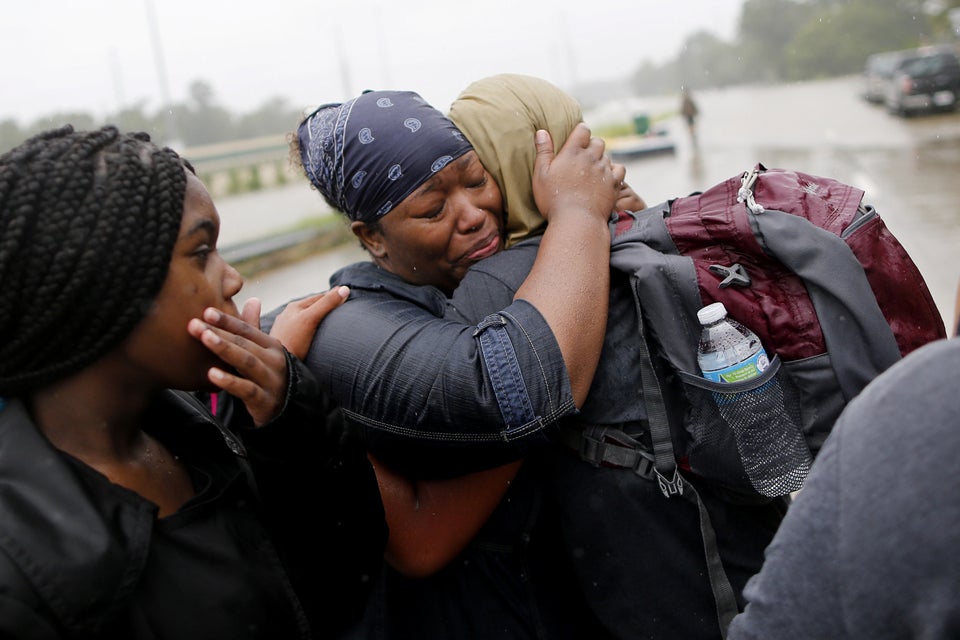 Catastrophic Flooding After Harvey