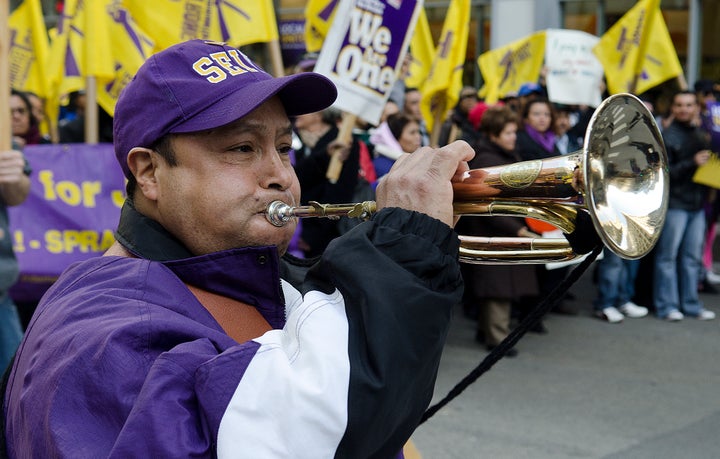 WASHINGTON -- A janitor strike that began in Houston spread to six cities across the country Tuesday, with hundreds of janitors in different locations walking off the job. The "rolling strike" is anticipated to spread to buildings in Los Angeles and Denver Thursday.
Janitors have been on strike in Houston since last week to protest alleged unfair labor practices. As the contracts of roughly 3,200 janitors represented by SEIU Local 1 expired on May 31, the union claims that managers threatened and harassed the workers.
Due to so-called "conscience clauses" in contracts negotiated by the union with several contracting firms across the country, SEIU janitors employed by those same contracting firms elsewhere can choose not to cross the picket line in Washington, D.C., Minneapolis, Seattle, Boston, and Oakland and San Ramon in California. That's the tactic the union employed yesterday to put pressure on the firms in Houston and plans to use again Thursday. Meanwhile, the strike continues in Houston.
The union is pushing for an hourly wage increase from $8.35 to $10.00 for Houston janitors, but the contractors have refused and responded by intimidating workers, said Elsa Caballero, the local's state director for Texas. She said that employers held captive audience meetings, called workers at home and told them not to participate in various union actions over the last month, threatened an immigration audit with Immigration and Customs Enforcement, and in some cases, have even briefly withheld paychecks. As a result, the union has filed 13 different charges of unfair labor practices over the last two months with the National Labor Relations Board, the federal agency that oversees labor relations in the private sector.
The seven contractors involved -- ABM, GCA, ISS, Pritchard, UBM, Eurest and Aztec -- did not return calls for comment.
"This is a huge risk for them," Caballero said of the largely immigrant and part-time workforce, which makes on average less than $9,000 a year, according to the union. "It's not a decision that they take lightly. They want a better life for themselves and their children ... and they see no other way of doing that except by raising their voices in unity and taking the step of walking out of their jobs."
One of those workers is Maria Lopez, a 41-year-old Mexican immigrant who's been working for the contractor ABM in the same building in downtown Houston for five years. Lopez works 30 hours a week, and each day at the job, she cleans 11 floors of bathrooms, which include roughly 100 urinals -- in under six hours a day. She earns just $8.35 an hour.
Lopez, who's married and has one daughter, said she often struggles to pay essential bills.
"We want decent wages," Lopez told The Huffington Post in Spanish. "They only want to give us a 10 cent raise and get rid of all of our benefits."

While it's the contractors who go directly to the bargaining table with unions, the building owners often have a lot of sway in the negotiations, Caballero said.
"If at any point in time, any of these building owners tell those contractors, 'You know what, this is not the fight you need to be having; these workers deserve to make a decent wage here,' then those contractors will do that," Caballero said.
As the union has stressed, the buildings where the janitors are striking in Houston are occupied by some of the wealthiest corporations in the nation, such as JPMorgan Chase, KBR and ExxonMobil. And while Houston is a booming commercial real estate market -- second only to New York in hosting Fortune 500 companies -- the union points out that the city has some of the lowest janitorial wages in the nation.
SEIU may continue to point out that massive wealth gap as it tries to build public support for the strikers. As Josh Eidelson reported for In These Times, history shows that public shaming of the building owners could serve as a boost for the union in contract negotiations.
The striking workers have already gained support in Houston, where at last week's NAACP convention, janitor Alice McAffee got a standing ovation after addressing the crowd. Vice President Joe Biden also met with some of the janitors last week at the convention to express his support. Caballero said that the union's strike fund, which has raised over $10,000 total, got a boost of $3,200 from the NAACP convention alone.
Jaime Contreras, D.C. area district chair for SEIU Local 32BJ, emphasized the importance of solidarity as he walked the picket line outside an office building in downtown Washington late Tuesday afternoon. The building, which uses Pritchards as a contractor, was one of two sites in the capital where workers walked out.
"When one worker's rights are not being respected, when people are unfairly treated fighting for their rights on the job, it hurts all workers around the country, not just the workers in Houston," Contreras told HuffPost. "So we are going to a send a message across the country to these companies ... to let them know if they don't do right to the workers in Houston, we are going to be doing what we need to do as a union to make sure they respect our members."
CORRECTION: A previous version of this article stated that Houston workers currently earn an hourly base of $8.30; they make $8.35.
Popular in the Community