Bilal Rana and his family were trapped in their Houston home for several days as Hurricane Harvey wreaked havoc on their city. Eventually, it became necessary to venture out for milk.
"I have five children, all under the age of 12, including a two year old," Rana said on Friday. "In our family, we go through milk like oxygen."
The 38-year-old physician managed to look up a supermarket that appeared to be open, roughly a mile away, and he set out on foot.
"Pretty soon I found myself in waist-high water," he said. "I saw full-sized fish swimming through the water ― and we don't live near any lakes or rivers.
"It was almost apocalyptic."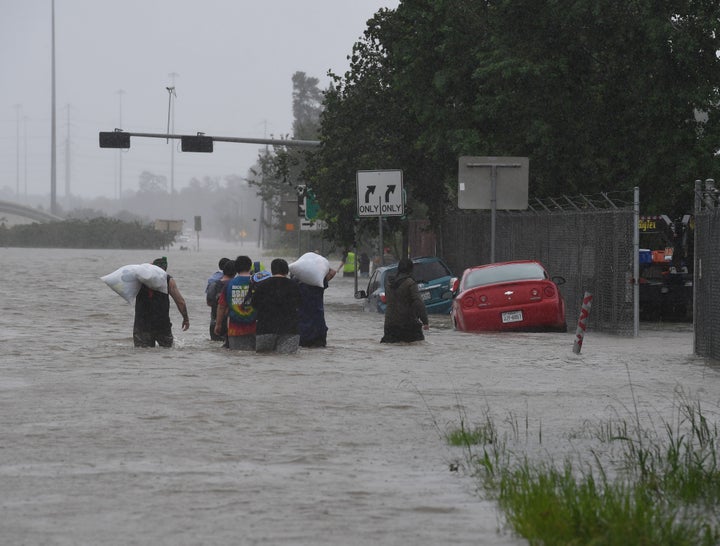 Nearly 35,000 people have been displaced in the week since Harvey made landfall in Texas as a Category 4 hurricane. More than 70,000 people remain without power. At least 35 storm-related fatalities have been confirmed to date, according to Reuters.
Rana, who's lived in Houston since he was an infant, serves as president of AMYA and helped oversee relief efforts throughout the week. Groups of young Muslim men, many of them in their teens and 20s, Rana said, have gone out in boats throughout the city to rescue families trapped in ― and sometimes on top of ― their homes. 
"At our mosque we've also been cooking hot food ― butter chicken, lentils, rice," Rana said. "A lot of people have been getting non-perishable food, which is great. But we found that a lot of these homeless and displaced people really crave hot food. It warms the stomach and warms the heart."
The association partnered with relief organization Humanity First, Rana said, which provided funds for things like baby food and supplies, crates of water, non-perishable food items, and gloves and masks for rescue missions. 
"We'd get items in bulk, and they'd vanish. The demand is so high," he said. 
Amid their relief work, Rana said, many of the Houston AMYA chapter's 140 members have been affected by the storm. And even with waves of other AMYA chapters around the country sending groups to Houston to help out throughout the week, Rana said their work is still far from complete. 
"A lot of the phase one has been addressed," he said. "Next, our crew will be visiting affected neighborhoods, going door to door asking if anyone has large items that need moving from the inside to outside.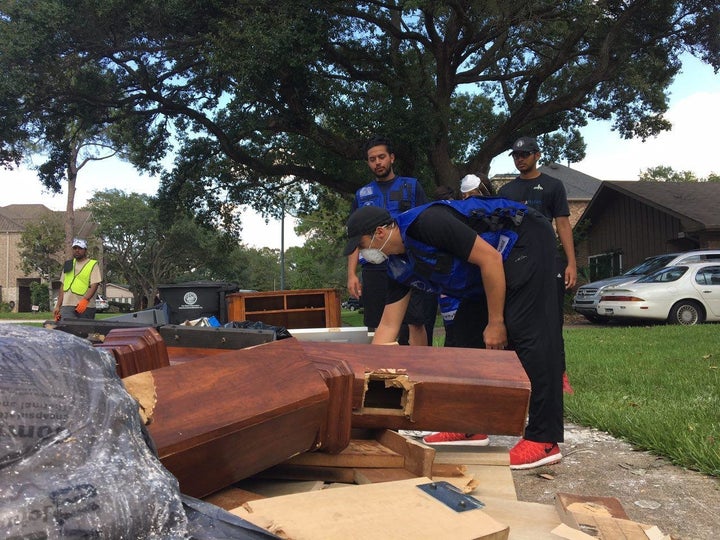 After major flooding, many families are forced to throw out entire household's worth of moldy, ruined furniture. They also have to rip up floors and gut their walls, taking pictures of everything as they work for insurance purposes. Even the strongest bodies can't do this work alone, Rana said.
"A mattress normally takes maybe two people to carry. When it's full of water, it takes four to five people. You wouldn't believe how heavy it is."
On Friday, several AMYA crews had already set out to help families with clean up. Fridays of every week are sacred to Muslims as the day when communities come together for weekly prayers. This Friday, Sept. 1, also happens to be one of the holiest days in the Islamic year.
Eid al-Adha, the three-day Festival of Sacrifice, began on Friday and commemorates Abraham's willingness to sacrifice his son Ishmael in obedience to God in scripture. For many Muslims, the holiday represents submission to God and the sacrifices one can make in God's name to serve one's community.
Some celebrants mark the day by slaughtering an animal and distributing the meat to family and to the poor.
Many Houston mosques and Muslim groups put their faith into action throughout the week, opening their doors to displaced residents. The Council on American-Islamic Relations, a Muslim civil rights and advocacy group, also encouraged Muslims in the U.S. to observe Eid by donating the equivalent of whatever they would spend on the sacrifice to assist in relief efforts for those impacted by Harvey.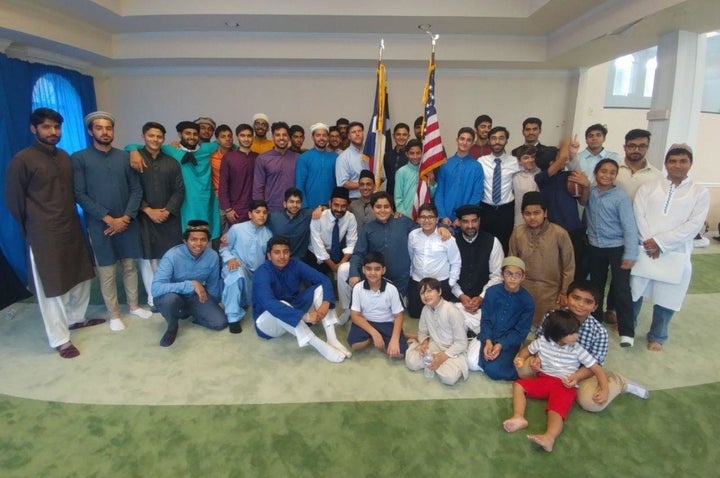 At Rana's local Ahmadiyya mosque, Baitus Samee, much of the carpeting was soaked in the storm and needed to be ripped up. At first, he said, they weren't sure they'd be able to host Eid services. But the community improvised, laying down temporary padding so worshippers could kneel for prayer.
An imam spoke from the pulpit about the meaning of sacrifice in the context of Harvey. After the sermon, Rana said worshippers turned to one another to embrace.
"Yes, the roof leaked, and yes the carpet wasn't in the best shape," he said. "But this is going to be an Eid we're never going to forget."
Calling all HuffPost superfans!
Sign up for membership to become a founding member and help shape HuffPost's next chapter
BEFORE YOU GO
PHOTO GALLERY
Texas Residents Begin Cleanup After Hurricane Harvey