A selfless rescue effort by a group of men in Houston ― including three brothers ― turned tragic after their boat drifted into live power lines, killing two and sending five others vanishing downstream.
As of Thursday, two of the men remained unaccounted for after the boat, fresh from rescuing two families from Hurricane Harvey's floodwaters, headed into the downed lines around 3 p.m. on Monday, The Washington Post reported. The three others are hospitalized after a harrowing night clinging to a tree.
"Everybody told them to stay, that they had already done their part," Stepheny Jacquez, 25, a relative of some of the victims, told the Post. "But they said, 'No, we have to go back, there's a lot of people in danger.'"
It was during their third trip out that the men lost control of their boat in the strong current, sending them into the live wires, Jacquez said.
"They all jumped in the water and got electrocuted, and the current took them," she told the Post.
Family identified the two fatalities online and to the Post as Yahir Vizueth, 25, and Jorge Perez, 31. Vizueth's brother, Benjamin Vizueth, 31, and family friend Gustavo Rodriguez-Hernandez, 40, are missing after being swept away in the water.
A third brother, Jose Vizueth, 30, was found clinging to a tree on Tuesday with burns, along with news photographer Ruaridh Connellan, 26, and reporter Alan Butterfield. The journalists ― on assignment for the London-based news site, The Daily Mail.com ― had just joined the five men as they were embarking on the third rescue mission. 
Connellan, who spoke with The Telegraph from a hospital room on Wednesday, recalled everyone jumping off the boat and into the fast-moving water upon seeing the craft approaching sparks emitted by the power lines.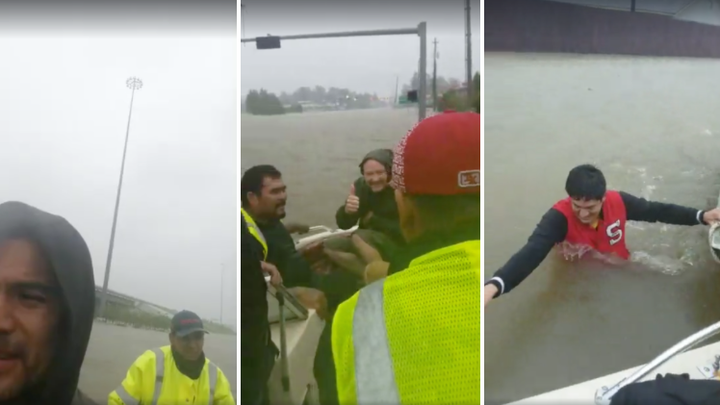 "I just felt this electric current go through my body and I thought I was done for," he said. "Then it stopped but it started again. I could see four of the men lying in the water ― one of them, floating on his back in his lifejacket."
Connellan said he and the two other men scrambled to grab hold of anything they could as they were pulled by what he estimated as a 30 mph current.
Butterfield and Jose Vizueth managed to grab onto a passing tree and pull themselves out of the water. Connellan also caught hold of the tree but said he initially couldn't muster the strength to pull himself onto it.
"I tried a couple of times but fell back in the water and thought I was going to drift off again, but I managed to hold onto the branch," he said.
"We took off our shoes to get a better grip on the slippery trunk and branches," Butterfield recalled on The Daily Mail's website. "One slip and the water would have carried you away to who knows where. One fall could end your life ..."
As the men clung for their lives, they shouted for help. At times they said they saw rescue helicopters flying around overhead, but none spotted them.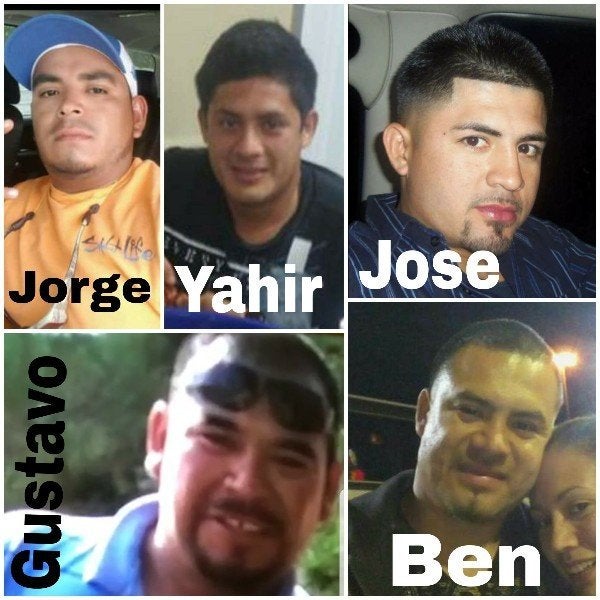 "They could see the helicopters and they were screaming and screaming, but nobody heard them," Jose's wife, Juany Vizueth, told The Washington Post after joining her husband at a hospital where he was being treated. "Jose tried to save his brother, but the current was so fast he wasn't able to reach him."
It wasn't until about noon on Tuesday ― more than 20 hours after the boat struck the power lines ― that they were rescued by members of the Texas Department of Public Safety.  By then, the three men had suffered frostbite to their hands and toes, and required antibiotics after spending so long in the filthy water, Connellan said. 
In addition to suffering electrical burns, Butterfield wrote of suffering a fractured toe, a gashed knee that required stitches, and a black eye.
A Facebook page belonging to Benjamin Vizueth shows several live-streamed videos posted just before the tragedy occurred. It shows the group of men laughing and speaking in Spanish as they moved through flood zones on foot, in a truck, and in a boat. The last video was posted just after 3 p.m. on Monday.
The Vizueth brothers all worked at a used car dealership owned by Benjamin, the eldest, according to the Post.
News veteran Dan Rather penned a touching tribute to the men on Facebook Thursday, in which he lauded their heroism and referred to the racial and ethnic divisions that plague America.
"In our current fractured climate, there are some who would look at their ethnicity, their last names, the fact that they spoke Spanish and say they are not one of us, not part of our nation. But in a time of need no one asked for their papers," he wrote.
Calling all HuffPost superfans!
Sign up for membership to become a founding member and help shape HuffPost's next chapter
BEFORE YOU GO