NEWARK, N.J. — As Zana Shaw, 21, waited for her flight from Newark to Houston on Thursday, the television above her looped catastrophic footage of rows of houses under water, ravaged by Hurricane Harvey.
Shaw was on her way back home to Texas for her wedding. The site she had chosen is now a shelter for evacuees. So instead she plans to get married Saturday at her aunt's home in Dickinson, south of Houston, which has been spared despite the widespread flooding in the area.
Shaw, who is studying government at Smith College in Massachusetts, said she and her husband would volunteer while in Texas, helping with clothing drives for children who lost their belongings.
"I feel really sentimental because I love Houston, and I love the deep east," Shaw said, referring to the rural eastern part of the state where she grew up. She worried that it would not receive the resources needed to recover and rebuild. "It's going to be bad," she added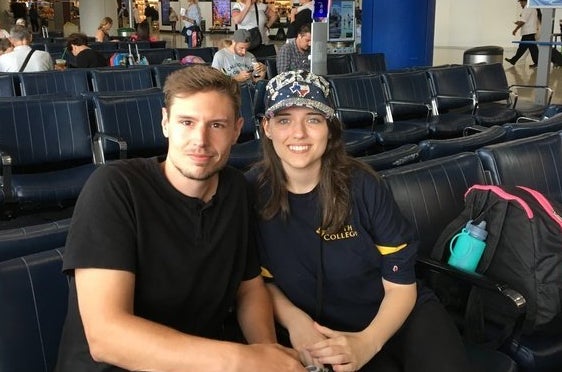 Shaw was one of dozens of passengers patiently waiting at Newark Liberty International Airport on Thursday to get on a coveted flight to Houston, not knowing exactly what they would return to.
The city's major airports closed for the worst of the storm, which dumped an estimated 27 trillion gallons of rain over Texas and Louisiana, displacing tens of thousands and killing at least 35. George Bush Intercontinental Airport, Houston's largest airport, resumed limited air service Wednesday afternoon, much to the relief of passengers who had been waiting days for a flight home.
Johanna Aaseboe, 17, said she was excited to see Texas for the very first time. The exchange student from Norway was headed to Baytown, near the Gulf Coast, to stay with a family for a year.
"It's kind of exciting because I have been looking forward to the school year and meeting my host family, but I'm also nervous because I haven't experienced anything like this before," she said, referring to the natural disaster.
The school she was supposed to start attending this week is closed, and she wasn't sure if it would be open Monday. She had been imagining Texas as a place of "football and hamburgers," she said. Now she expects to get wet and help out with the recovery effort. While her host family's house is safe, she said, their neighbors have experienced flooding.
Jesse Victoria, 29, a chemical operator, said he was relieved to be on his way home to his family. He was on vacation in the Dominican Republic when the hurricane hit and didn't know how bad it was until he flew back to the U.S. on Monday. His connecting flight to Houston was canceled, and he was stuck in Newark for three days.
Meanwhile, the streets around his house in southeast Houston flooded, leaving his wife and two children stranded with little food or supplies.
"Since Monday, I've been stressed out trying to figure out ways to get there," Victoria said. "The baby was running out of milk, and I was powerless here."
In his efforts to secure a plane ticket home, he took to calling airlines in the middle of the night so that the wait times wouldn't be so long. He even considered renting a car and driving.
His family is safe now, he said, and the roads around his house have cleared. But not all his friends were lucky. His coworker's house, which was just built, is completely flooded.
"It's going to take forever to recover from this," he said.
REAL LIFE. REAL NEWS. REAL VOICES.
Help us tell more of the stories that matter from voices that too often remain unheard.
BEFORE YOU GO
PHOTO GALLERY
Hurricane Harvey Aerial Images