Two victims remained hospitalized Tuesday, but their conditions had been upgraded to fair and stable, according to Houston police. Four others were released from the hospital after treatment and three were treated at the scene of the shooting in southwest Houston.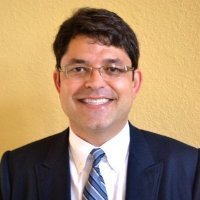 Monday evening Homicide Capt. Dwayne Ready said investigators found "old Nazi emblems" in DeSai's black Porsche. He added that DeSai was wearing green, historic or "vintage-type" military-style apparel. Ready didn't elaborate on insignias or symbols on the clothing. He said investigators searching the suspect's nearby condo may have found similar items, including artifacts going back to the Civil War. 
Police recovered a rifle and a handgun, legally purchased in 2009 and 2011, and more than 2,000 rounds of ammunition at the scene. 
Houston Mayor Sylvester Turner, who was out of the country on city business Monday, was told in initial reports that the shooter was a "disgruntled lawyer" who "was either fired or had a bad relationship with his law firm."
Kenneth McDaniel, DeSai's former partner at the firm McDaniel & DeSai, confirmed to ABC the pair had shuttered their business in February due to a downturn in the local energy market but declined to elaborate. 
McDaniel said DeSai was not fired. The two had not been in contact lately, though McDaniel told ABC characterizations of DeSai having "issues" were "amazing." 
DeSai's father, Prakash DeSai, told ABC affiliate KTRK he had seen his son for dinner the day before the shooting. 
The elder DeSai said his son seemed upset on Sunday because of "personal problems," including his law business. He said his son had been running his practice from his condo since the firm closed. 
Police said DeSai opened fire around 6:30 a.m. Monday near a strip mall in West University Place, a wealthy area near Rice University. The neighborhood is about 7 miles from downtown Houston.
Ready said DeSai was "shooting randomly at passersby and anyone he could get his hands on." He fired from outside his car, standing near a tree for cover.  
Jennifer Molleda's husband was among those wounded. Molleda told ABC 13 her husband had just left for work when she heard his tires screech to a halt outside. Molleda said she spoke to her husband by phone as she lay on the floor of their condo after she heard the gunshots.
"I'm hit! I'm hit!" she said she heard her husband scream. She said he was unsure of where his injuries were. The windshield of his car had been shot through, and Molleda said her husband had been hit by glass fragments in his eyes, face and arms.
"He was shooting into windshields at people's faces," Molleda said of the gunman. "There was no shooting tires; there was pure intent."
Molleda said several witnesses recalled seeing a red laser focused on their face. 
As Molleda was preparing to visit her husband in the hospital Monday morning, she said she wanted to know what prompted the shooter.
"I would want to know why? What was so miserable in your life that you'd have to hurt others? He almost killed my husband today," she said.
The shooting comes just days after a gunman shot and killed five people at a mall in Washington state. Arcan Cetin, 20, allegedly opened fire at Macy's in Burlington, which is north of Seattle.
This post has been updated to include information from police about the shooter's identity.
Calling all HuffPost superfans!
Sign up for membership to become a founding member and help shape HuffPost's next chapter