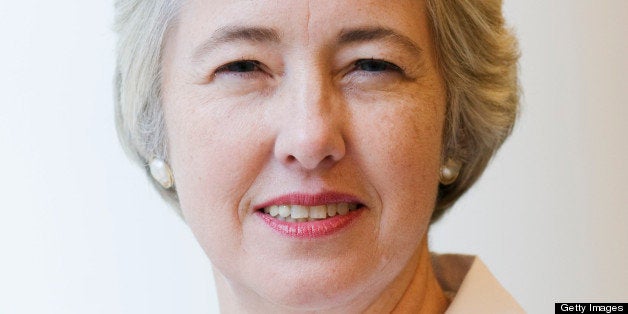 An out lesbian since high school, I never expected the "typical" beginnings of parenthood. And today, as we come up on Mother's Day, I still know it would have been hard to imagine just how my life partner, Kathy, and I would stumble into having a family.

It all began in 1993 when I met Jovon, a teenager whose grandparents had kicked him out for being gay. Kathy and I took him in without hesitation -- homelessness is always a tragedy, and a rejected child needs not just a bed but also an accepting embrace. Just like that, Jovon came into our family and never left. And we never looked back, later adopting Daniela and Marquitta from the custody of CPS and expanding our family to five.

As the mayor of America's fourth-largest city -- and the first openly gay mayor to lead any major U.S. city -- I know that many people view me as a role model in the world of politics. Winning public office shows other LGBT Americans (and their families) that things are changing, that we can live openly and successfully. But it is as a parent -- surely my most important role -- that I hope to be seen as a model, too, because even as families like mine are increasingly accepted and welcomed, there's a long way to go.

In an age when the president of the United States speaks up for gay parents and the majority of Americans support the freedom to marry for all couples -- gay or straight -- there are still obstacles for us at every turn.

Though Kathy and I have been building a life together for 22 years, we cannot marry in our home state -- the state where I was born, and where I serve in Houston's highest office. Texas, like 40 other states, does not allow same-sex couples to marry -- and even couples who are legally married in the ten states that issue licenses to same-sex couples are treated as strangers in the eyes of the federal government because of the Defense of Marriage Act.

Likewise, adoption was a hurdle for us, even as we tried to give Daniela and Marquitta a forever home after they'd been in the foster care system for years. When it comes to same-sex couples, whether we are legally permitted to adopt in Texas is left to the judges' discretion; our judge stood against us before even hearing our case, simply because Kathy and I are lesbians. In the end, I adopted in our home county and we found a fair-minded judge in another county who would allow Kathy to legally become the second parent. But we were the lucky ones. How many families across the country are kept apart by these discriminatory roadblocks?

People who know gay couples know that we are just as committed to each other as our straight counterparts. And people who know gay parents know we are just as dedicated to raising our children with love and protecting them from harm. We will keep pushing for the government to treat us equally -- in marriage and adoption and beyond -- and in the meantime, we'll keep being who we are, openly and honestly, and showing just how alike we all are in the ways that really matter.

That means families like mine will continue to exist, creating a loving home that shows our children that no matter who you are, you are worthy of equal treatment and respect. And it means we'll continue to look forward to the day our state and our nation show us the same.

Annise Parker is the mayor of Houston.
Popular in the Community