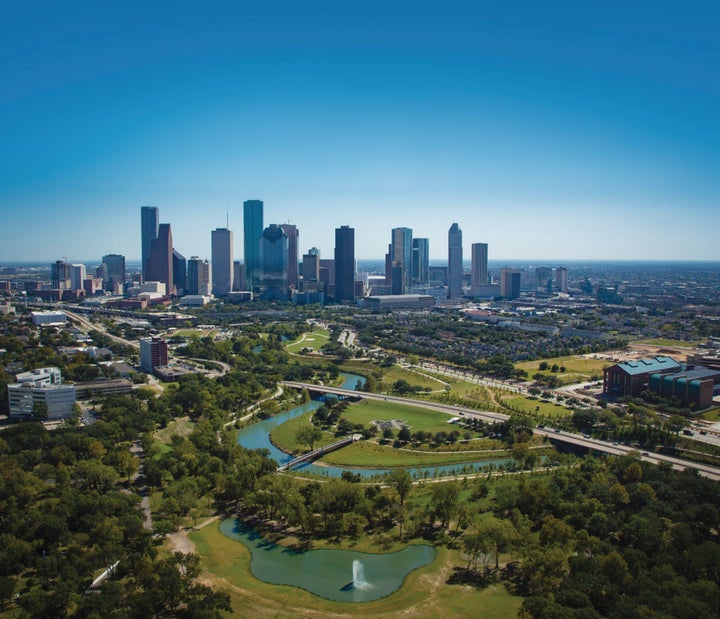 On day 4 our Lone Star State road trip took us to Houston.
Now, if Dallas hadn't beat them to the punch, it occurs to me that Houston might have just as easily adopted the tagline "Big Things Happen Here" as well because let there be no doubt that Houston is certainly big. The city, the fourth most populous behind Los Angeles, New York and Chicago, is also large in physical size, hence the feeling that when there is a distance to be traveled, 45 minutes seems about the right amount of drive time to budget at all points.
The first stop in Houston was at the Athena Gun Range and, though I had done some skeet shooting in my past, neither Davey nor I had ever handled weapons of the variety Athena specializes prior to that day. Irrespective of how you might feel about firearms, it bears noting that there is something illuminating not only in learning how to handle firearms but also understanding their power.
After a safety training and presentation, it was off to try the real thing on an actual shooting lane – first with a 44 Magnum and later with an AR-13 assault rifle. Needless to say, I don't think Davey or myself will become gun enthusiasts anytime soon given the way we both jumped with fear at the sound of firing the weapons, but I also don't think either of us will ever forget the lesson about just how very powerful those two weapons were.
Elsewhere in Houston, Davey and ventured out on different paths to court our own muses if you will. In my exploration, the thing that struck me most about Houston is that while it has a clear center of gravity, it is also a city of contiguous villages bootstrapped together to create the diverse face of Houston. In the modern, shiny new Uptown/Galleria neighborhood, you'll find centrally located 4-star (Hotel Derek) and 5-star (Hotel Granduca) accommodations alongside trendy shopping stretches like the River Oaks District. Here, tucked among the high rises, you'll also find chic restaurants like Peska, the former coastal Acapulco fresh seafood market turned upscale eatery under the much buzzed about sway of 20-year-old Executive Chef and Latin American culinary celebrity, Omar Pereney.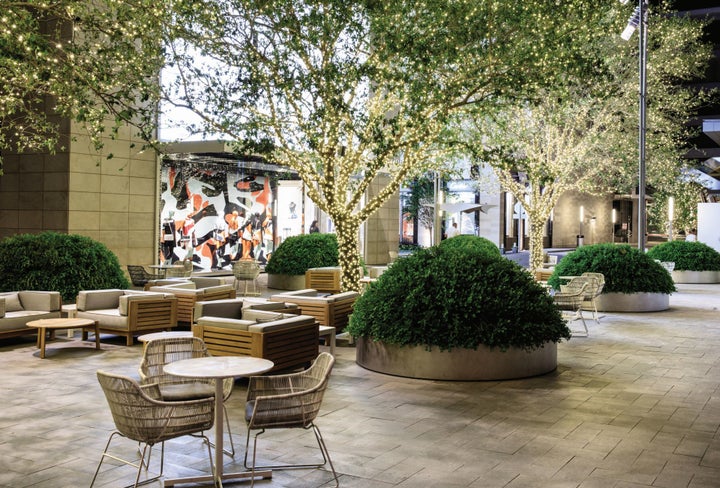 Meanwhile, the West University/Rice Village is abuzz with its own celebrity and creativity. In this popular Houston borough, you'll find trendy shopping outposts, such as the eponymous boutique owned by Houston native and Project Runway Season 2 winner Chloe Dao, and New Living, a novel retail concept store specializing in organic mattresses, sustainable, chemical-free artisan furniture and custom furniture builds. Paired with all that shopping, you'll also uncover popular local restaurants like Tiny's no. 5, a gorgeous space in Rice Village marked by whitewashed beams and specializing in beautifully prepared 'House Favorites" with "the volume turned up", as Ina Garten might say.
Other areas of note include Chinatown, where I had the pleasure of chowing down on delicious assortment of Crayfish with Chloe Dao, Montrose, home to a bevy of cocktail bars and nightclubs as well as some of the best Tex-Mex I've had the good fortune to sample, and Downtown, where the Houston Ballet (see my interview with Rhys Kosakowski of the Houston Ballet here), the Houston Theatre District and the Buffalo Bayou are to be found.
Finally, for those interested in taking home a real piece of Houston, forget belt buckles and mugs and take a look at the pottery of Linda Coney, who is, in the spirit of full disclosure, a friend. That said, I had never seen her work until I visited Houston and I was staggered by the breadth and range of her artistry. Currently available at Lush Flowers and at Mosaic Art & Home, Linda's gorgeously intricate pottery is infused with her life experience and crafted with love for the form, making it the perfect Texas keepsake.
With only 48 hours to spend in Houston this trip, I can't pretend that we did any more than scratch the surface, but as with most major cities a scratch can lead to the spark that lights your way back to it and I'd like to think that was the end game of our visit.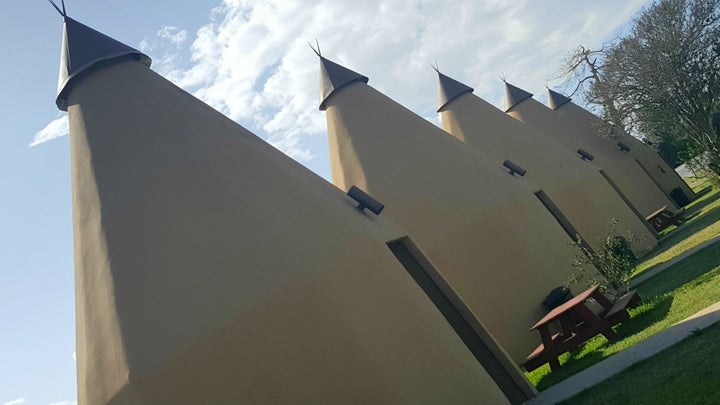 It is a burden that I honestly cannot claim to share, but if you, like my travel companion, have a predilection for teepees, you will probably think it a great, and indeed fun, idea to stop in at the Teepee Motel & RV Park located in Wharton, Texas just about an hour and a half outside Houston. Maybe it's because I never really liked played cowboy games as a kid, but I have never had any fascination with tents, teepees or anything approximating 'rustic' living. Perhaps there's something in my DNA but I have always generally preferred traditional accommodations of the many starred variety.
So again, while I reiterate that I do not have any predilection for teepees, I must admit that there is something to be said for chalking up life points by experiencing new things like an overnight stay in truly small town Texas in one of – wait for it – only four teepee motels in America. Fortunately, to my surprise (and utter relief), not only was my teepee air-conditioned and equipped with cable, Another Time Soda Fountain, the burger joint we discovered in nearby Rosenberg was not only as retro charming as the town itself, but also home to a way better than average milkshake. Who knew?
For more details on our visit to Houston, click here.
Related
Popular in the Community