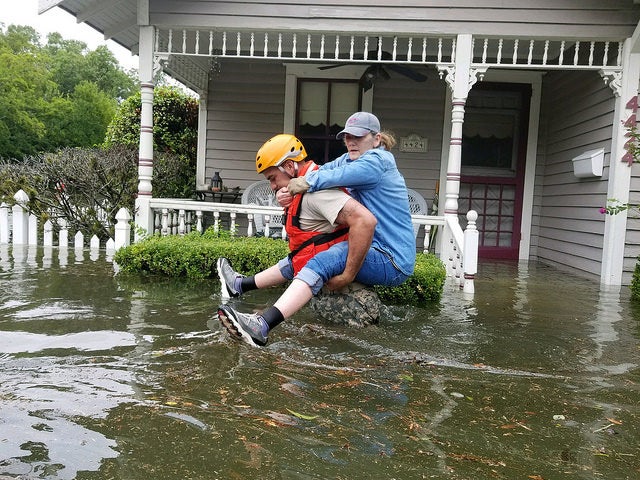 I realize most of you are far away and reading social media updates because you're worried about specific individuals. This is great — keeping tabs on friends and loved ones provides a touchpoint for understanding a situation like this, even though the disaster itself is incomprehensible.
But I'd like to challenge you to comprehend the events in Houston as much as possible, so you can understand what sort of assistance the area will need for the coming months. Even if your family and friends are OK, tons and tons of people are not.
Here are some starting points to help you comprehend:
There are millions — MILLIONS — of people in distress. Every human from Corpus Christi to College Station to Beaumont and beyond and between is affected.
50 Texas counties have received 20+ inches of rain. For comparison, the entire state of California only has 58 counties. Some areas have seen their entire annual rainfall in just 3 days. It's still raining, and may stop tomorrow.
Even after the rain ends, recovery will not be fast. Our flood professionals expect some structures to remain inundated for a month. Rivers and reservoirs drain slowly, and right now they are still rising. After a crest, these will remain in "major flood stage" for weeks.
We are all exhausted. The physical and mental toll of preparing, escaping, helping, watching, worrying, and processing is too much. It's a feeling that's difficult to understand unless you've existed in the center of a disaster like this.
Try to understand it if you can. Give us grace and love and support. Those are helpful. We don't have space for judgment of our residents, local officials, or first responders who have been working around the clock for days now. Discounting their expertise and experience is unhelpful and disrespectful.
Photo: Texas National Guard via Flickr
Jeanette Margle is the owner of Vox Tuus, LLC. Vox Tuus is Latin for "find your voice," and she specializes in helping businesses and individuals find the voice of their personal or professional brand.
Ellevate Network is a global women's network: the essential resource for professional women who create, inspire and lead. Together, we #InvestInWomen.
Popular in the Community