* Houthis take over parts of Taiz-residents
* Anti-aircraft guns open fire at plane over Aden
* Conflict may pit Gulf Arabs against Iran
* Yemen slides into 'dark tunnel' -Gulf Arabs
* U.N. mediator warns of "Iraq-Libya-Syria" scenario (Adds U.N. mediator, Security Council meeting, paragraphs 9-11)
ADEN, March 22 (Reuters) - Houthi fighters opposed to Yemen's president took over the central city of Taiz in an escalation of a power struggle diplomats say risks drawing in neighboring oil giant Saudi Arabia and its main regional rival Iran.
Abdel-Malek al-Houthi, head of the powerful Shi'ite Muslim group, vowed to pursue Sunni militants behind suicide attacks on Houthi supporters and said the poor Arabian peninsula country was in danger of descending into Libya-style turmoil.
In a live televised speech, Houthi said his decision to mobilize fighters amid accelerating violence in recent days was aimed at Islamic State, which claimed responsibility for bombings that killed more than 130 in the capital, Sanaa, on Friday, and al Qaeda.
Conflict has been spreading across Yemen since last year when the Houthis seized Sanaa and effectively removed President Abd-Rabbu Mansour Hadi, who now seeks a comeback from his base in Aden.
Residents of Taiz, on a main road from Sanaa to the country's second city, Aden, said Houthi militias took over the city's military airport without a struggle late on Saturday.
Witnesses in the central province of Ibb reported seeing dozens of tanks and military vehicles headed southward from Houthi-controlled areas toward Taiz, while activists in the city said Houthi gunmen shot into the air to disperse protests by residents demonstrating against their presence.
The advance of the Iranian-backed group has angered Sunni Gulf Arab states led by Saudi Arabia.
The Houthi expansion into mostly Sunni areas in the center and west has led to months of clashes with local tribes and al Qaeda, raising fears of civil war.

The U.N. mediator on Yemen said on Sunday that recent events "seem to be leading Yemen further away from a peaceful settlement and towards the edge of civil war."
Saying it was illusory to think Houthi militia could take over all of Yemen or that Hadi could assemble enough troops to take back the country, mediator Jamal Benomar told the Security Council: "Any side that would want to push the country in either direction would be inviting a protracted conflict in the vein of an Iraq-Libya-Syria combined scenario."
The Security Council condemned the takeover of much of Yemen and its institutions by the Houthis and warned of "further measures" if hostilities did not end.
Iran called for dialog, but suggested Hadi should leave to spare the country further bloodshed.
"The expectation is that President ... Hadi will resign rather than repeat mistakes, to play a constructive role in preventing the breakup of Yemen and the transformation of Aden into a terrorist haven," said Iran's deputy foreign minister, Hossein Amir Abdollahian, according to state news agency IRNA.
But Gulf Arab leaders and security officials said on Saturday Hadi was Yemen's legitimate ruler and they were ready to make "all efforts" to defend the country's security.
"Yemen is sliding into a dark tunnel, which would have serious consequences not only on Yemen but on security and stability in the region," the officials, who included Saudi Interior Minister Prince Mohammed bin Nayef, said.
"The security of Yemen and of the GCC countries is an indivisible whole," it added.

On Sunday, anti-aircraft guns opened fire at an unidentified plane flying over Hadi's compound in Aden, witnesses said, in the third incident of its kind since last Thursday.
U.S. officials said Washington had evacuated its remaining personnel from Yemen, including about 100 special operations forces, because of worsening security, marking a setback in U.S. efforts against a powerful al Qaeda branch.
The Houthis are allied with former President Ali Abdullah Saleh, still influential in the military despite having given up power in 2011 after mass protests against his rule. The Yemeni army has varied loyalties, with most units being controlled by the Houthis or Saleh, while some are loyal to Hadi.

In his speech, Houthi criticized the U.N. Security Council, saying it was led by countries plotting "evil" against others.
He also accused Saudi Arabia and Qatar - two among several Gulf Arab states opposed to the Houthis' rise to power - of fomenting "destruction" inside and outside the region.

(Additional reporting by Sami Aboudi, Noah Browning, Mohammed Ghobari, Angus McDowall and Sam Wilkin, and Michelle Nichols at United Nations; Writing by William Maclean,; Editing by)

Related
Before You Go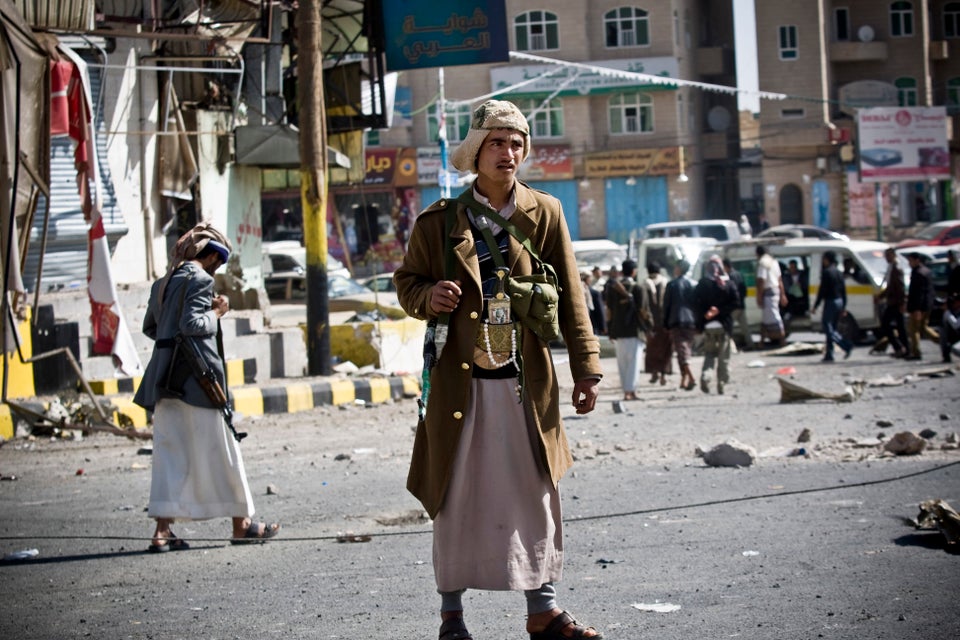 Houthi Takeover In Yemen
Popular in the Community