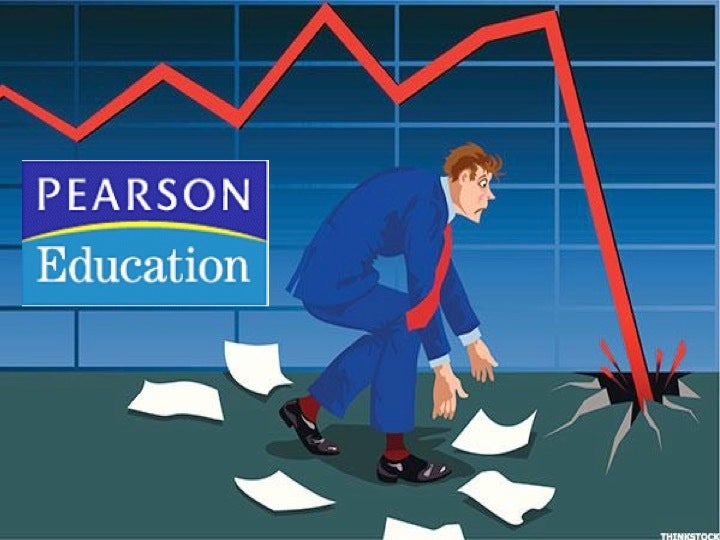 In January, Pearson's stock value dropped sharply when the company reported lower than expected profits, especially in its United States college textbook division where revenue declined by 18 percent. Overall Pearson's operating profit for 2016 was down about $800 million or 8 percent and the company expected it would continue to decline in 2017. In one day, Pearson's stock plummeted 30 percent to $7 a share. In February, Reuters reported that Pearson suffered a $3.3 billion pretax loss and was deeply in debt.
In the United States Pearson's problems are escalating. In New York State the Board of Regents just voted to drop a previously mandated Pearson teacher certification test because it does not measure qualities needed to be an effective teacher. According to Kathleen Cashin, who chairs the Regent committee on higher education, "if you have a flawed test, does that raise standards or does that lower standards?" The Board of Regents is also reevaluating requirements for the edTPA, another test administered and graded by Pearson. Similar Pearson teacher certification tests are also being challenged in Florida courts by teachers and Schools of Education.
In Maryland, it's parents who are up in arms. This time it is because Pearson's new elementary school math program is incomprehensible. At a recent local school board hearing, a third-grader testified, "My favorite subject used to be math, but now with the new math program it makes me frustrated and upset."
Pearson must be hovering over the precipice. On March 14 I received an email from Kevin Davis of its Teacher Education division asking for my help in figuring out how it could improve college textbook sales. I am not sure if Kevin realizes I am a major Pearson critic.
Below are the email from Kevin and my response, plus a link to the questions Pearson asked on its "surveymonkey." In exchange for my assistance, Kevin promised to enter me in a "drawing to win one of five $100 gift cards." I am going to pass on the drawing!
Dear Professor, We are committed to partnering with you to ensure that you have access to the best possible resources for your Teacher Education courses. At this time we are exploring opportunities for improvement of educational materials in many areas of Teacher Education. Please take the time to complete this survey and help us make important choices about product development. The survey can be found on­line here.

https://www.surveymonkey.com/r/spring17edu. Your candid feedback will directly affect the types of products we offer in the future. It will also give you a chance to indicate if you're interested in doing paid research activities. Upon completion of this survey you will be entered in a drawing to win one of five $100 gift cards. Thank you in advance for your participation in this survey. We know your time is extremely valuable and we appreciate you taking time out of your schedule to offer your feedback. Sincerely, Kevin Davis Director & Portfolio Manager Teacher Education
In response I emailed Kevin.
Sorry but I didn't take your survey. I know your company is on the verge of bankruptcy and I hope you can find a new job. Please pass along to the corporate hierarchy that if Pearson would like my assistance, CEO John Fallon should first announce that Pearson is pulling out of the North American high-stakes testing market and will stop promoting private schools in the Third World.
Professor of Secondary Education
I am not sure if Kevin knows, but according to a report in the British newspaper The Telegraph, Pearson CEO John Fallon received a 20% pay raise this year despite the company's heavy loses. Although his base salary remained the same, Fallon received a £343,000 incentive payment. That brought his total compensation for the year to £1.5 million or almost $2 million.
Popular in the Community