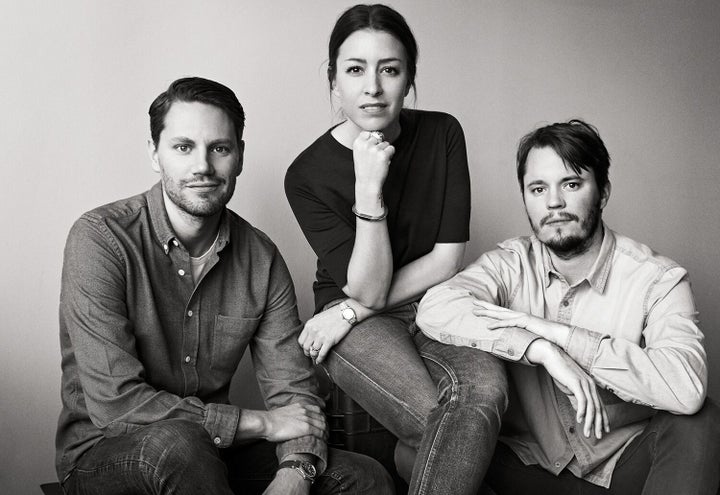 Inspired by the shades of Stockholm, Swedish family trio Liza Laserow, Fabian Berglund and Felix Berglund founded Nordic Knots. Their love for the vibrant facades of the 19th century classic Stockholm architecture inspired and influenced the patterns and details that is now a flourishing collection of rugs. Along with the simplicity of the patterns, the pale and deep blues, the pinks, the yellows and the burnt reds are all colors that carry through the entire collection. Since joining forces in 2016 their true passion for entrepreneurship, design and their home country holds true in what is now a thriving business. Below is an interview with the team about their business, work environment, inspiration and personal style.
We are moving a lot between New York, Stockholm and Amsterdam and we work wherever we are. We have a home for our rugs in Sweden where we have a small design studio in Vasastaden, Stockholm. Stockholm is also where we create all our content, photograph our rugs in beautiful Swedish homes.
What made you turn to this direction?
Our company is a family business made up by Liza and myself (Fabian) who are married and my brother Felix. We all work in different fields and the company was born from the desire to do something together, combining our trifecta of knowledge to do something we love. Having lived many years away from Sweden we wanted to take something with us from our home country to our home and for us a good rug is the foundation to a great Scandinavian home. There is a rich history of rug and pattern-making in Sweden. So with Lizas background in interior design and Swedish antiques, my background as an art director and Felix entrepreneurial background, we just decided to do it one weekend. For us it's about making a great product that represents us and where we are from but also a fun journey we can go on together.
Was this always your dream job?
We all have slightly different dreams, of course. But the one thing we have in common is that this was a project we started doing outside of our day jobs and we are very lucky that this has become a bigger part of our lives than we imagined. Getting to express ourselves through a physical product is something really amazing but hearing from someone who just received one of our rugs that they like it and that it's now an important part of their home is an even greater feeling.
How much of the week is work, how much is play?
If work isn't play it's no fun at all. So I'd say both all the time!
What has been the most exciting thing you have done with your work, and what is a dream situation you'd like to find yourself in?
Whenever we get a new collection ready for a shoot it's exciting. Finding great locations, styling the homes and seeing the ideas we had for that rug come to life in a beautiful real setting. We like seeing how the carefully selected colors interact with the rest of the interiors, and how the patterns work together with its surroundings. It's really interesting and sometimes surprising.
How do you find your inspiration?
All the time and everywhere. Walking through stockholm looking at the colorful facades of the 19th century architecture. On the floor of an old building with interesting tiles or floor boards. On a plane looking down at the sharp lines of the scandinavian landscape. From antique patterns, sketches and old fabrics. It's a never ending scrap book of pieces of inspiration. The bigger challenge for us is actually to keep it simple and not get too carried away.
How do you define your personal style, work and clothing, etc.?
We'll let Liza answer this one since both Felix and Fabian are both pretty much dressed in black jeans and t-shirt from Scandinavian brands like "Our Legacy" and "Acne".
Liza: My personal style is pretty much based on the same idea as our rugs. Sustainable and not trendy - a form of restrained elegance. I love design in amazing quality that has an understated cockiness (not shouty) and preferably a bit oversized. This runs through both my closet, what our home looks like and what we want to communicate through our collections. To me a rug too small is as bad as wearing clothes that are too tight.
For more on Nordic Knots - https://www.nordicknots.com
Related
Popular in the Community