Chris Lilly is the reigning Memphis in May World Barbecue Champion. He's also the coach of my team in the 2012 Memphis in May World Championship Cooking Contest.
That would be the same as having Texas Rangers Josh Hamilton teach your kids a thing or two about baseball. Or having Beyonce and Jay Z swing by for your weekly singing lesson.
In the world of competitive barbecuing, Chris Lilly is gold. And he's all ours.
Chris is in charge of the Kingsford "On Asswinement" team -- a group of five journalists and writers possessing a wide range of culinary skills -- brought together to experience the wonderful world of competitive grilling.
My grilling skills -- on the experience thermometer -- fall somewhere between steak tartare and rare. I'm our team's grilling newbie. But that doesn't matter. Because Team Kingsford has Chris Lilly.
We've just finished day one of an intensive two day grilling boot camp Chris put together for us to master our category -- ribs. We're being schooled not only in the art and science of competitive grilling, we're also being given an crash course in competing at a world-class level. And right now, my brain is overcooked. Well done. I'm hanging out in my hotel room at the famed Peabody Hotel -- above the sounds from Beale Street below, trying to process what all I learned today. A few random thoughts?
There's far more to award-winning barbecued ribs than barbecue sauce. Our entry has has a three-step process -- a rub, a wrap and a sauce -- a layered strategy that's going to make our ribs taste like an archeological dig, with a richness of exciting flavors popping up in the unsuspecting mouths of the judges.
Developing our own secret-blend rub was similar to the process I went through as a little kid when I mixed a variety of soda pop together to discover a perfect taste. I believe we called that a suicide drink. Without divulging more information than I'm allowed, I will say that our rub will likely be the death of the other teams. We have this one nailed.
If you're like me, you may have thought that "ribs so tender they fall off the bone" was a good thing. Well, in competitive grilling, don't EVER do that. "A good judge will destroy you if you turn in a mushy rib," warns Chris. So much for that culinary myth.
I love my Weber at home. But grilling on a big boy pit -- compliments of my new best pals at Pitmaker -- is way more fun. Ours features more compartments, doors, hydraulics, slide out grates and gadgets than I can grasp. I know it cost more than my car. And with a built-in 47" LCD television (I kid you not), I'm realizing I've been missing out on a lot of cool grown-up toys the last few years.
"You're gonna blow the judges' minds," assures Chris. "And you have two bites to get the job done." That was the moment of day one that I started to wonder if I had signed up for more than I bargained.
My back hurts. My feet hurts. I need a rub. Of a different kind.
Barbecue people are like country music people. The best.
Memphis knows how to put on a show.
What's ahead? Friday is our second day of boot camp. We'll jump on our custom pit and try out our rub, wrap and secret sauce. And we're not allowed to watch television, I'm told, until we get this thing right.
And Saturday's the real show. So stay tuned. We're in it to win it.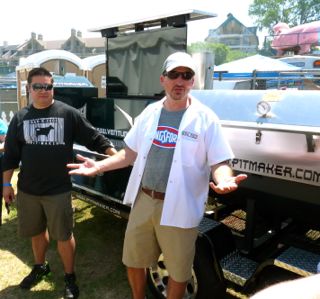 Chris Lilly (right) -- our leader. George Shore of Pitmaker is left. Our 47" LED TV is proudly peeking out in back.
Learn more about Jim at: BobbleheadDad.com
Read more from Jim at: Bobblehead Dad Blog
Hear more from Jim on: Bobblehead Dad Radio
Jim's also on Pinterest
Learn more about Jim for Speaking Engagements
Join Jim's Facebook Community
Calling all HuffPost superfans!
Sign up for membership to become a founding member and help shape HuffPost's next chapter