In recent years, marrying design with technology has become a common practice among architects and interior designers as they design workspaces for companies across numerous industries. So it should come as no surprise that when some of the top names in the design industry were tapped to create workspaces for a handful of corporations in the technology sector in New York City, they would look to technology for inspiration. From live-streaming monitors that nod to one company's television roots to a major dot.com with a mission to achieve zero-waste status by tracking its progress via open-sourced technology, businesses today are realizing the benefits that come when you blend design with technology. Here are five tech workplaces in NYC leading the charge.
Neighborhood: Union Square
Designer's Statement with Lance Amato: The goal of Vocon's design was to create an innovative and dynamic environment while presenting a sophisticated narrative of how to feel the comfort of home at your workplace. We designed the front end of the office with the same spacial relationship found in an open-concept loft and a lounge seating area similar to that of a living room that is connected to a pantry. This visual connection allows occupants that are in both spaces to connect with each other as well as with passersby on Court Street. The 21st-century office has transformed from a primary workspace to a meeting place. With this in mind, we focused on providing different types of gathering and meeting spaces to support formal and informal encounters. While employees still have their own singular desk, these spaces are minimal and purely functional. Common spaces are equipped with comforts such as residential furniture paired with AV capabilities to support collaboration and teamwork.
Notable Products: Many of the furnishings are from Blu Dot. The Open Chairs are from Allermuir, the Compose Sofa is from Muuto, and the Nest Low Chairs are from +Halle. The handmade glass pendant is by Keep, a glassmaking firm located in Brooklyn.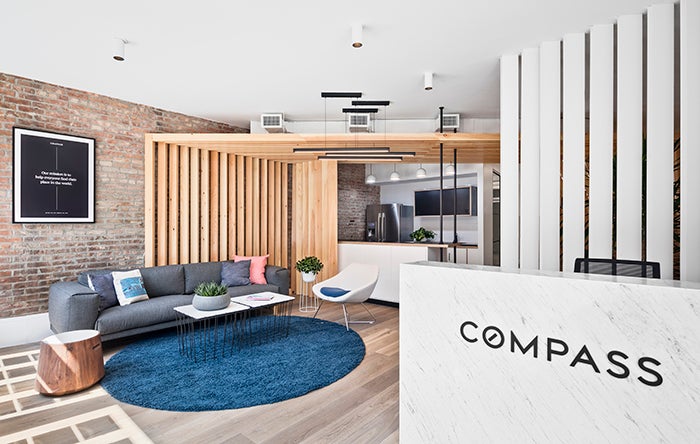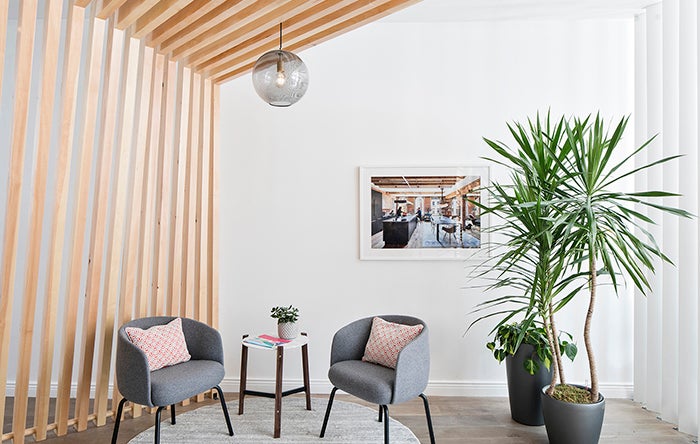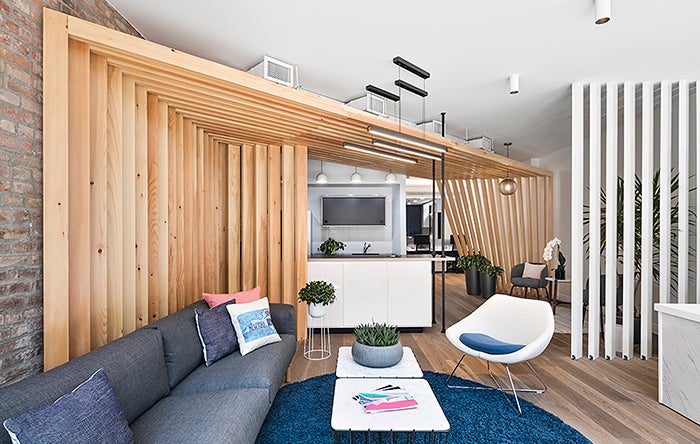 Project: Dropbox.com
Neighborhood: Flatiron District
Designer's Statement with Linda Bower: Dropbox really wanted to emphasize the community spaces and to provide a flexible and casual workplace where people can connect and share ideas. They couple this notion with remaining authentic to the cities in which they reside—we preserved parts of this 1925 building like the existing terra-cotta wall which can be seen in the images. The space was previously a Schraffs Bakery, so we celebrated the unique history and character of the remaining elements when Dropbox leased the space. The design team cleaned and preserved parts of the existing subway tile wall and brick flooring that runs along the east side of the space. We also cleaned and sealed the existing concrete flooring. Additionally, all new partitions were built around the column capitals, never actually intersecting them, which created an opportunity to up-light and celebrate their unique quality. While preserving the building's history, the design team also looked to create a warm and inviting space. We utilized warm woods, vibrant colors, and low light levels to make employees feel comfortable.
Notable Products: The reception desk was fabricated with plywood by Moore Friesl and is a feature of the lobby. Additionally, Filzfelt Aro Plank was used in the all-hands space (pictured) for acoustic treatments.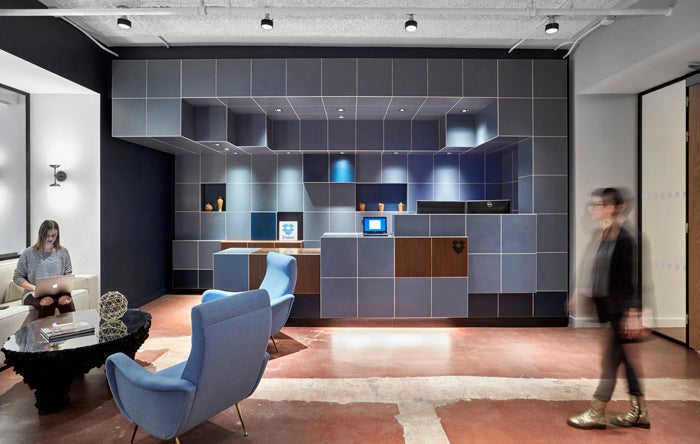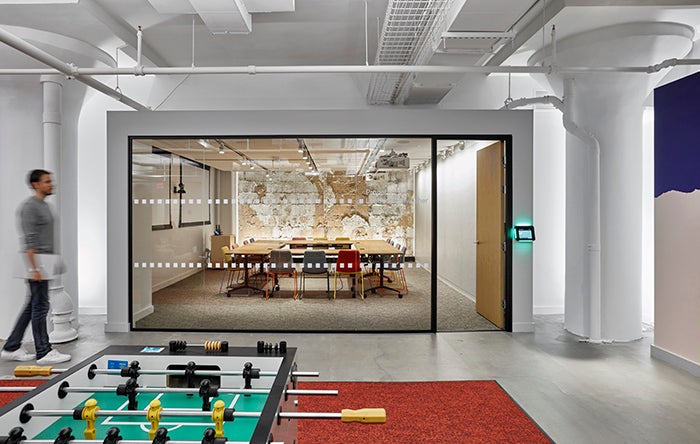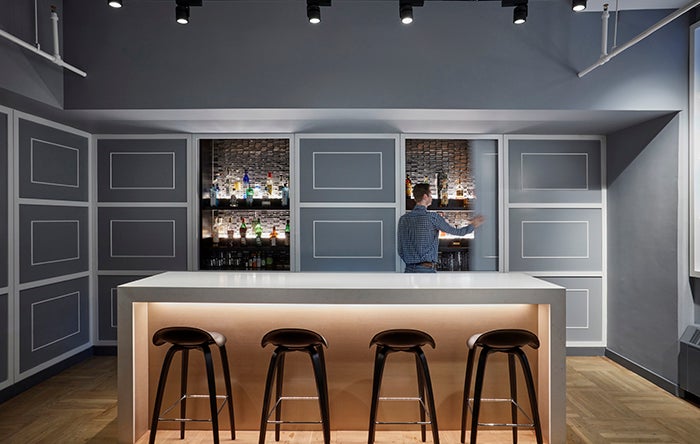 Project: Etsy.com
Neighborhood: Dumbo, Brooklyn
Designer's Statement with Amanda Carroll: Blurring the lines between workplace and habitat, Etsy's new 225,000-square-foot headquarters is one of the largest Living Building Challenge (LBC) Petal-certified commercial buildings in the world and the only LBC-certified building in NYC. LBC Certification is administered by the International Living Future Institute (ILFI) and serves as one of the world's most rigorous sustainability standards for buildings. The design aspires to be a fully independent, regenerative ecosystem that sets the bar for a more dynamic and robust interpretation of sustainability. Through its materials story—sustainable, authentic, local, reclaimed—and its green embrace—nature permeating the space—the headquarters advances the potential for sustainability at all levels.
Notable Products: The project's design is enhanced by the contributions from local makers. Robert Sukrachand and First Third produced most of the side tables and meeting/conference tables. Greenery NYC created the indoor plant walls and vegetation features visible throughout each floor.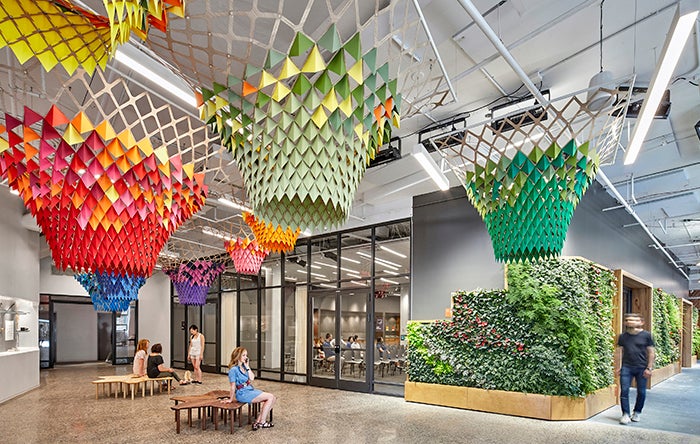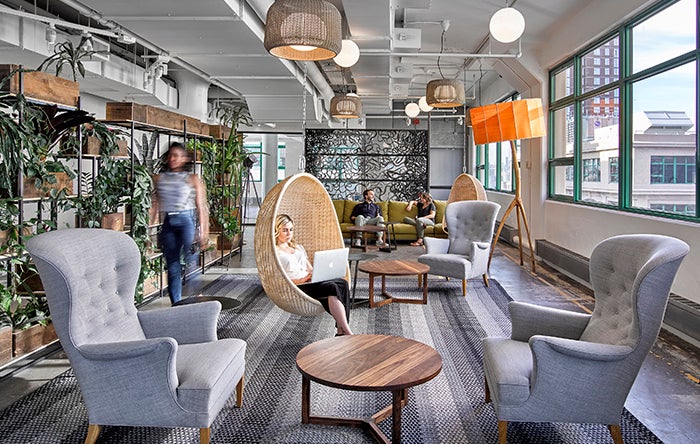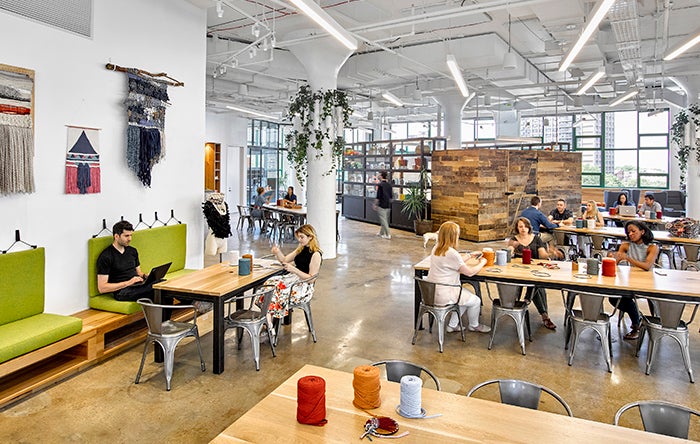 Project: Fubo.TV
Designer's Statement with Primo Orpilla: With FuboTV, we were looking at a client with a very ambitious business plan—essentially to upend 60 years of broadcasting tradition and create a new way of watching sports. This is part of the revolution in TV programming we've all been hearing about and in FuboTV's case it means live-streaming international football directly to your back pocket. So our design for this company has the spirit of a tech start-up—the adaptable spaces and writeable surfaces and dynamic graphics and the buffet of space types. But, because this is Manhattan and because it's television, we wanted to hint at the industry's prestige in the TV broadcasting capital of the world. So the conference room looks out onto West 53rd Street, the break room island is a modernist slab, and the live-streaming monitors are framed in a wall of black glass worthy of the plushest network news division. The wall graphics created by O+A's own in-house Brand Studio gives this project its special character. Our graphics team took inspiration from fields of play, but the animating idea behind the designs was to put the geometry of those fields in motion, literally to animate it. The red-lined graphic on the break room wall is the clearest example. By duplicating the form in overlapping patterns, graphic designer Olivia Ward caught the sensation of experiencing sport, not as a framed tableau from up in the stands, but as a moving drama down on the field.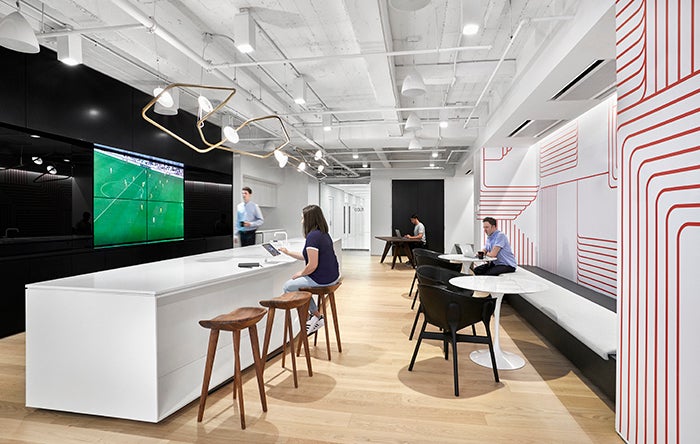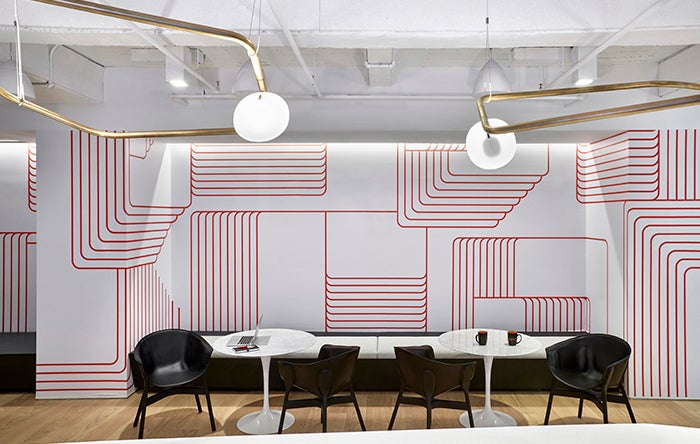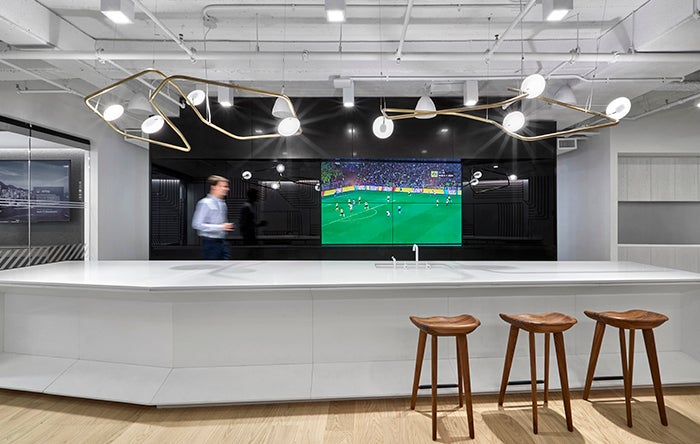 Project: Jet.com
Neighborhood: Hoboken, New Jersey
Designer's Statement with Julio Braga: IA's design concept for the space grew out of the client's business model of combining products together in distinctive packaging for shipping. We envisioned their iconic cardboard box unfolding to form the cross-shaped core of built areas, with the remaining space forming four generous quadrants, each of which occupies a corner of the building. The design of the workspace itself is focused around the way Jet.com employees collaborate, which is mainly in team settings. In the open work areas, groups of eight sit/stand desks are arranged in clusters to support these teams, with huddle and conference rooms included in key locations. Throughout, bold graphics reflect the company's distinctive branding and playful elements, such as superhero themes worked in to keep the space lively and fun.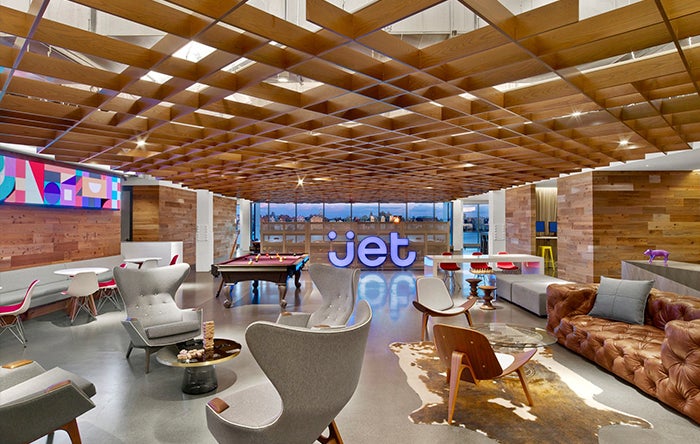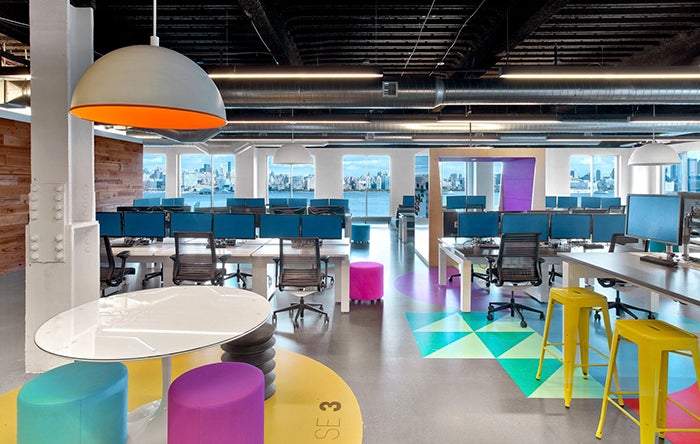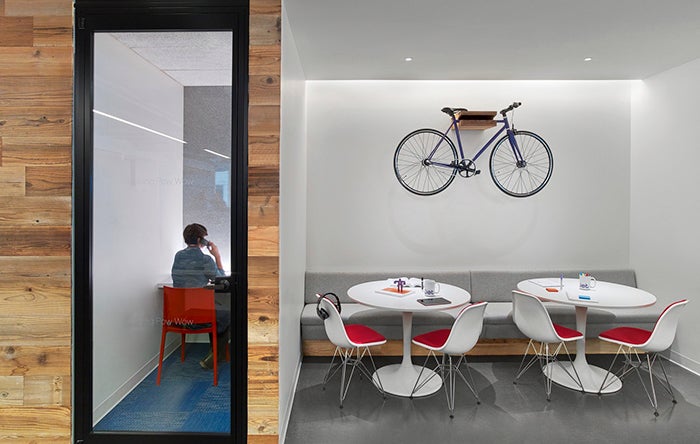 Popular in the Community