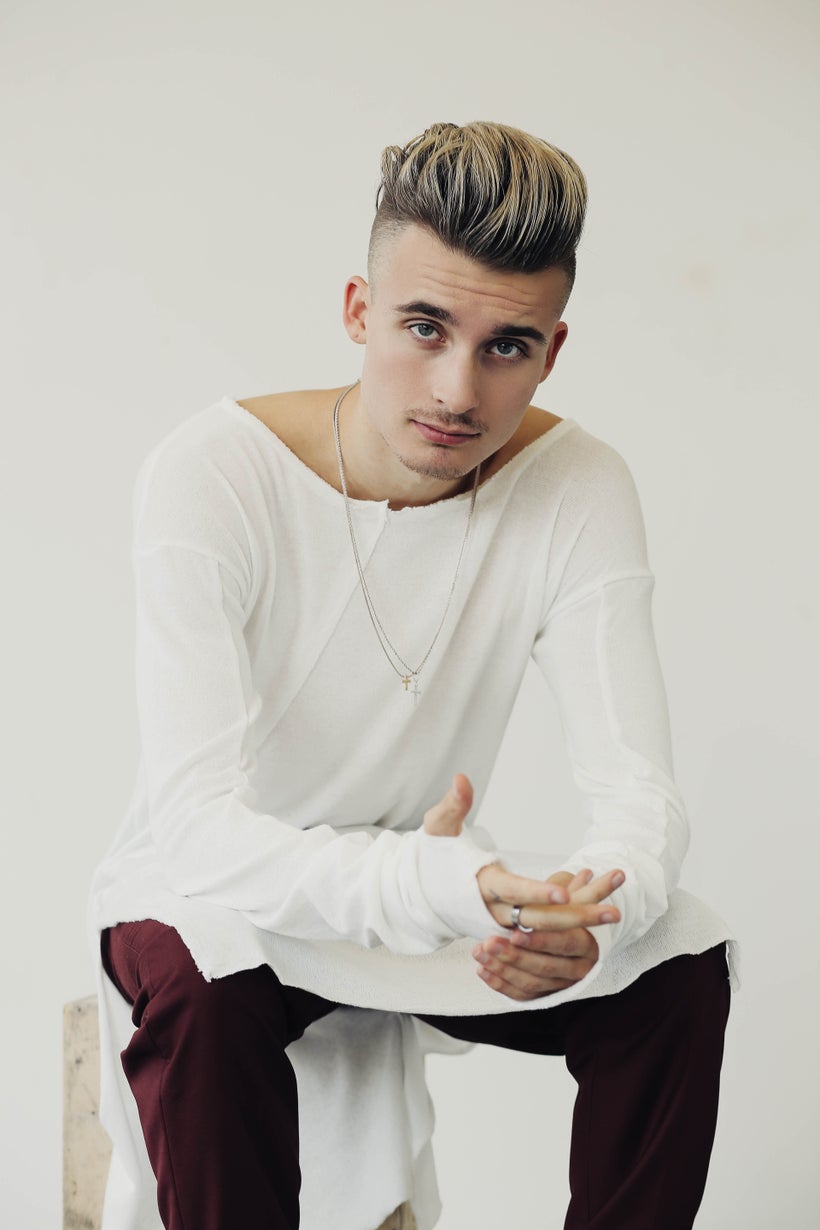 "Failure is my biggest motivator." ~ Christian Collins
Musical artist and social media phenomenon Christian Collins is on a roll.
Since 2010, the multi-talented Canadian has been building his YouTube channel ("Weekly Chris") which now stands at some 2.2 million subscribers. Add this to his 1.7 million Twitter followers, an Instagram posse of about 3.6 million and millions of other admirers on a host of other platforms, and you've got yourself the quintessential self-made star with some 30 million followers across platforms.
Not bad for a 21-year-old with no formal music or business background.
A quick peek at his work proves the reasons behind his massive success. Christian is not only extremely intelligent, his white-toothed grin and smooth voice clearly work in his favor. But his most inspiring attribute is his attitude: he's a self-directed positivity machine. He's proven his hard-working worth, yet he also appears as someone who genuinely cares about others, using his social media influence as an ambassador for social good. In 2015, Christian was one of five young social media stars (along with his brother, Crawford Collins, Brent Rivera, Aaron Carpenter, and Wesley Stromberg) appointed as youth ambassadors by the United Nations in observance of the International Day of Peace.
In this age of ego-centric media, this is a rare combination.
While Christian certainly does many things (he's a one-time game designer turned actor/musical artist), his upbeat, engaging style is the key draw. He knows exactly how to use social media for both personal growth and professional progress, just by being himself (as marketers, this is what we mean when we talk about authenticity).
The Art of Personal Branding
Christians' multi-product line and authentic vibe embodies what is meant by the term "Influencer marketing": a star who is using their every day life to essentially draw others in new directions. But unlike traditional marketing (think about a traditional in-your-face TV commercial), people like Christian aren't pushing specific products; they're just going about their days, drawing followers through sheer personality.
More importantly, some of the best influencers aren't pushy. Their aim is to inspire and empower followers towards genuinely healthy choices, often based on the simple premise of feeling good.
Christian is partnering with social media platform Vero to share his Limitless Movement, a safe, supportive community committed to helping people be their best selves.
This is the new direction of both advertising and social media---and he might just be paving the way to an entirely new way of connecting.
Whether or not you're are a fan of social media, it's clear that it's here to stay. The good news is that many new companies are experimenting---and succeeding---in response to the fact that major platforms are now overtly sponsor-dominated and not giving users what they want.
Enter Vero, a new social media platform originally founded in 2013. Vero uses a social media model powered by user choice instead of ad-focused logarithms. The company ("vero" is Italian for "truth") focusses on customizability and enhanced privacy features.
It's people-driven, not ad-driven, and it's exactly this personal slant that makes it so attractive to users.
The New Era of Social Media
With social media giants appearing to slowly chip away at customization options, user preferences and even privacy, younger generations aren't hesitating to switch to more appealing options.
Beyond being ad-free and highly customizable, companies like Vero offer a whole new way of relating that's far more personable and authentic than other major platforms. Users are already reporting a far more positive experience with the platform, in part because the platform is designed to minimize trolling.
Beyond that obvious benefit, having more control over media means more effective and authentic interactions, which is exactly the appeal for young stars like Christian and Charli XCX. These innovative Millennial influencers are increasingly turning to alternative platforms to encourage more personal engagement, such as behind-the-scenes sneak peeks and interactive personal dailies.
Get Inspired to Take Daily Action
Young people today are looking for new ways to interact---and it's no wonder. That's why companies like Vero and people like Christian fit so well together. Each are pushing for new levels of authenticity and empowerment in our (often-relentless) digitally connected world for one simple reason: happiness.
Christian's Limitless Movement offers users the opportunity to share real conversations with real people about the things they are doing to make their lives better. Whether it's working out, meditation or teaching yourself something new, it's all about people sharing their goals in an atmosphere of genuine mutual support.
And that's definitely something worth talking about.
Calling all HuffPost superfans!
Sign up for membership to become a founding member and help shape HuffPost's next chapter
This post was published on the now-closed HuffPost Contributor platform. Contributors control their own work and posted freely to our site. If you need to flag this entry as abusive,
send us an email
.