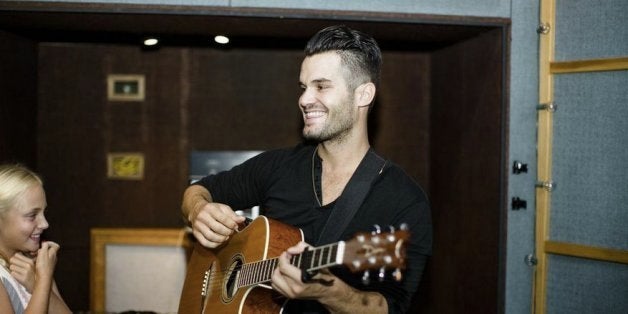 Nobody in their 20's purposefully gets up at 5:00 a.m. to have breakfast with a 90-year old retired music educator on a Wednesday morning. But that's exactly what I did. In 2007, when most 24-year olds were sleeping, I was meeting with my mentor, the legendary Dr. Carroll Rinehart, and I thank him for continuing to enrich my life today.
My high school band teacher told me straight out, "You will never make it." When I applied to the University of Arizona School of Music, I could only play the drums by ear, and could barely read music. "Music school is where I would learn these things!" I argued with the admissions counselor, and my passion to learn persuaded them to give me a shot.
I was the 'worst' in almost all my classes. Music school made me hate music. At least the way it was taught at the time. They taught the structure outside of an artistic context. I wanted to be a complete artist and I felt disconnected from the artist within me.
After graduating, I worked as a music teacher in public schools until the budget crisis and PTA pulled all the funds. The crazy thing is music education moves kids to learn! Circumstances forced schools to make hard choices and often they were cutting the one thing that could have transformed every other class.
In 1992, a young composer was introduced to the same Dr. Rinehart. Enrique "Hank" Feldman, Grammy-nominated composer, former music professor and Founder of the F.A.M.E Foundation was inspired by Dr. Rinehart's commitment to "engage the learner in authentic ways."
Eventually, I met Enrique and both our passions merged. Long story short, MyTown Music was born. Imagine an organization that empowers the artist in everyone! MyTown Music took off... for a while, but then the funds dried up. Even though students were hungry for an avenue to create, schools had no budget.
In 2013, I moved MyTown Music to Long Beach, California and started all over, while the educational component continued to build momentum throughout the U.S.. I posted an ad on Craigslist and landed a whopping one student, Rylee Gibson, age 9, who explains, "I never wanted to take music lessons because I wanted to be a performer. My dad looked for singing lessons and music lessons, but I didn't like any of the teachers because they made me learn about stuff instead of creating things."
I've heard it said, "Corey Ferrugia is a rare dude." Collaborating with Enrique and under the guidance of Dr. Carroll Rinehart, the team managed to create a duplicatable artist development system that includes songwriting, lyric development, performance training, recording studio time and collaboration with some of the brightest upcoming artists in the music industry. In addition, the MyTown Music model is committed to individual sustainability and ownership of artistry and label!
In 2006, Sir Ken Robinson gave the most watched TED talk ever. Over 27 million people listened as he discussed how education kills creativity. Essentially, he called for a focus on Arts as an integral part of the educational experience. According to research by the National Education Association, by 2013, arts funding had been reduced to 1997 levels at the local, state and national levels. In other words, opportunities for creative development in education have declined and/or stagnated for 16 consecutive years.
Artist development builds creative and critical thinking. Critical thinking has been the buzzword in education for a while, but it's not critical or creative thinking. It's critical AND creative thinking.
MyTown Music has taken a model of artist development, simultaneously created a model for personal development and is capitalizing on a huge need to empower individuals and organizations so they can create their own artistic and educational frameworks. It has generated a new pathway for young artists to learn the craft of music making, songwriting, metaphorical thinking, empowerment and how to monetize their own work. It is also creating a sustainable framework for artistic thinking for individuals and schools nationwide, both in this country and others.
Along with my colleague and friend Enrique, we have assembled a team of world class artists and educational professionals in numerous domains of the visual, audio, graphic, education and development sectors to take students and adults from dreaming to living at their highest potential.
I share my passion openly in music, education and entertainment. Social change is all about empowering others to empower themselves. I know that we have a massive mission. Currently, I am taking the first four students through the entire process. We are going from concept to product to social change.
I think about what happens when people feel free to engage at their highest potential. What happens when there is a system and mechanism for this? What else is possible? What would the world look like if every individual was maximizing their potential?
What would it look like for you?
Calling all HuffPost superfans!
Sign up for membership to become a founding member and help shape HuffPost's next chapter